Nov 2019: General availability over-the-air operation
The POWDER platform is open for general over-the-air operation on the current platform deployment on the University of Utah campus.
POWDER users will be able to experiment with our general purpose software-defined-radios (SDRs), as well as our massive MIMO (mMIMO) equipment. Our general purpose SDRs are deployed on eight rooftop nodes and eight "fixed-endpoint" configurations. We also have one 64x64 mMIMO base station, with compatible endpoints, deployed and available for use.
To kick-start over-the-air use of the platform we have developed a number of starter profiles and we have updated our documentation to provide details of the deployment, the over-the-air experimental workflow, equipment details etc.
In recognition of the implications of allowing over-the-air transmission on POWDER, we have also updated our acceptable use policy (AUP).
Implications for current POWDER users:
The next time you log into the POWDER portal, you will be prompted to agree to the new acceptable use policy (and possibly to update the personal information associated with your account).
Given the need to comply with FCC regulations for over-the-air operation, experiments that use radio resources will need to go through an explicit resource reservation phase. (I.e., over-the-air POWDER experiments cannot be instantiated in on-demand fashion.)
Permission to use radio equipment for over-the-air operation will be granted on a per-project basis. Please send email to powder-support@powderwireless.net to request to have your project enabled for over-the-air operation.
Nov 2019: RF frontend packaged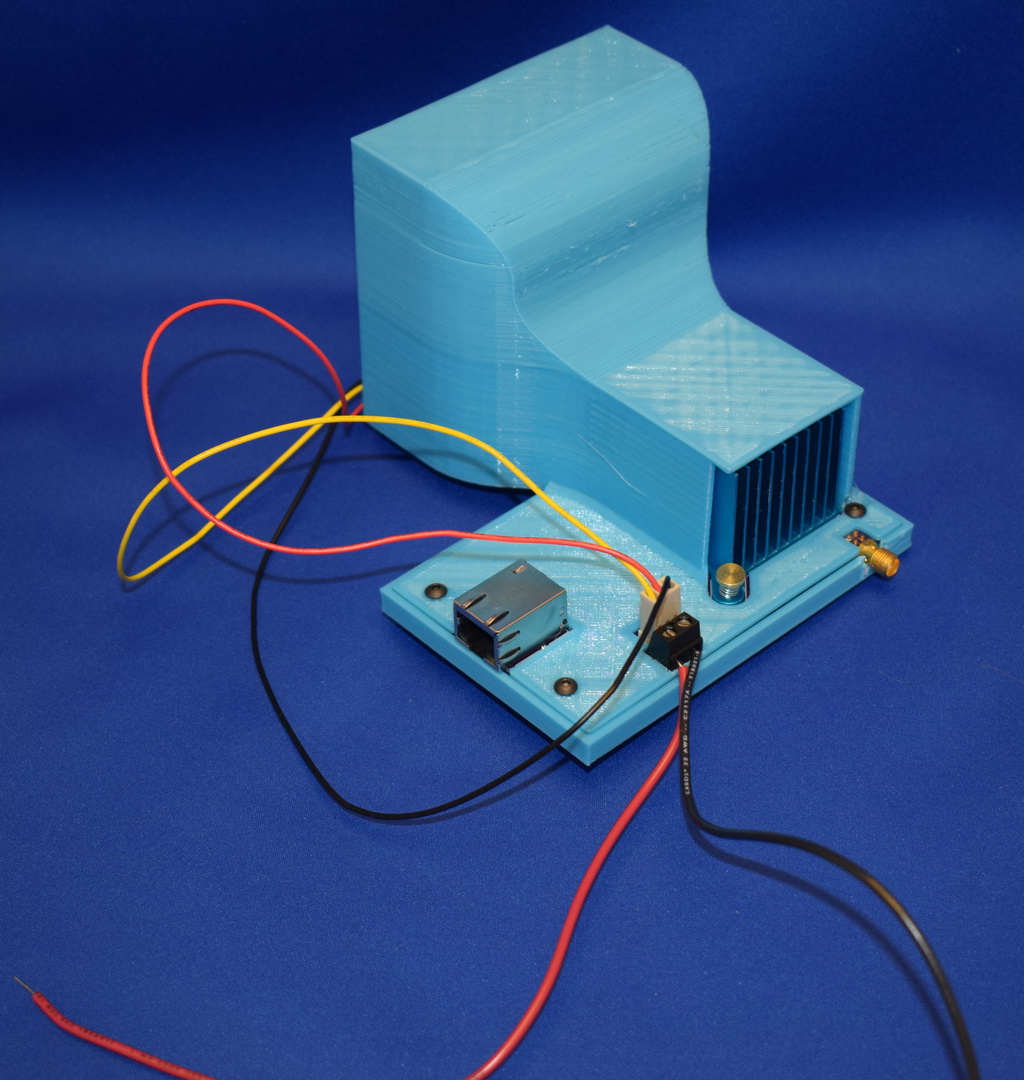 RF frontend, with heat sink and fan in 3D printed casing.
Oct 2019: Shuttle telemetry node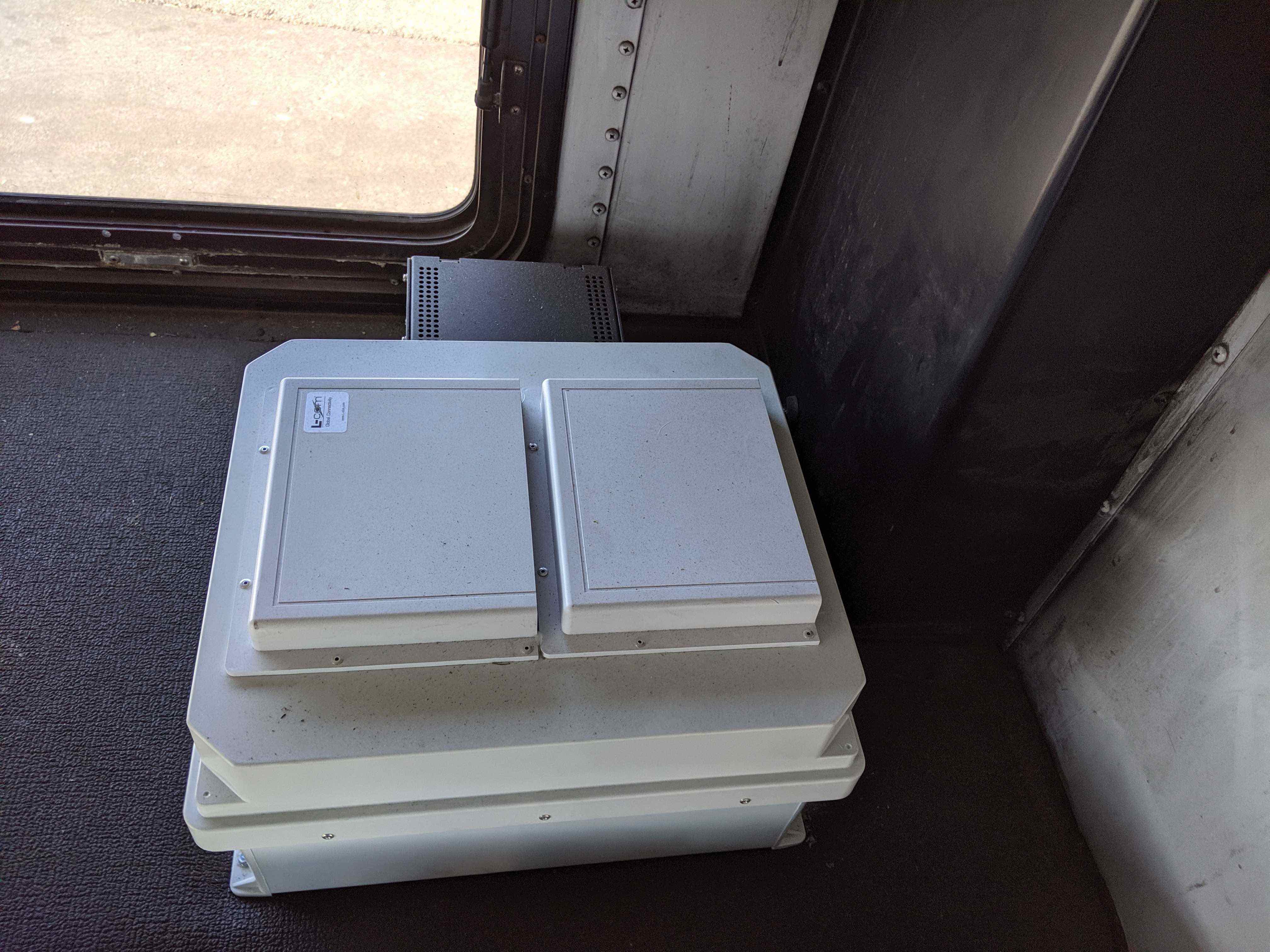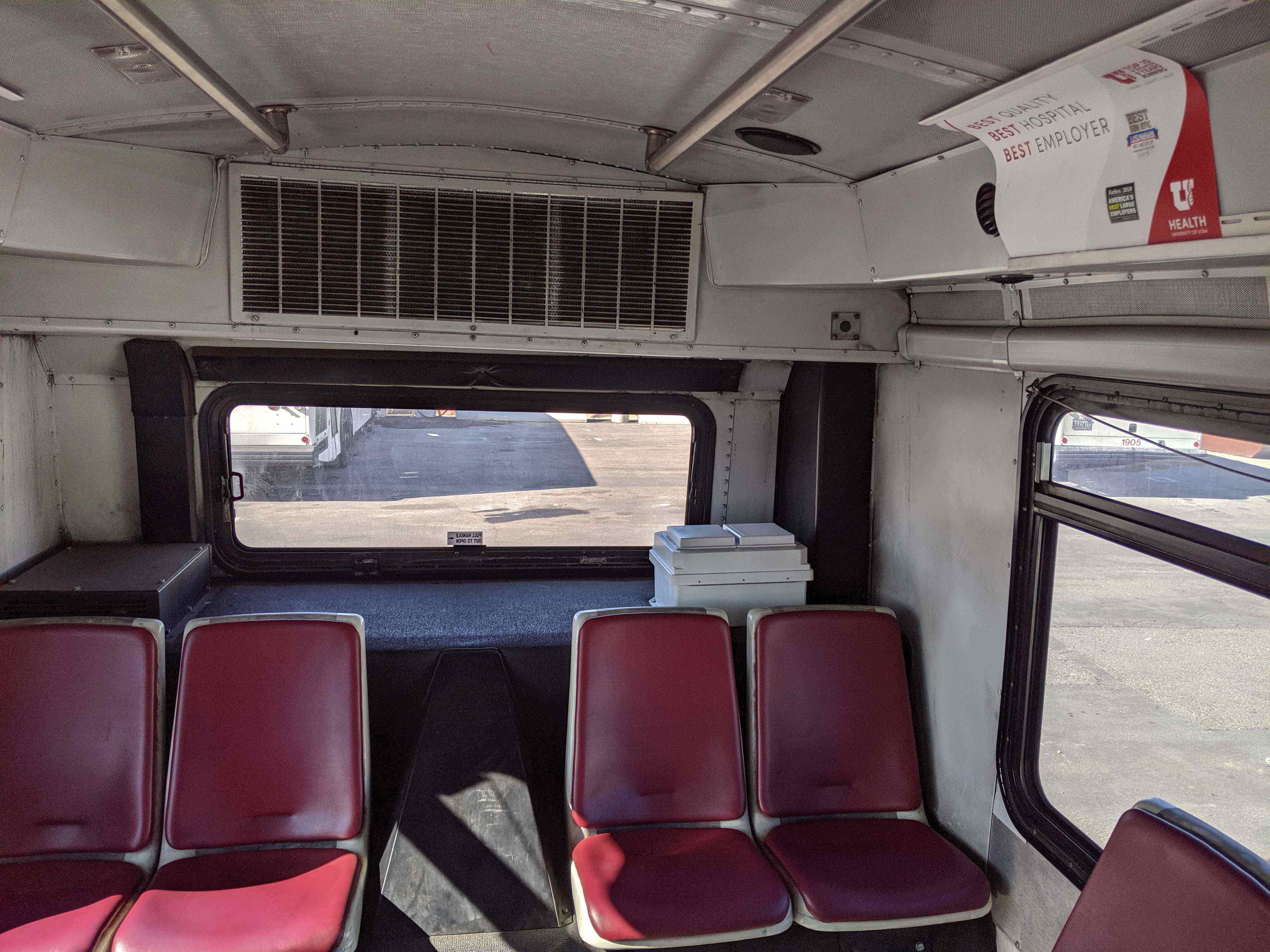 Prototype mobile endpoint deployed.
Sept 2019: RF frontend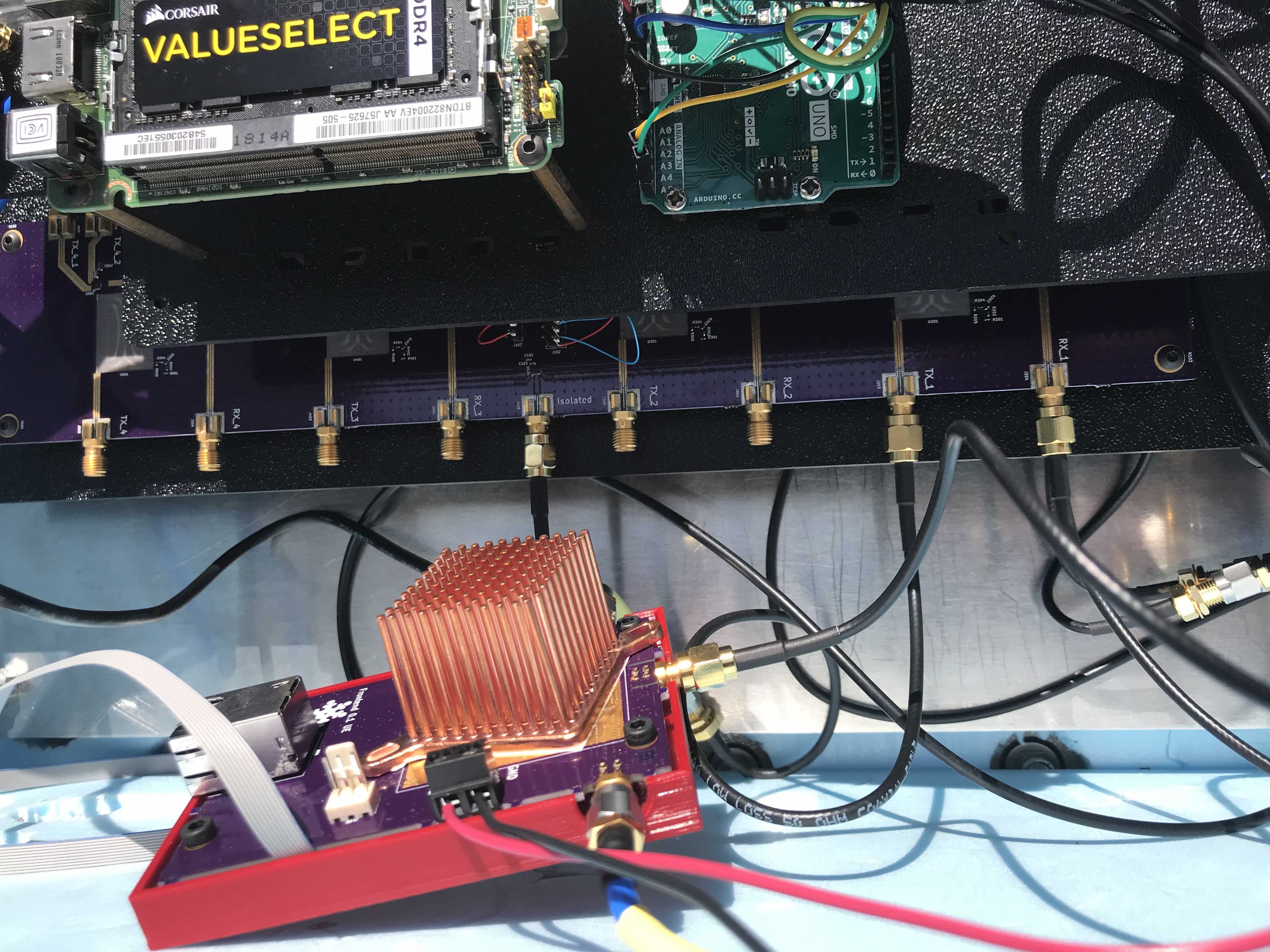 First version of RF frontend for LTE band-7.
Sept 2019: FCC Innovation Zone
The POWDER platform has been designated as a (Spectrum) Innovation Zone by the FCC:
Announcement/press releases:
Press coverage:
Sept 2019: POWDER-RENEW MWW 2019: Mini-projects
Attendees of the POWDER-RENEW Mobile and Wireless Week executed 12 "mini-projects" during the week and presented their progress and results on the last day.
The best three mini-projects (as selected by the MWW attendees) were:
First prize: Application-aware Scheduling Optimization

Can (John) Carlak - University of Michigan
Xumiao Zhang - University of Michigan

Second prize: MMSE Beamforming

Brent Kenney - University of Utah
Liangping Ma - InterDigital
Hamed Hosseiny - University of Utah
Yongce Chen - Virginia Tech
Nima Taherkhani - UT Dallas
John Kaewell - InterDigital

Third prize: Modulation Classification

Joshua Bassey - Prairie View A&M University
Ajeya Anand - SUNY Buffalo
Sabarish Krishna Moorthy - SUNY Buffalo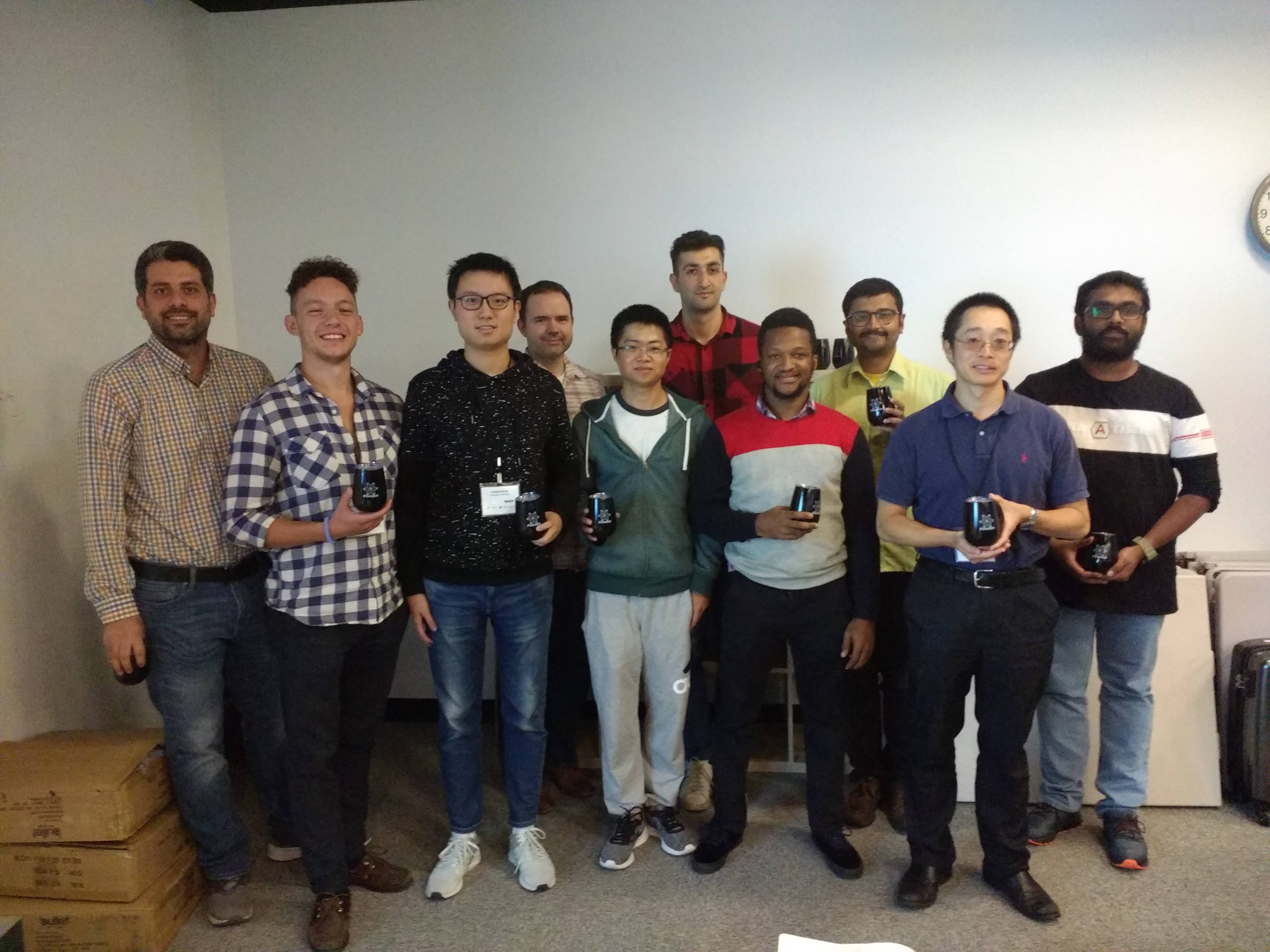 One of the mini-projects involved the design and manufactoring a spiral antenna which was tested on the POWDER platform.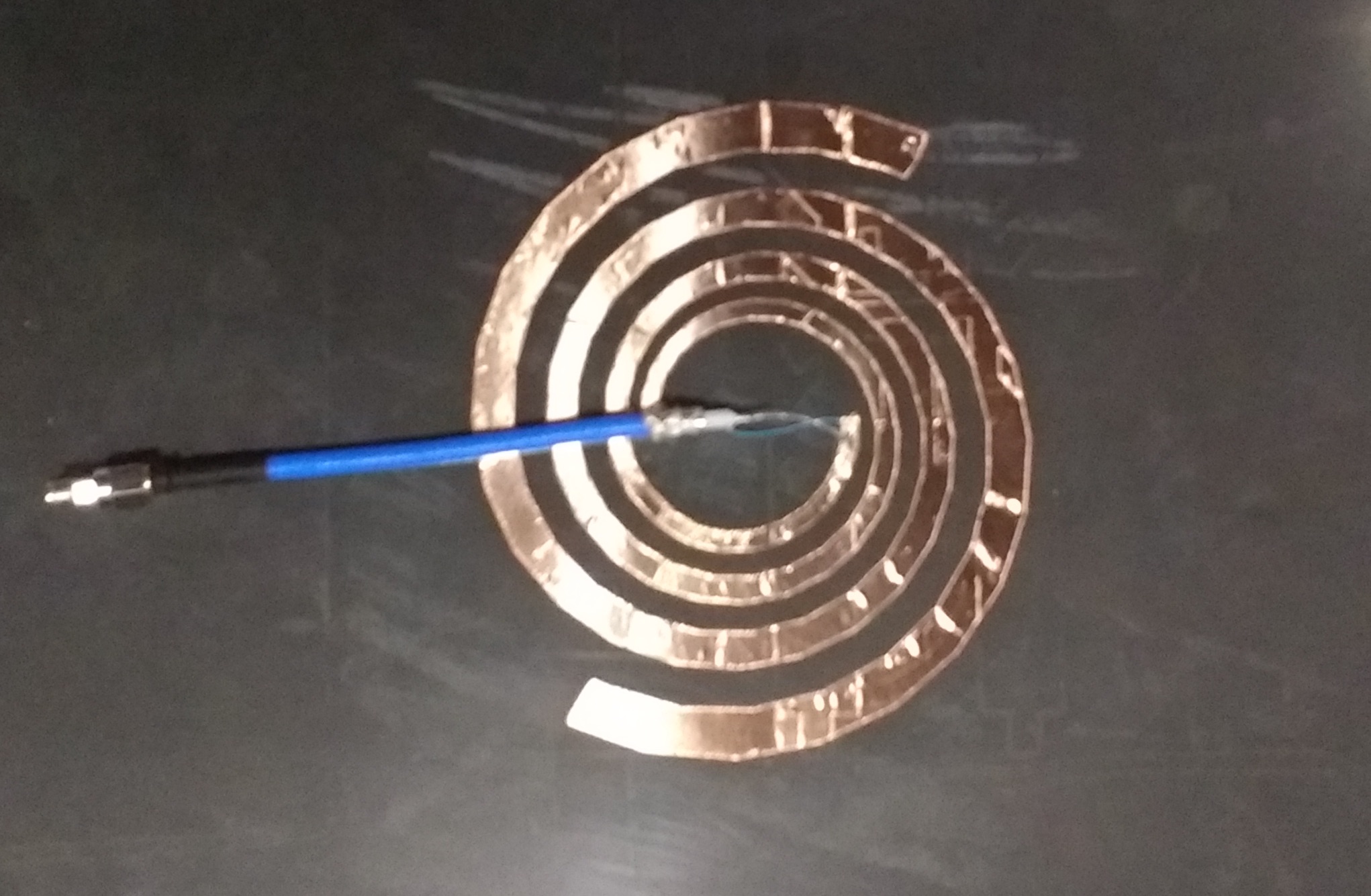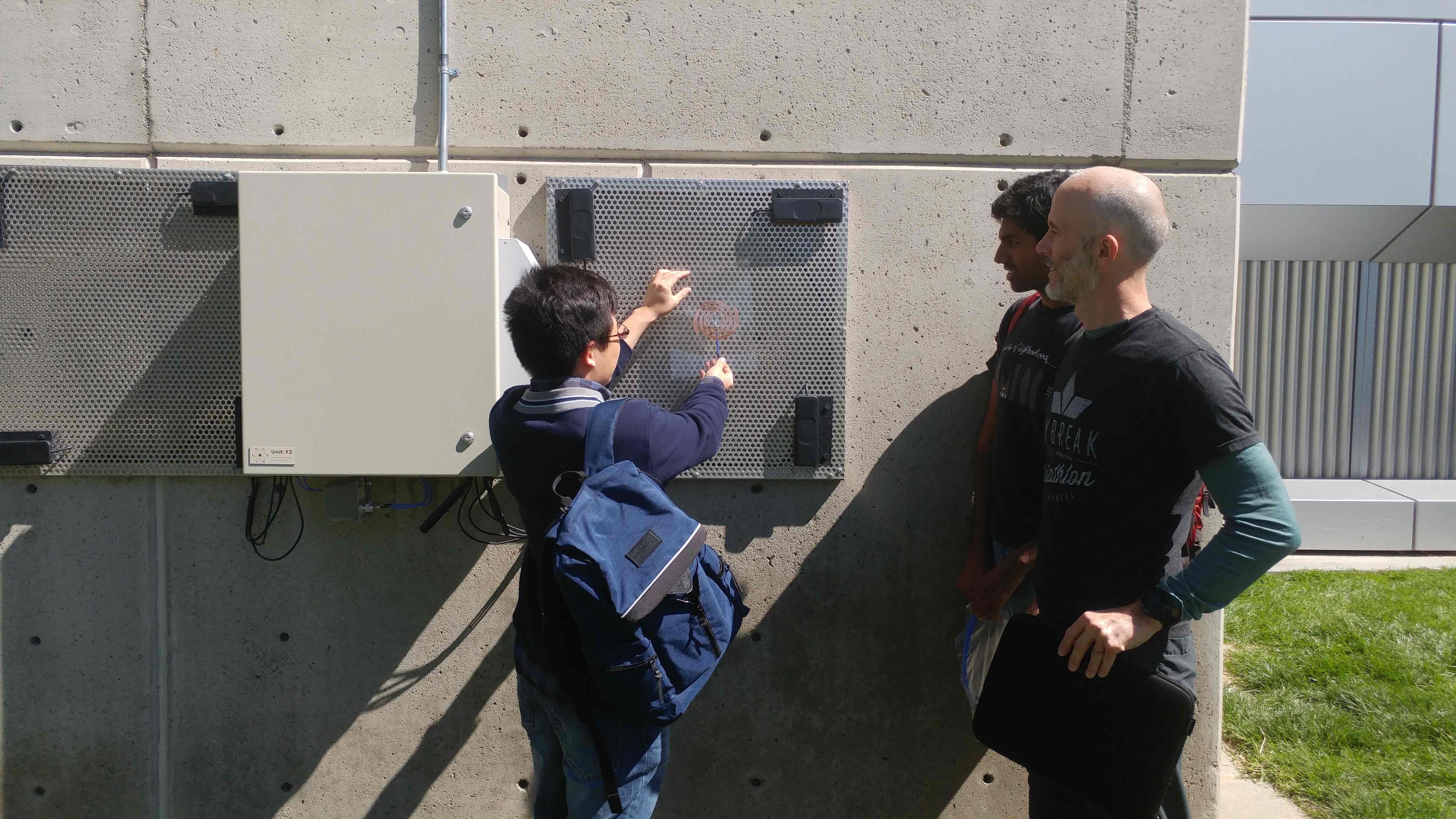 Sept 2019: POWDER-RENEW MWW 2019
The POWDER-RENEW Mobile and Wireless Week (MWW2019) took place on the University of Utah campus from September 9-13, 2019. MWW2019 was attended by a number of industrial researchers and 44 graduate students from more than 20 universities across the US.
The MWW schedule included:
An overview of the POWDER-RENEW project and the POWDER platform
Lectures and hands-on sessions on:
End-to-end mobile networking
RAN Softwarization
Spectrum monitoring
RF exploration using UHD and GNU Radio
Wireless Communications Basics
Antenna design
Wireless Communications Research
Attendees also teamed up to execute a variety of "mini-projects" during the week and took a "field-trip" to view the POWDER deployment.
Attendees use of the platform's over-the-air capabilities is the first such use by non POWDER-RENEW team members. This included use of the rooftop base-stations, the fixed-endpoints and the massive-MIMO equipment.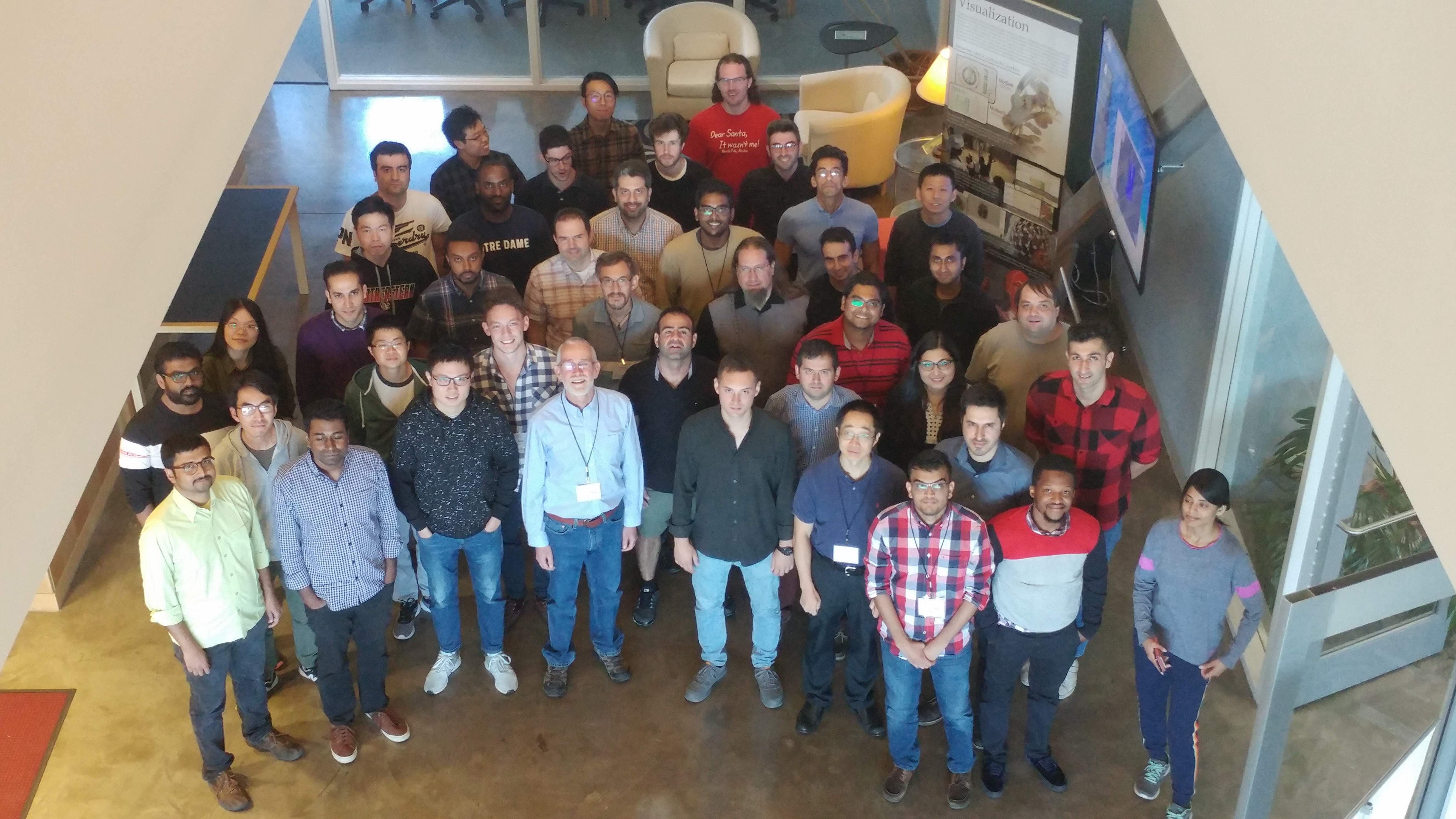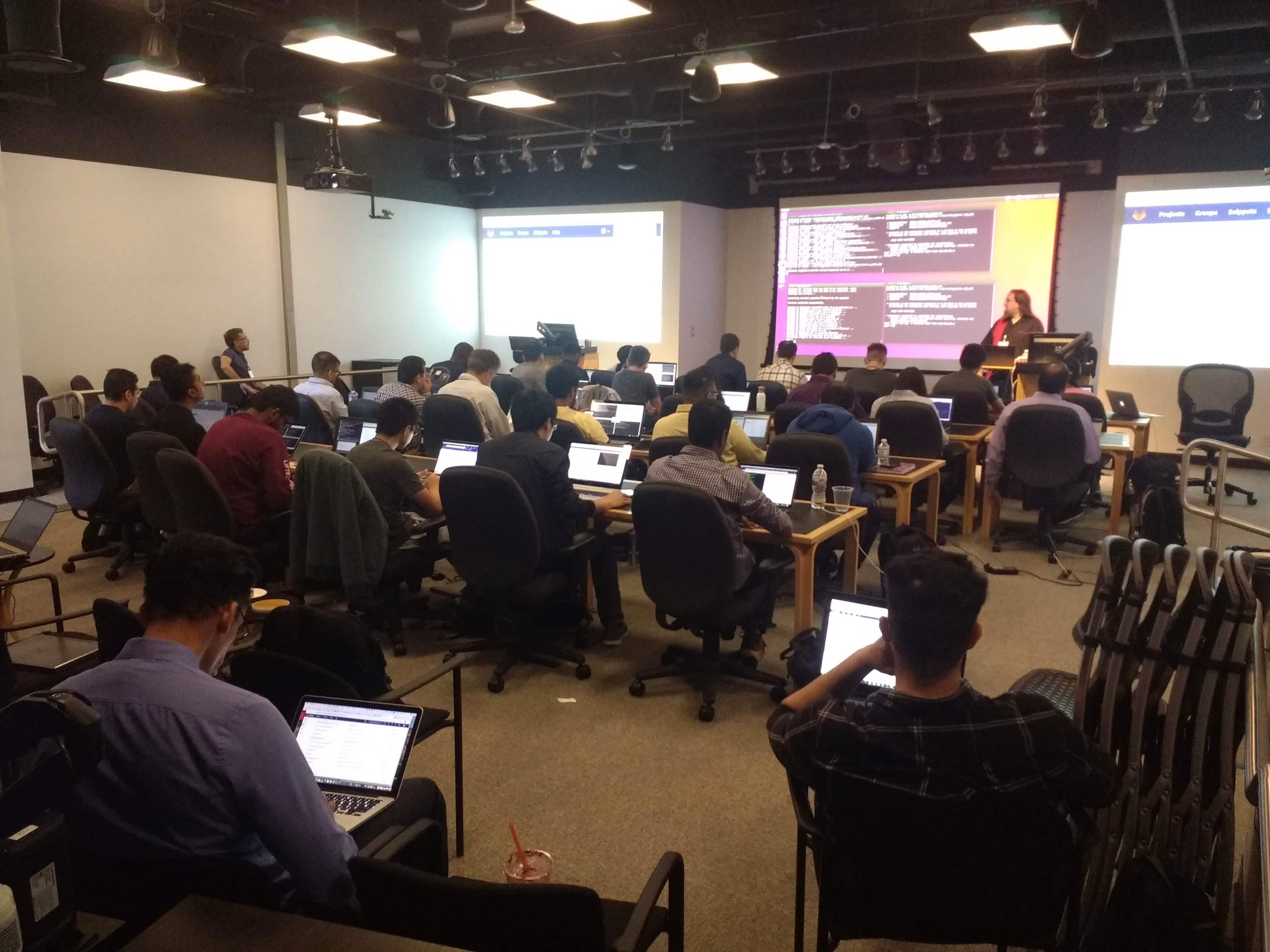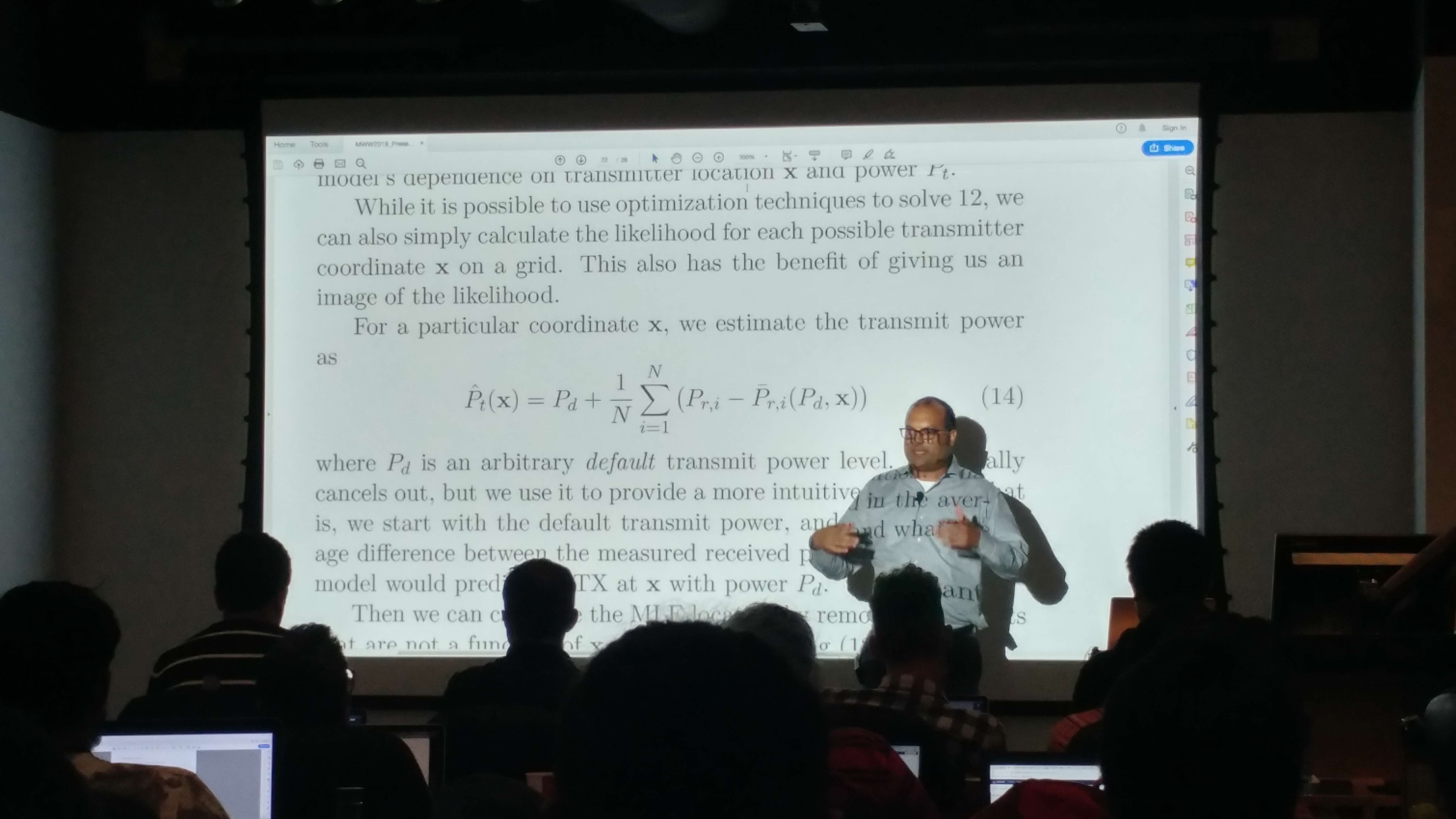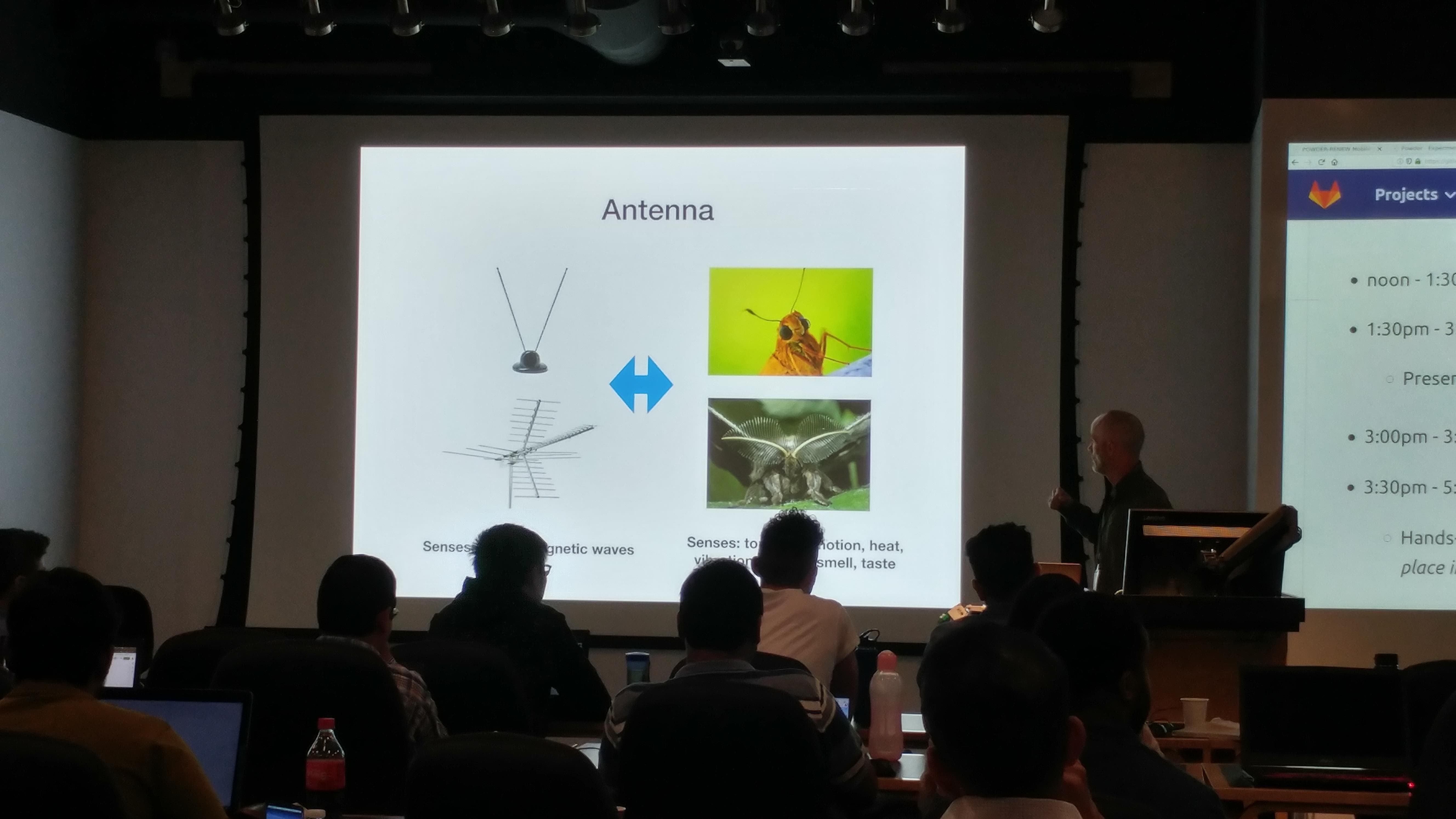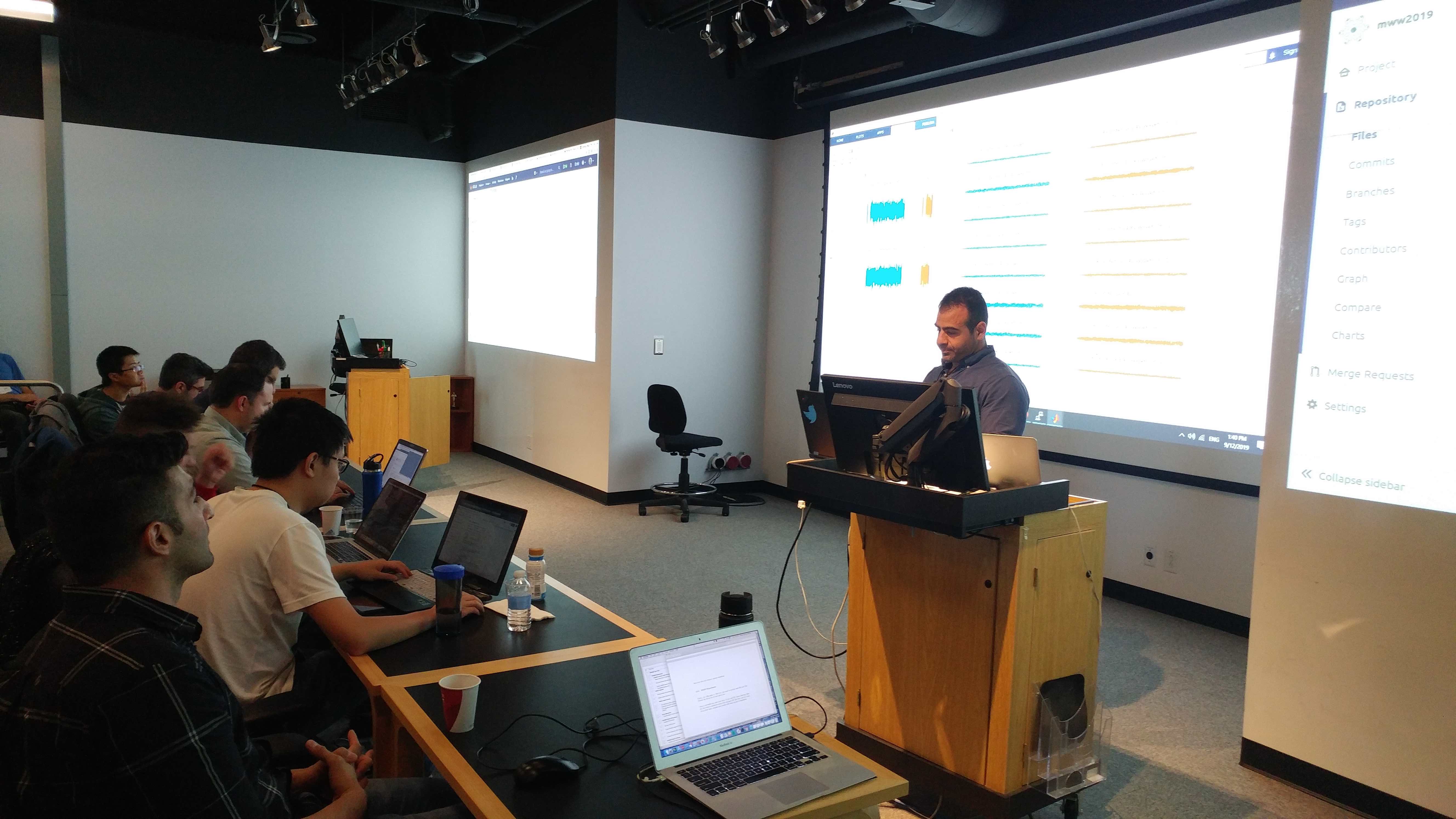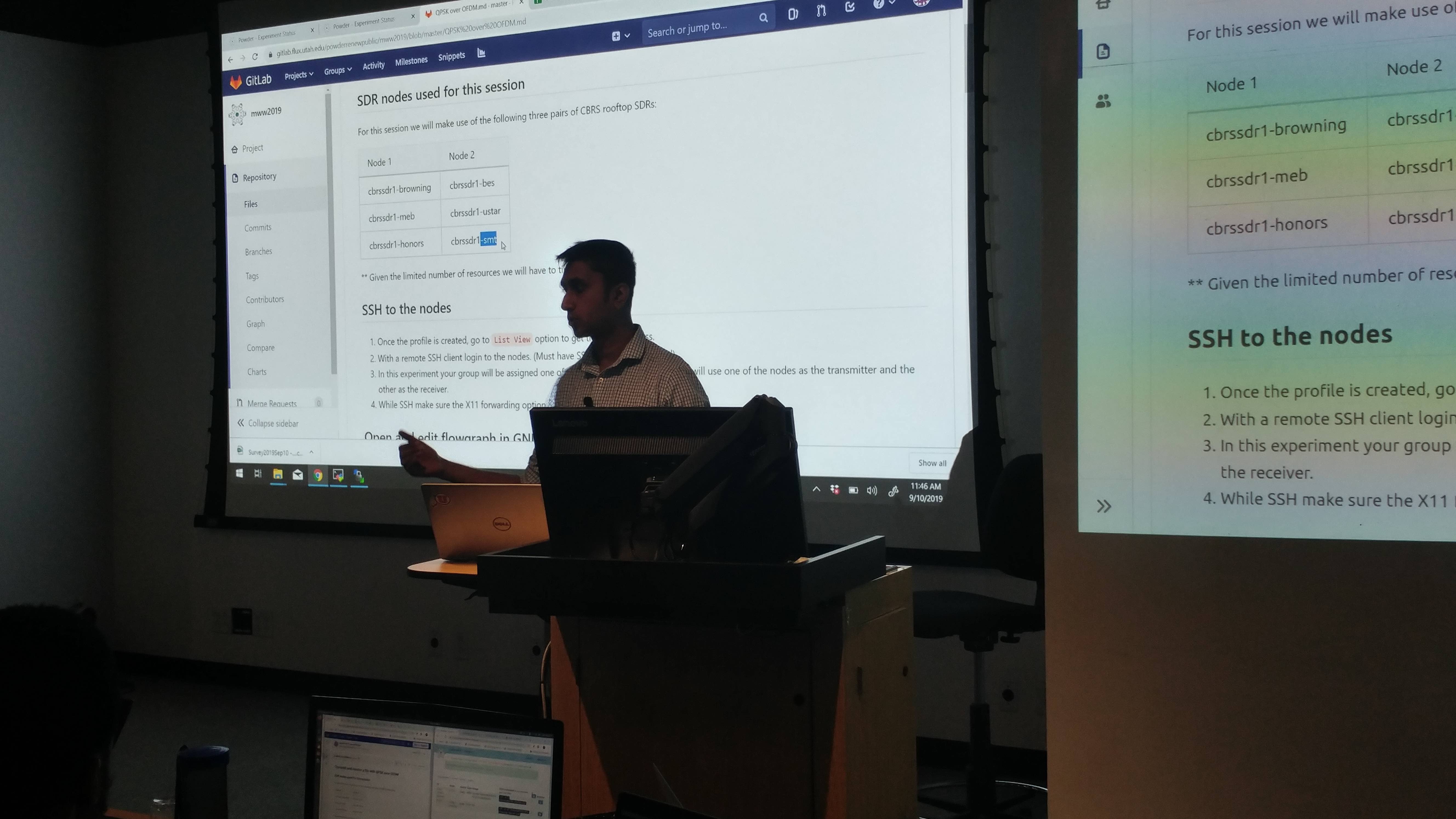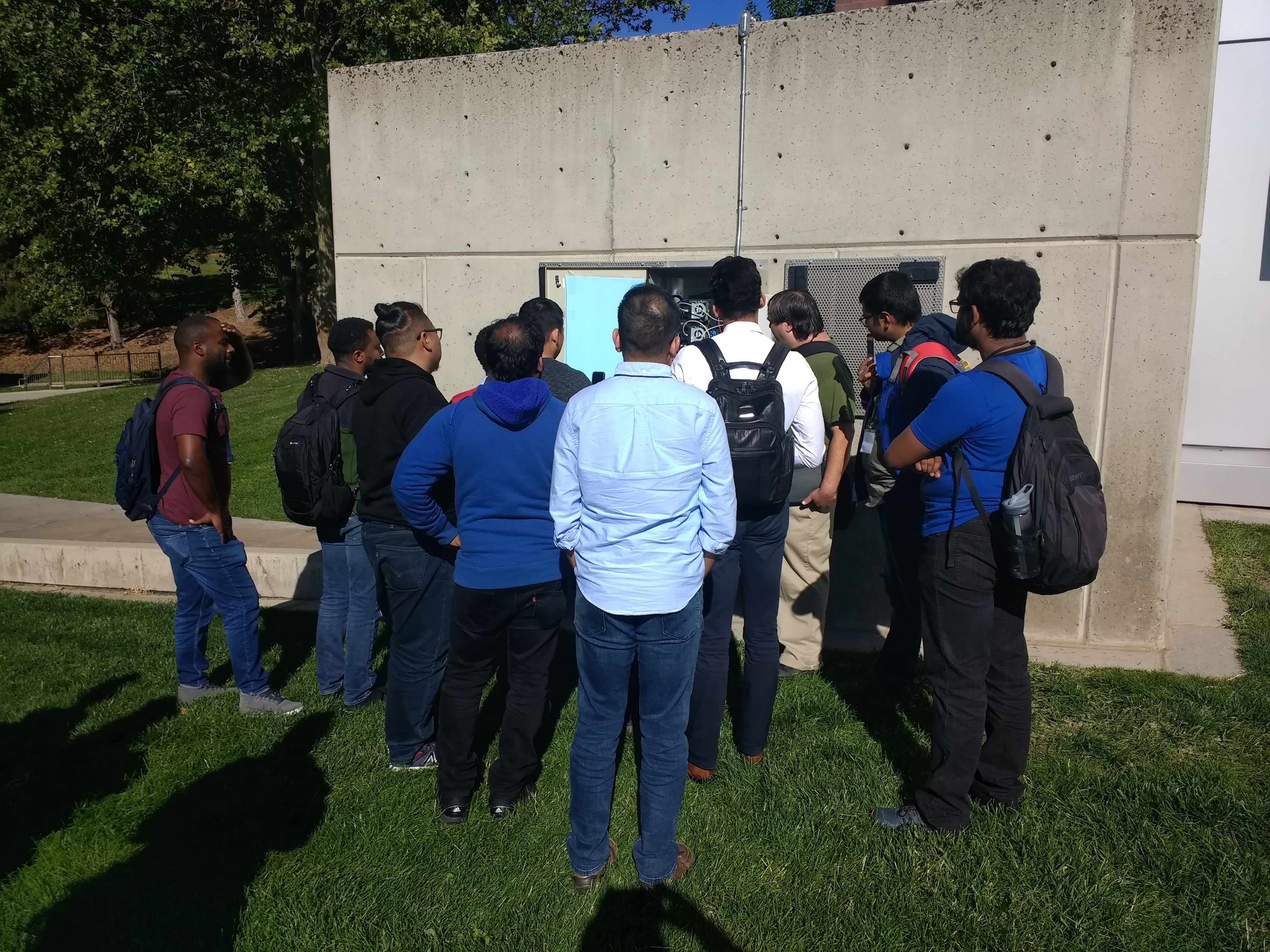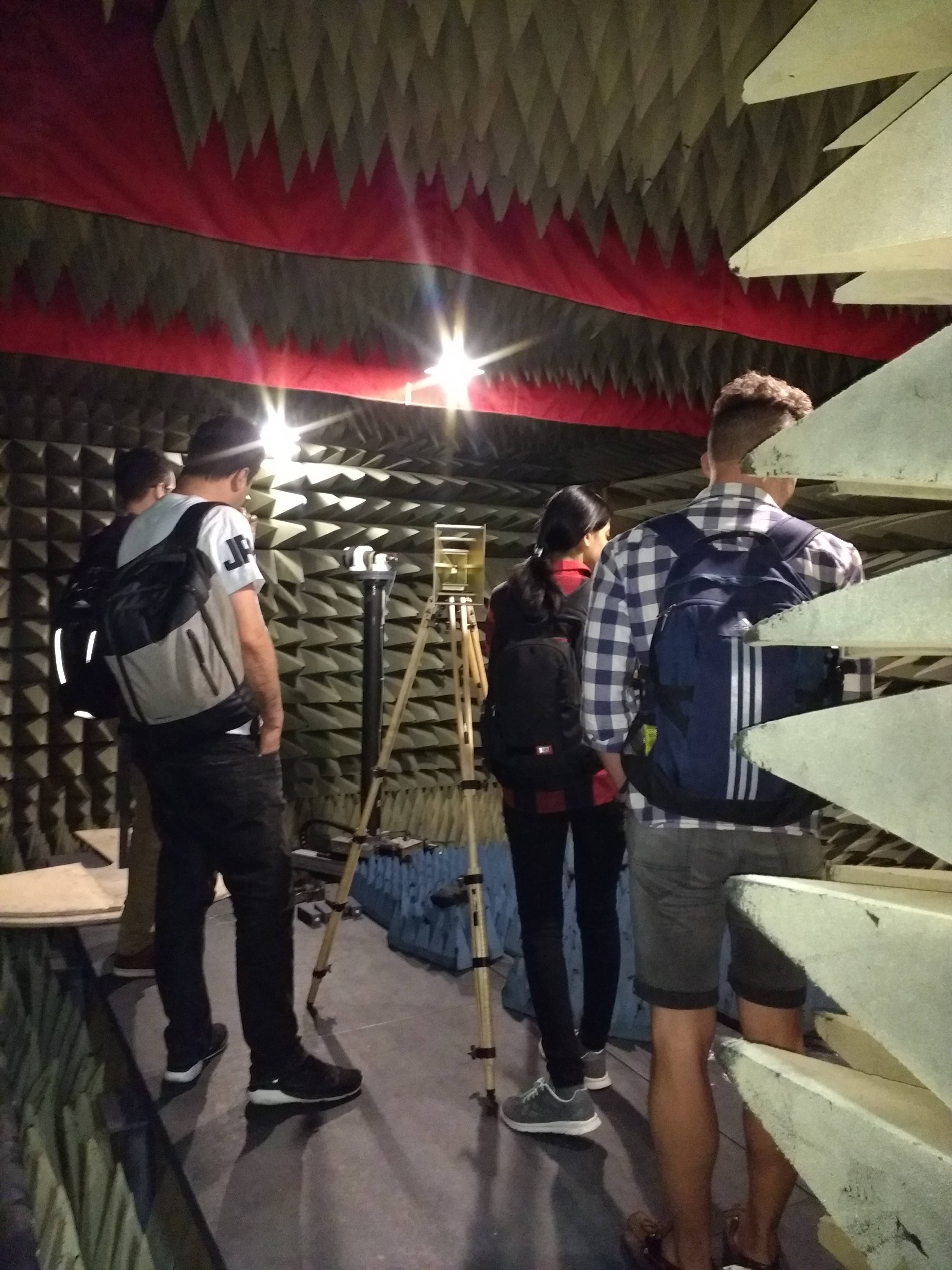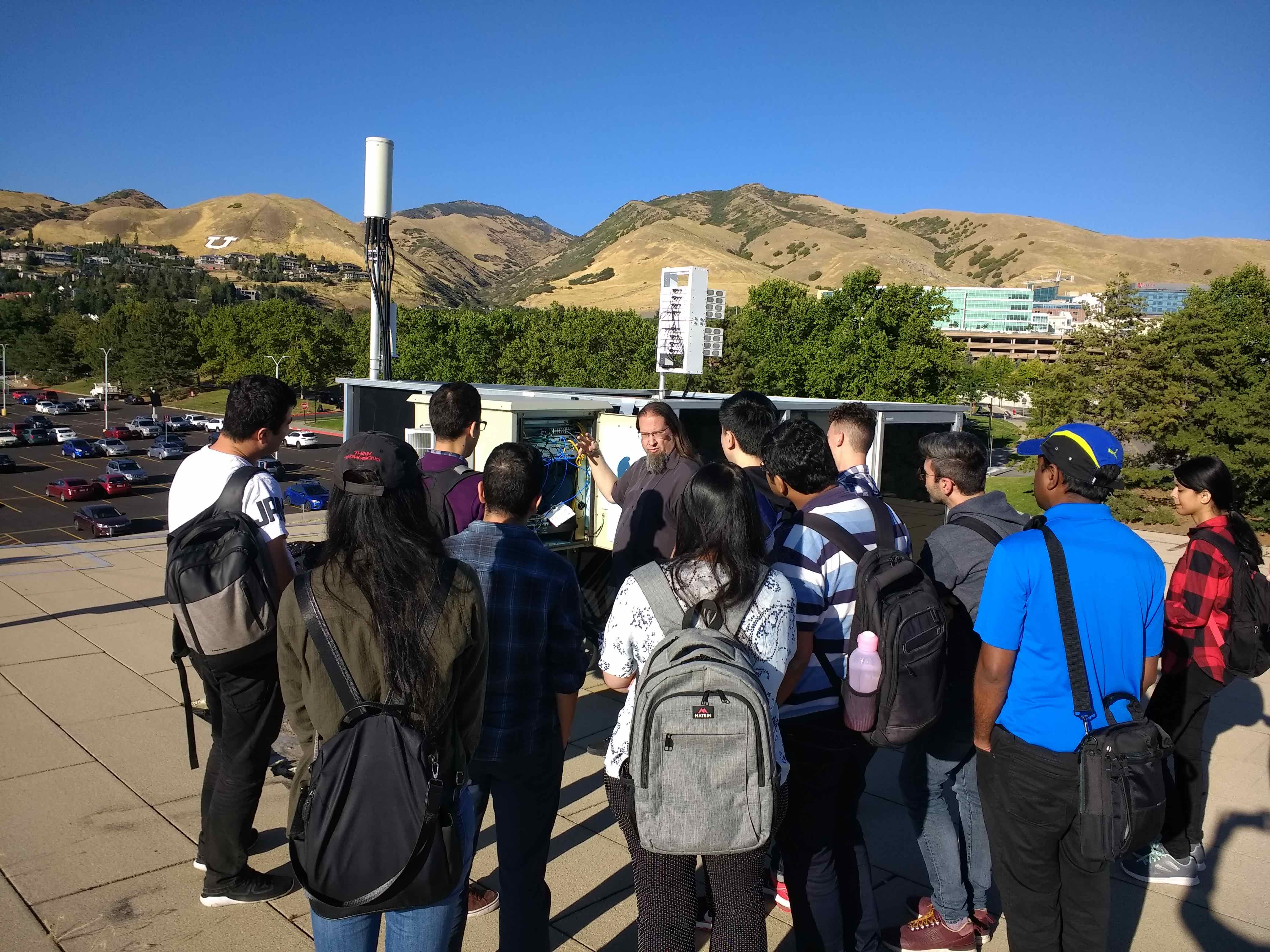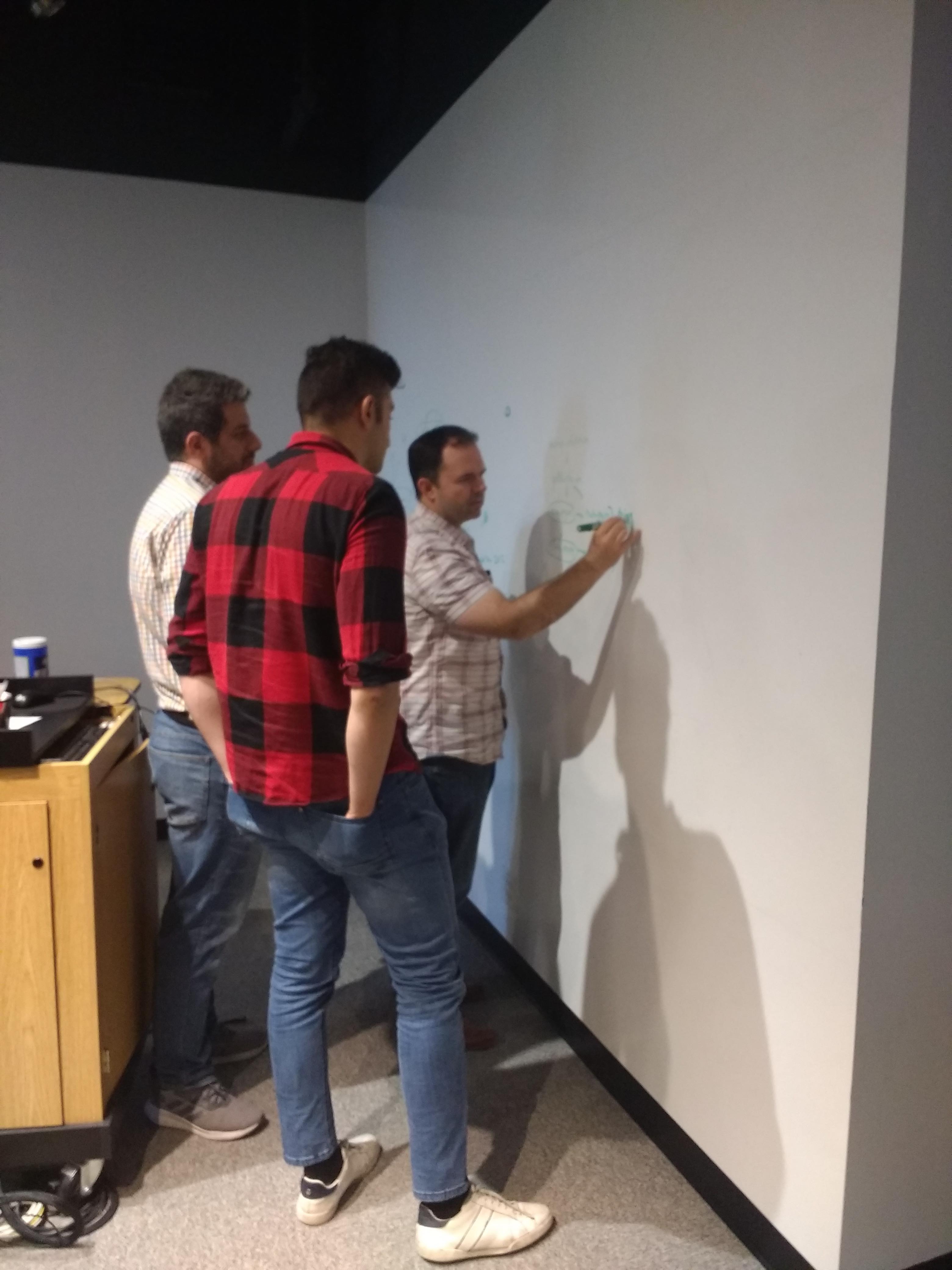 June 2019: POWDER-RENEW Mobile and Wireless Week
The POWDER-RENEW Mobile and Wireless Week is planned for the week of September 9th 2019!
For more information and to apply see the MWW2019 page.
June 2019: Open Air Interface Workshop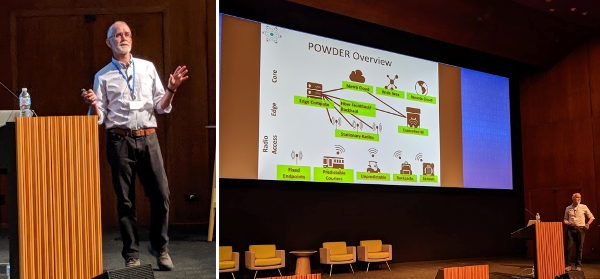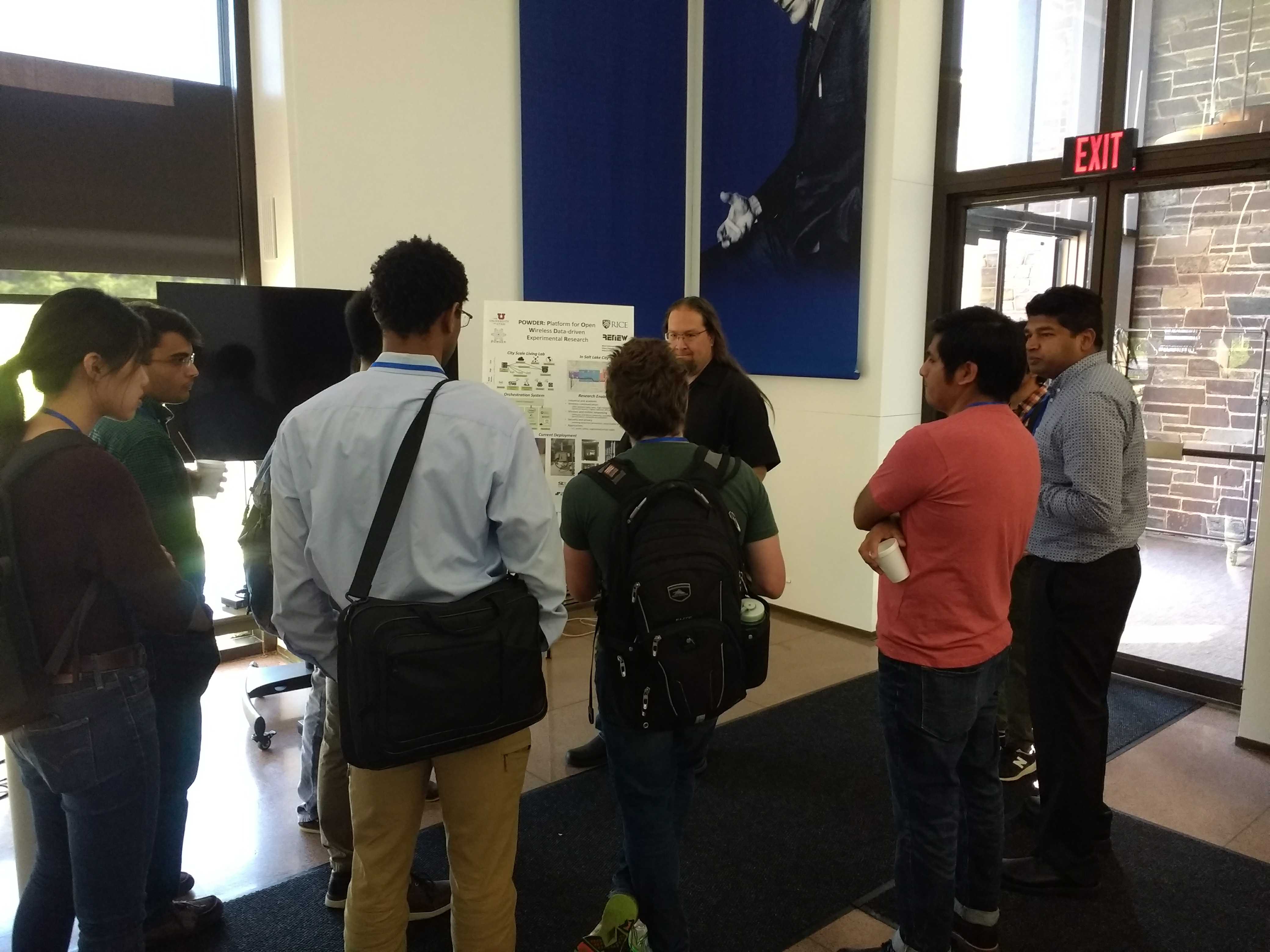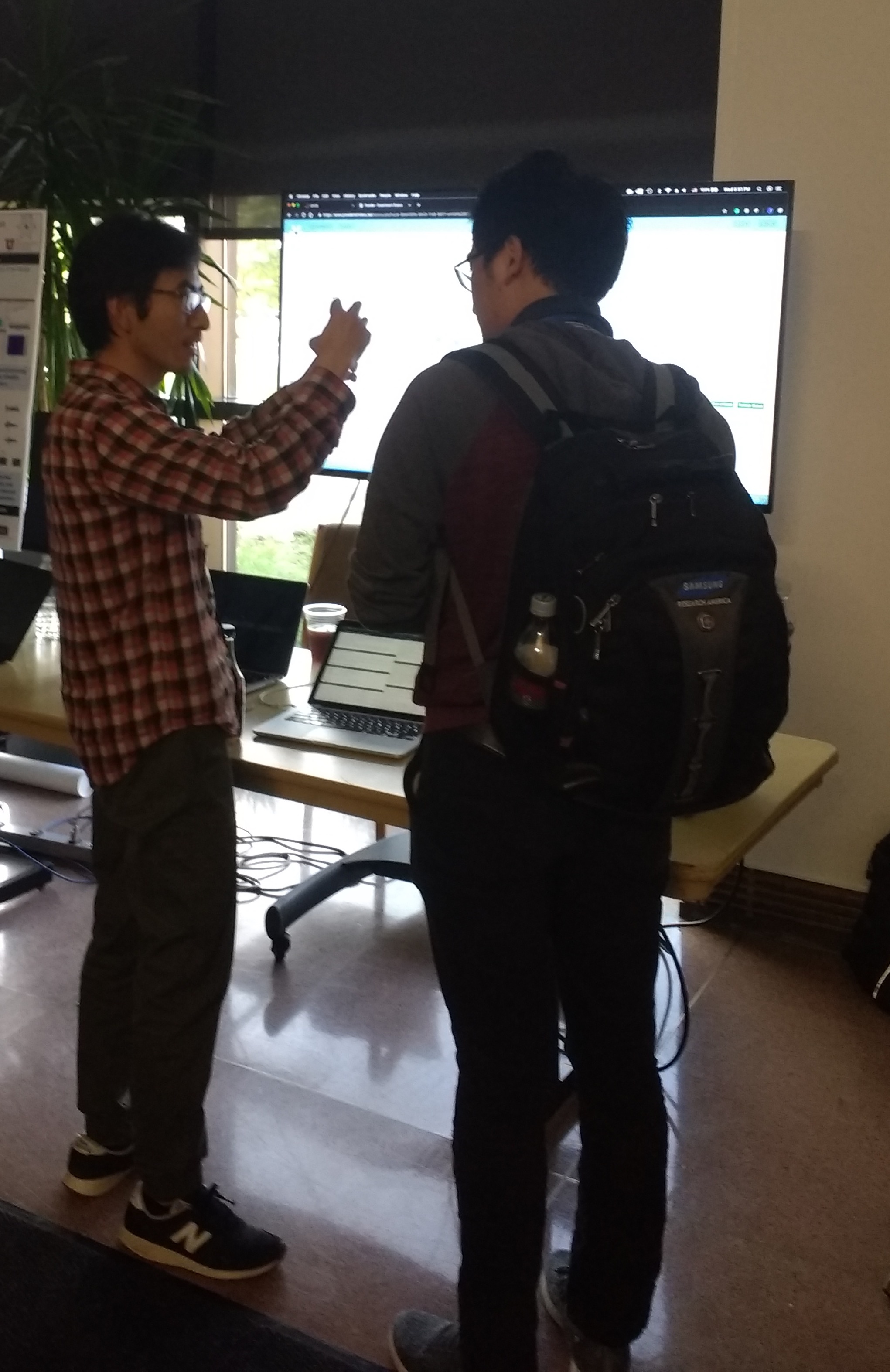 The POWDER-RENEW project was well represented at the Open Air Interface Workshop at NOKIA Bell-Labs.
We did a hands-on training session during the training day using the POWDER platform; had demos of both the POWDER platform and the RENEW massive MIMO equipment and software; and presented a talk on using POWDER for RAN research.
June 2019: Rooftop radio equipment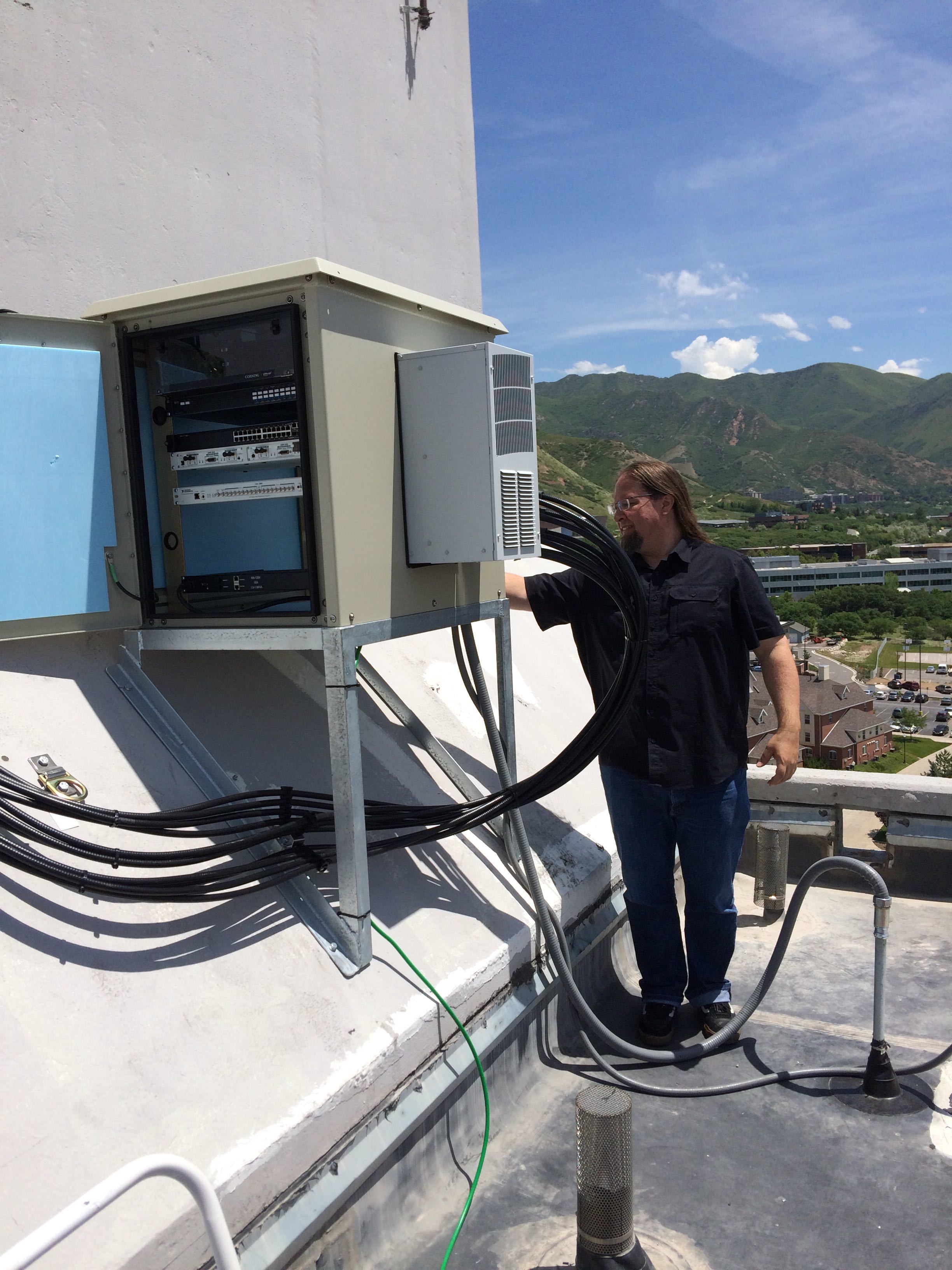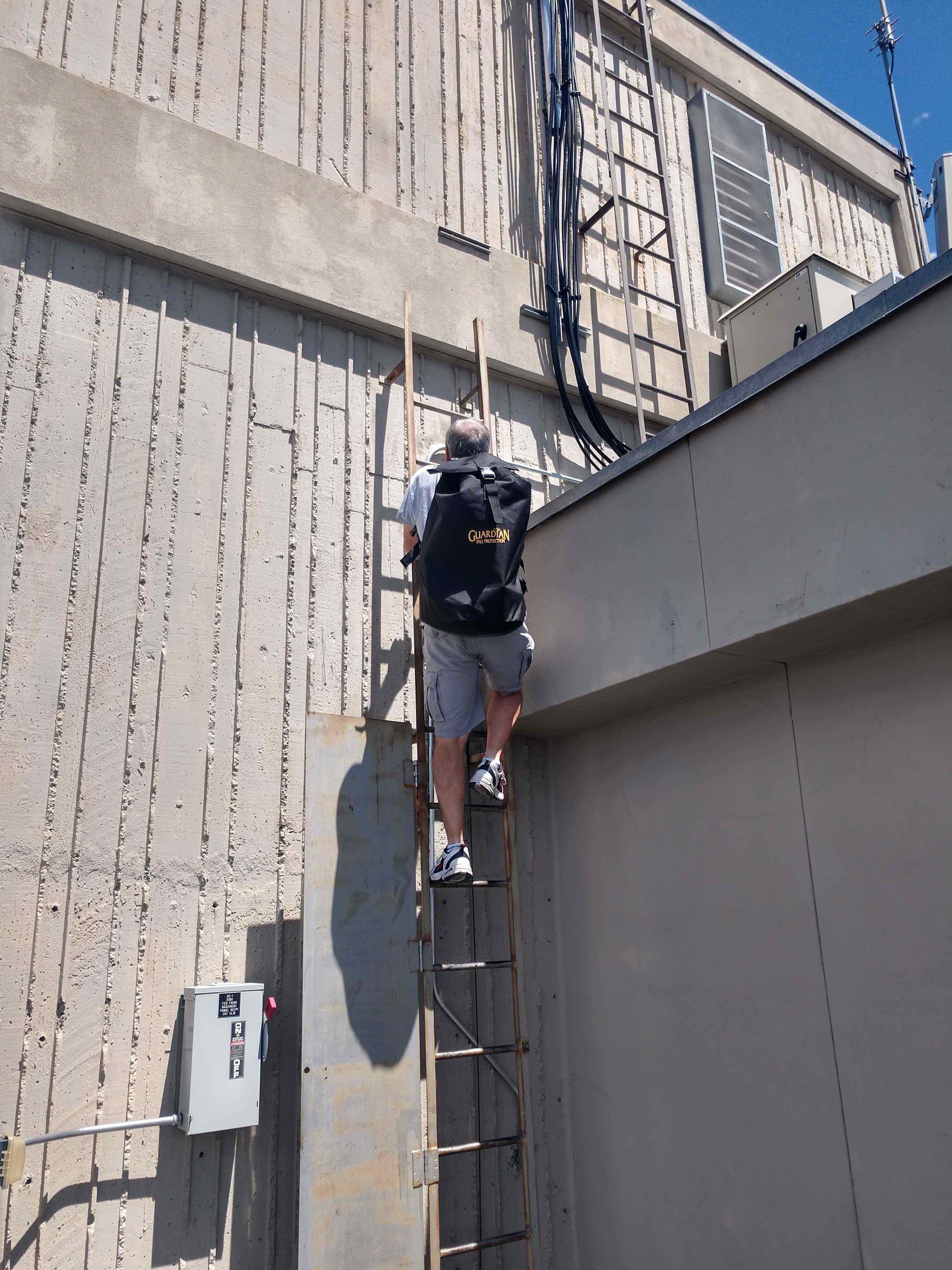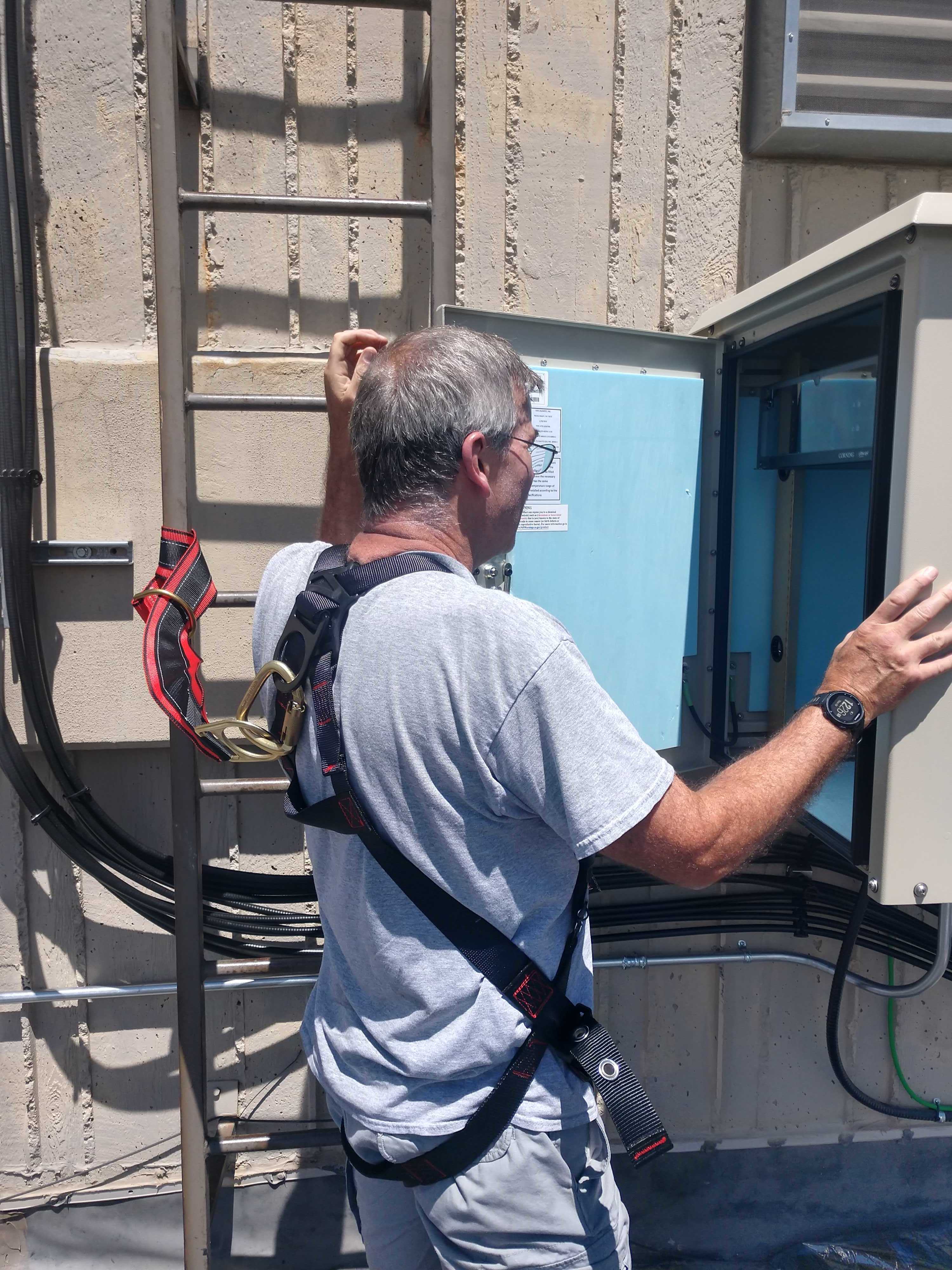 Deploying radio equipment in some of our more challenging rooftop locations.
June 2019: Fixed endpoint LTE OOB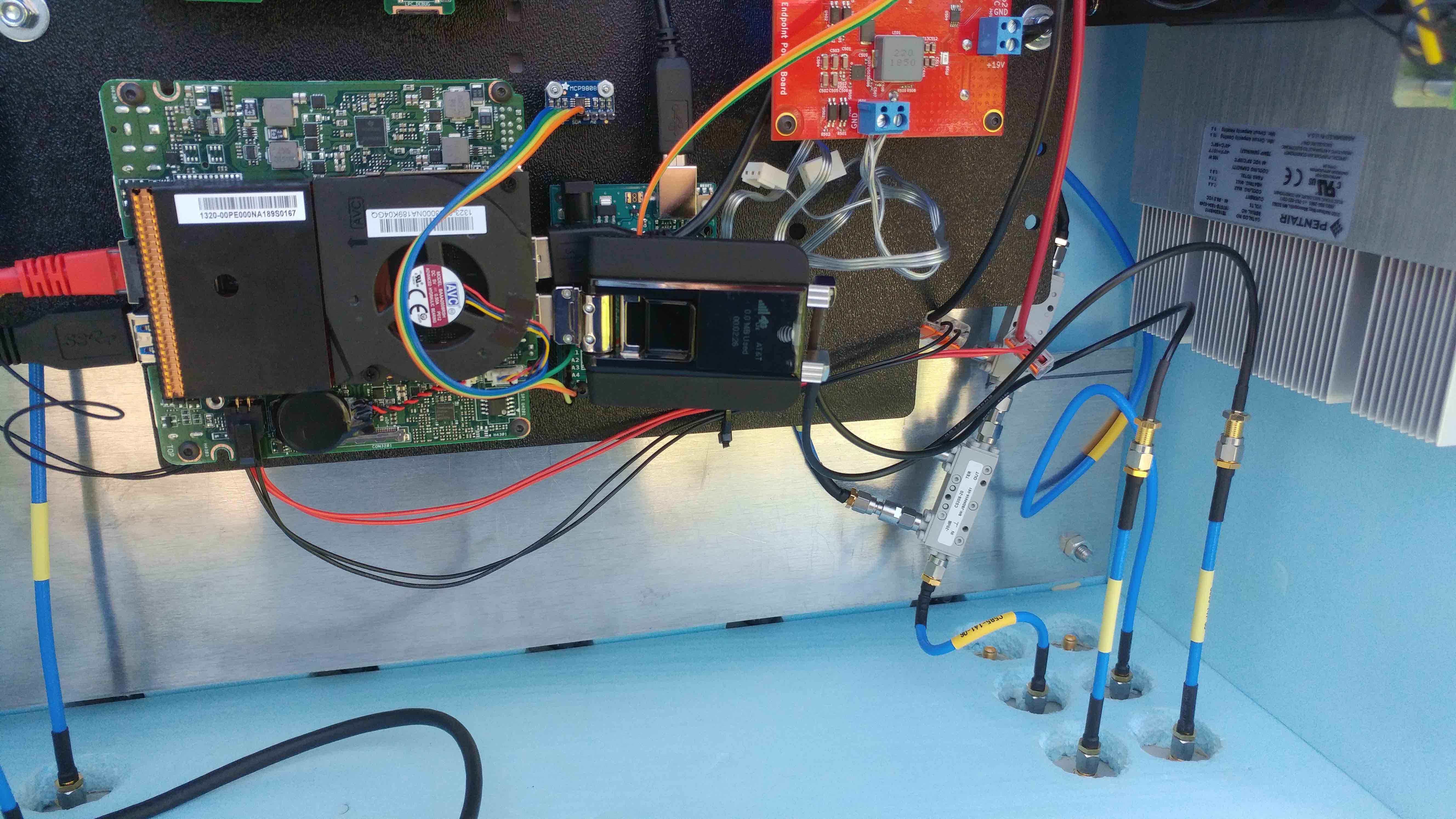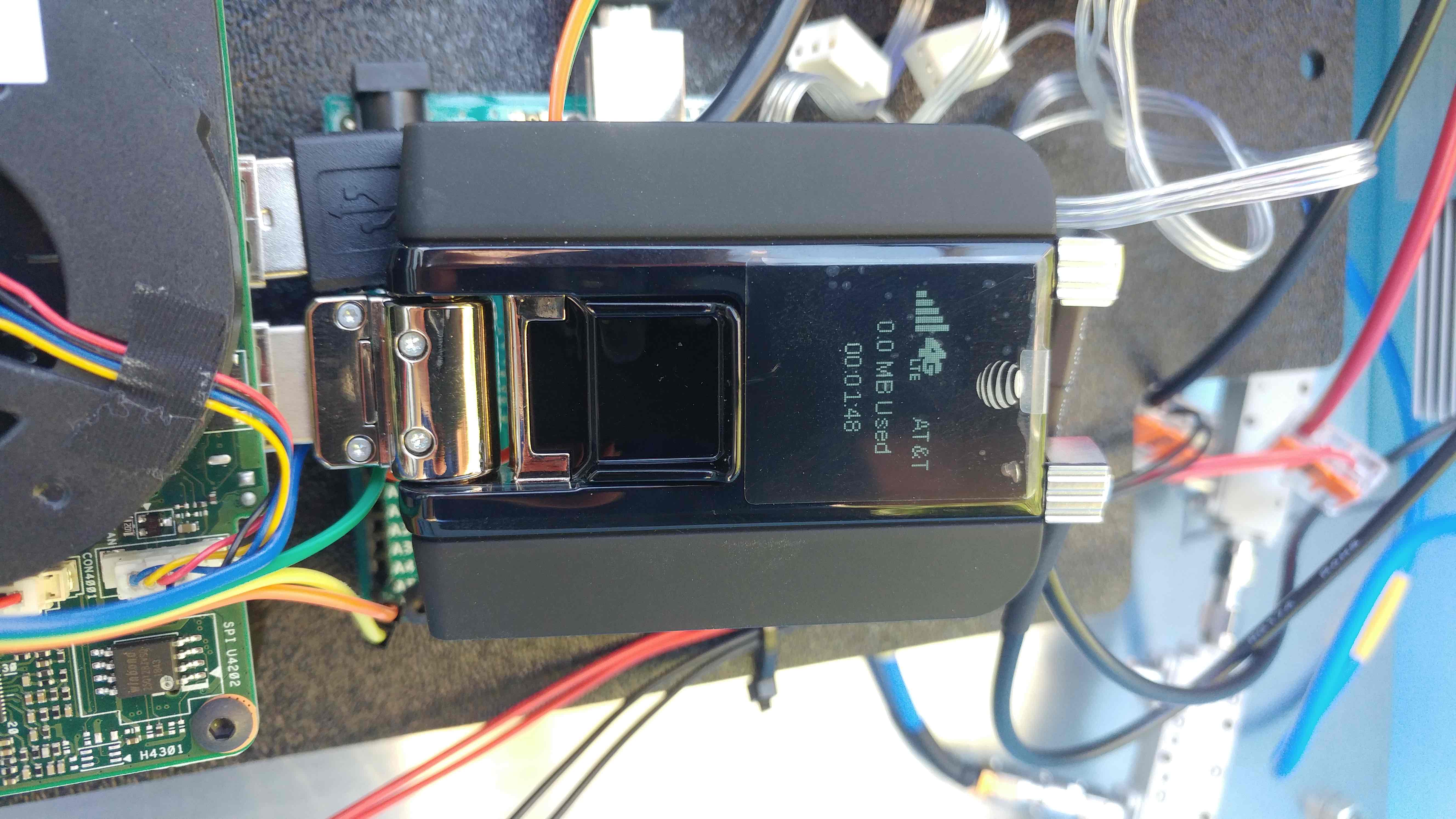 Successfully deployed out-of-band access to our fixed-endpoints using commercial LTE from AT&T.
June 2019: srsLTE OTA testing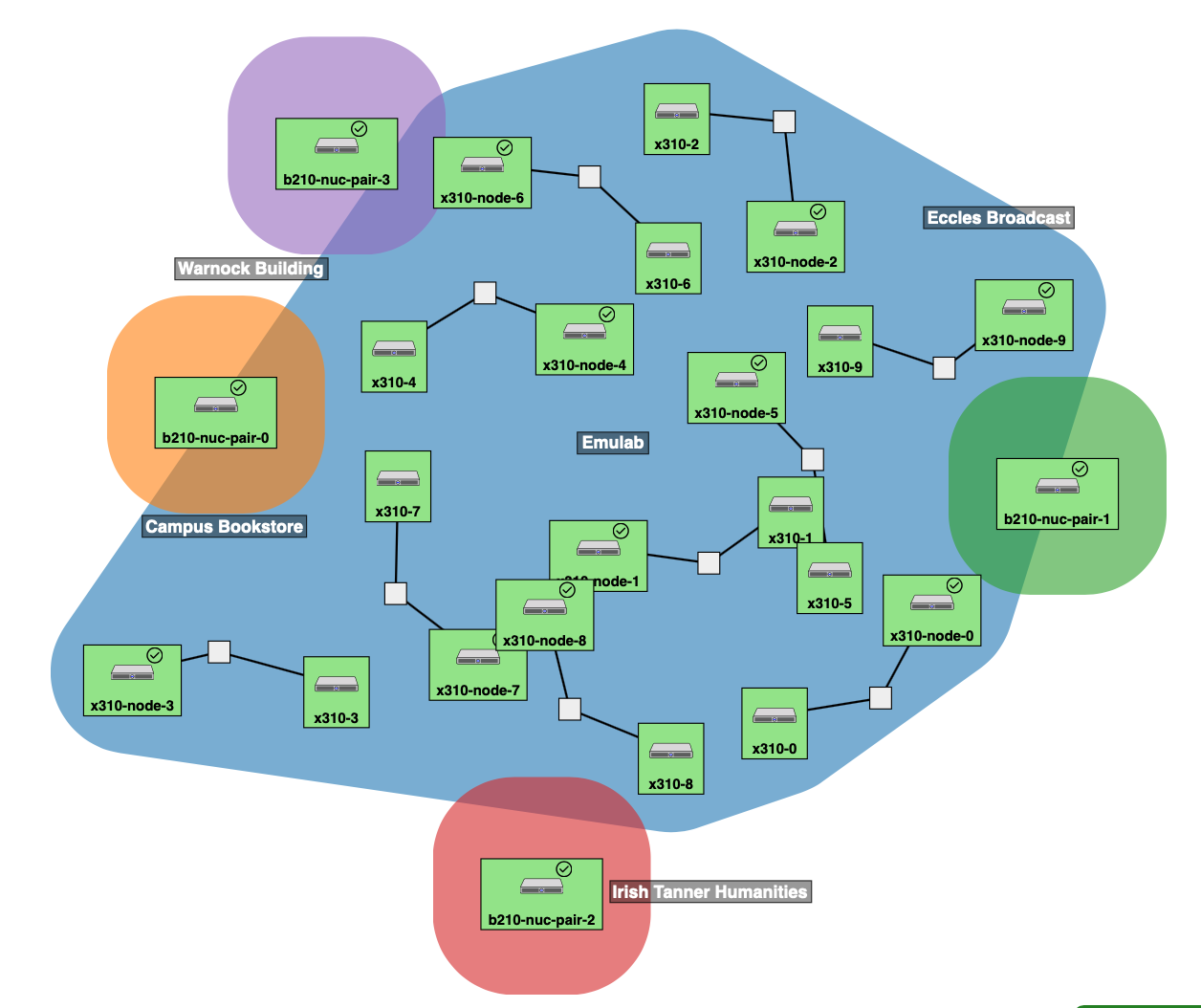 Single POWDER experiment with ten X310s (in rooftop nodes) and four B210s (in fixed endpoints).
Successfully tested srsLTE in this configuration.
May 2019: Massive MIMO deployment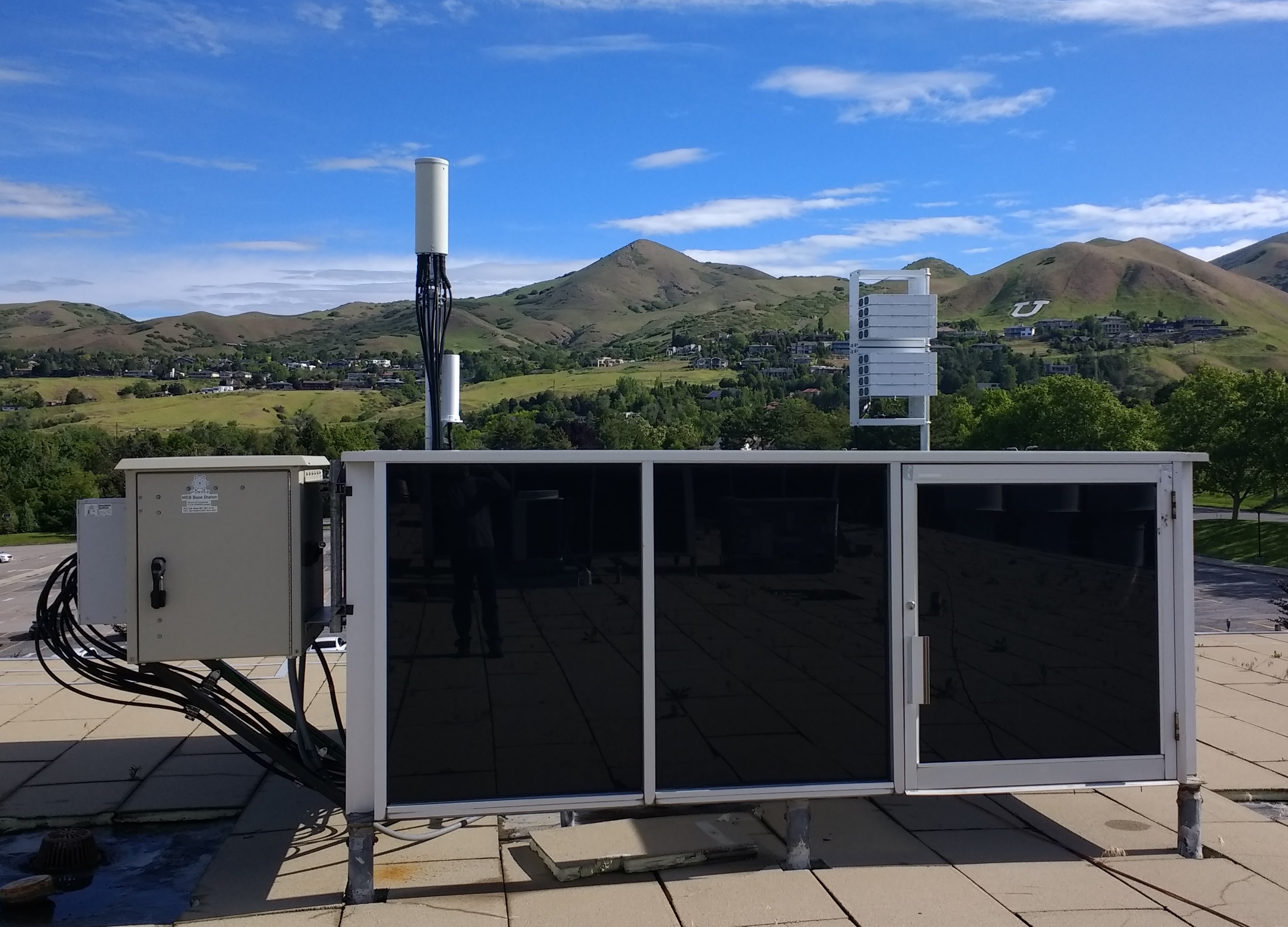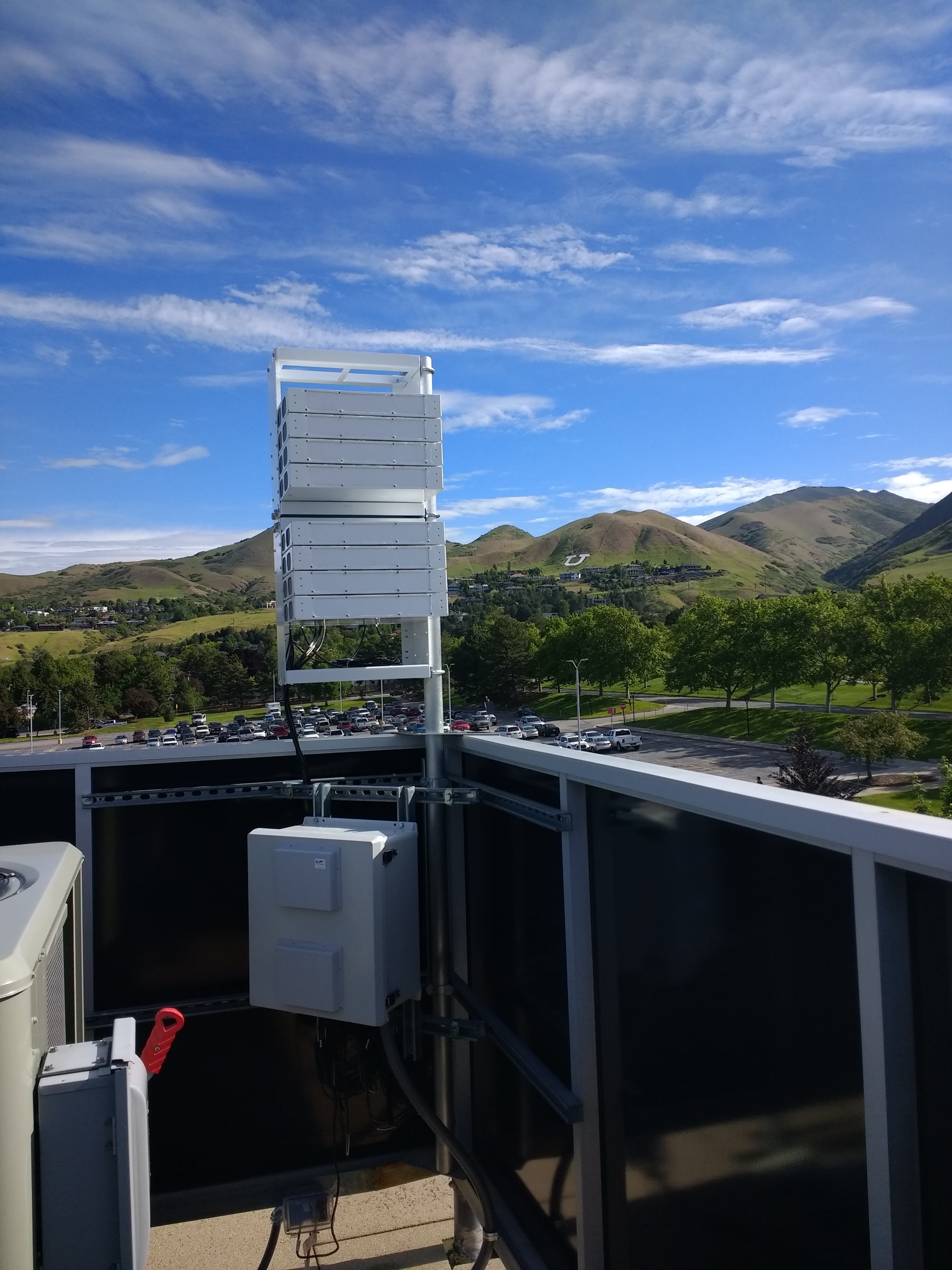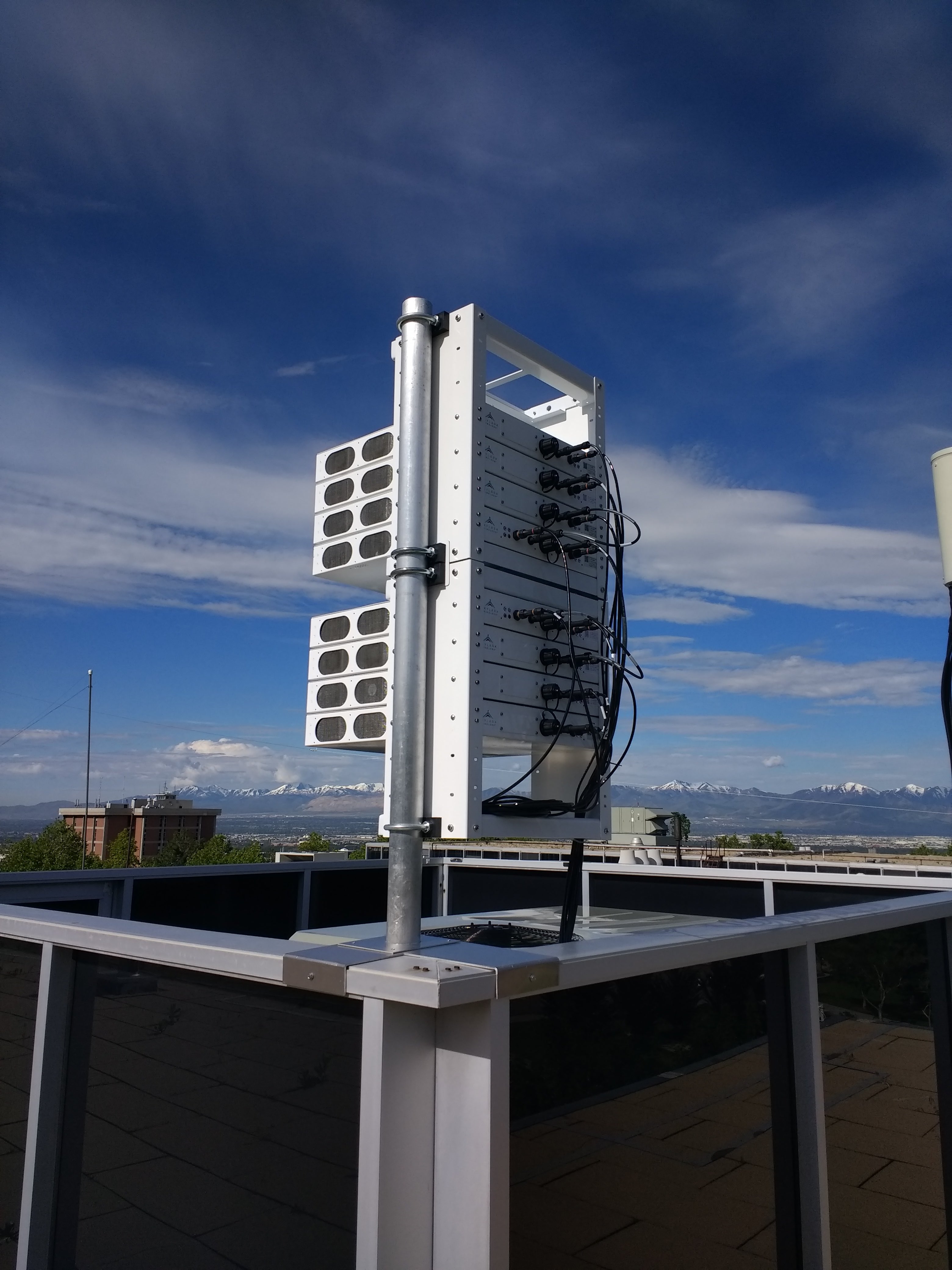 Massive MIMO deployment on Merrill Engineering Building.
May 2019: MHC rooftop deployment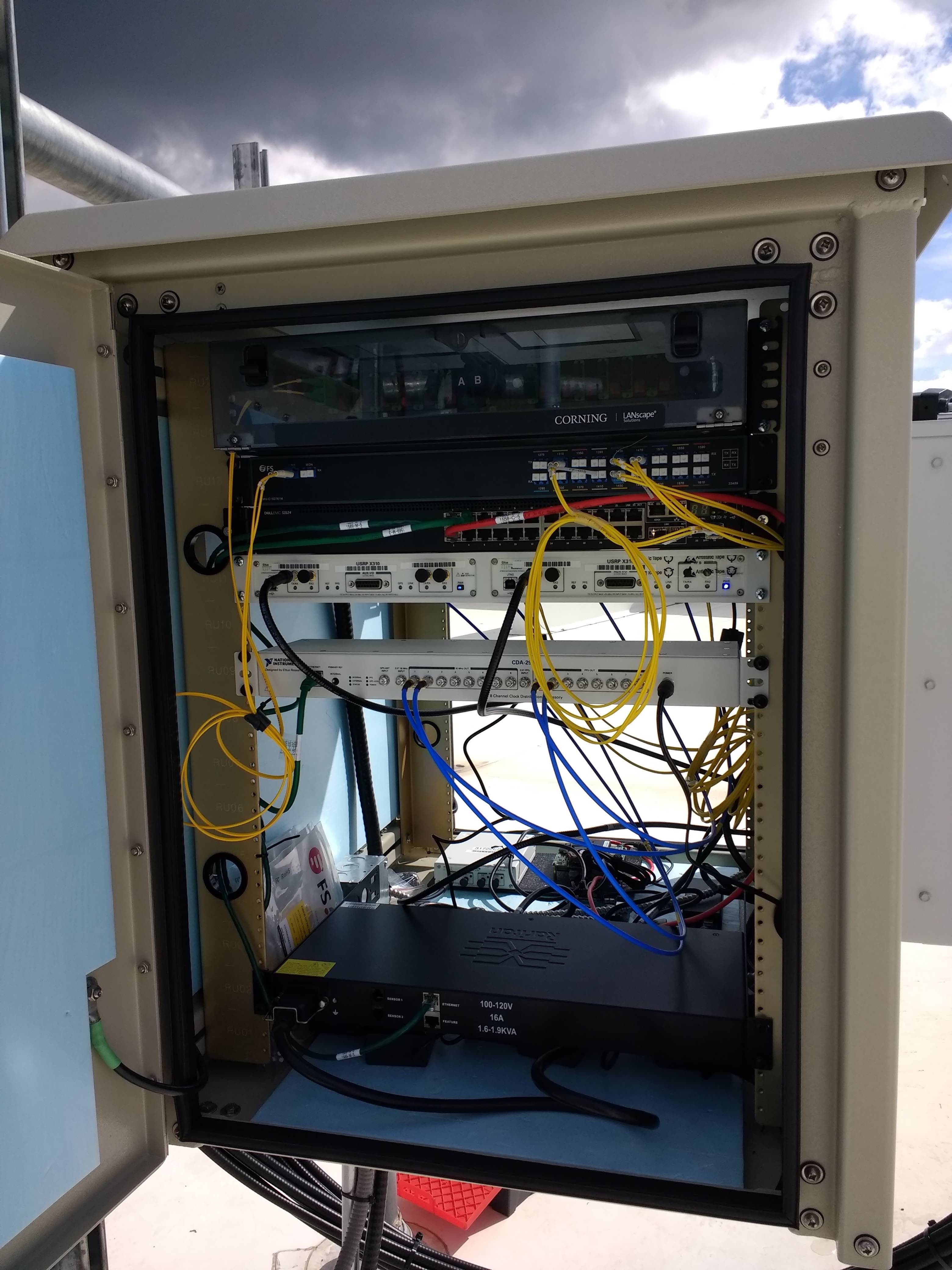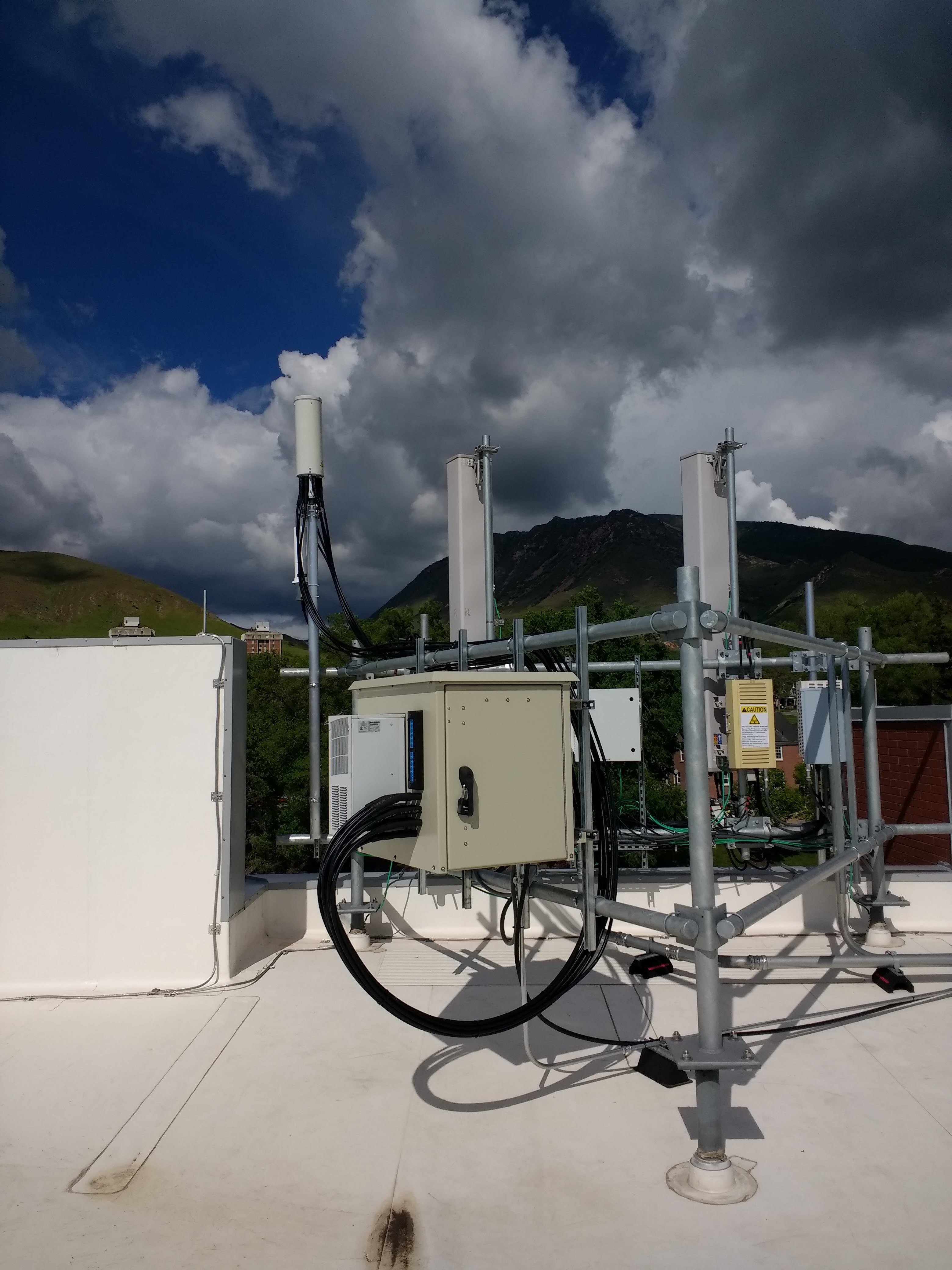 Rooftop deployment on Marriott Honors Community building, with partial equipment deployment.
May 2019: OAI 5G NR measurements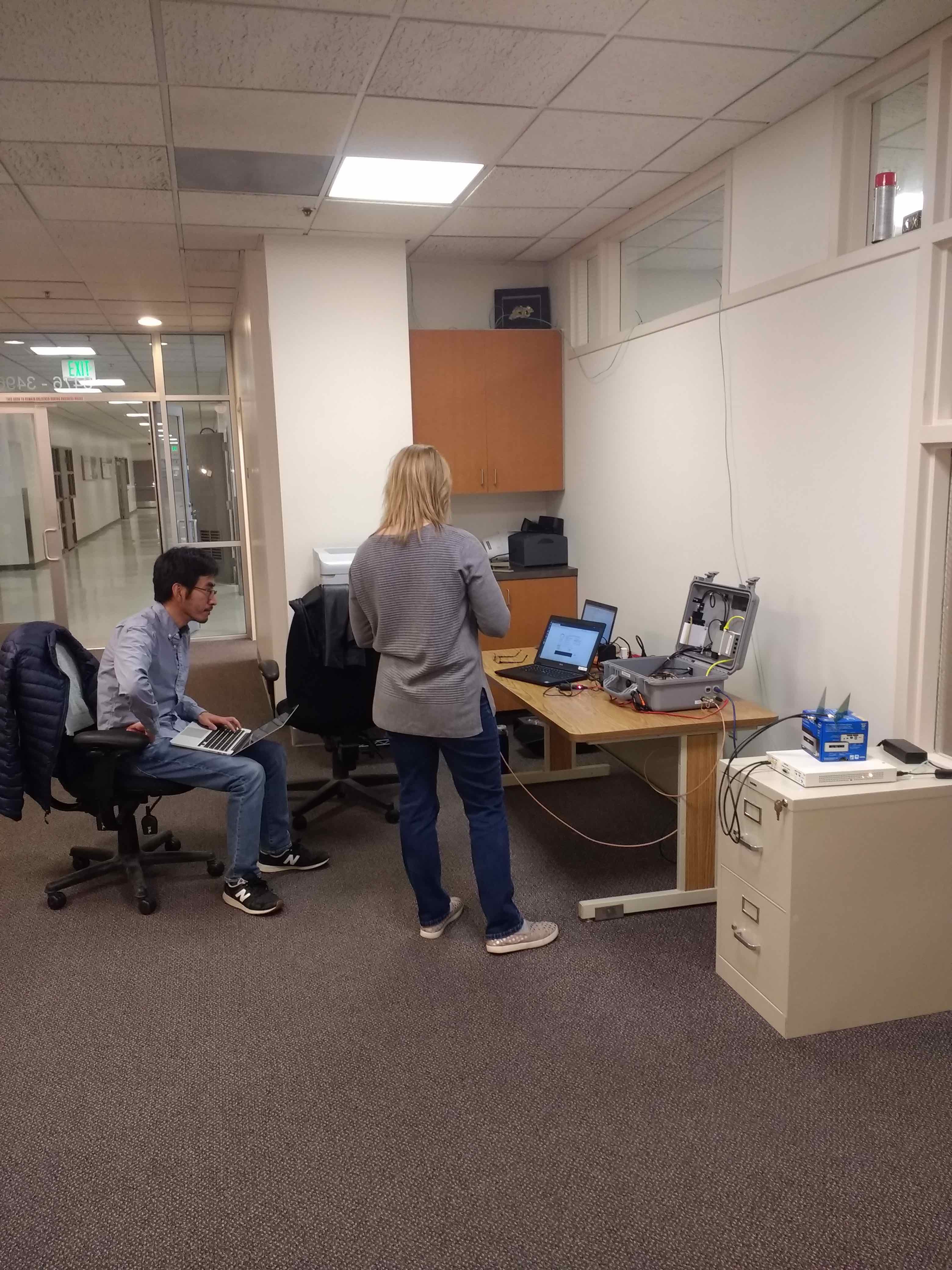 We hosted an external company who performed (indoor) over-the-air measurements of our OpenAirInterface 5G NR profile.
May 2019: OTS UE with OAI TDD eNodeB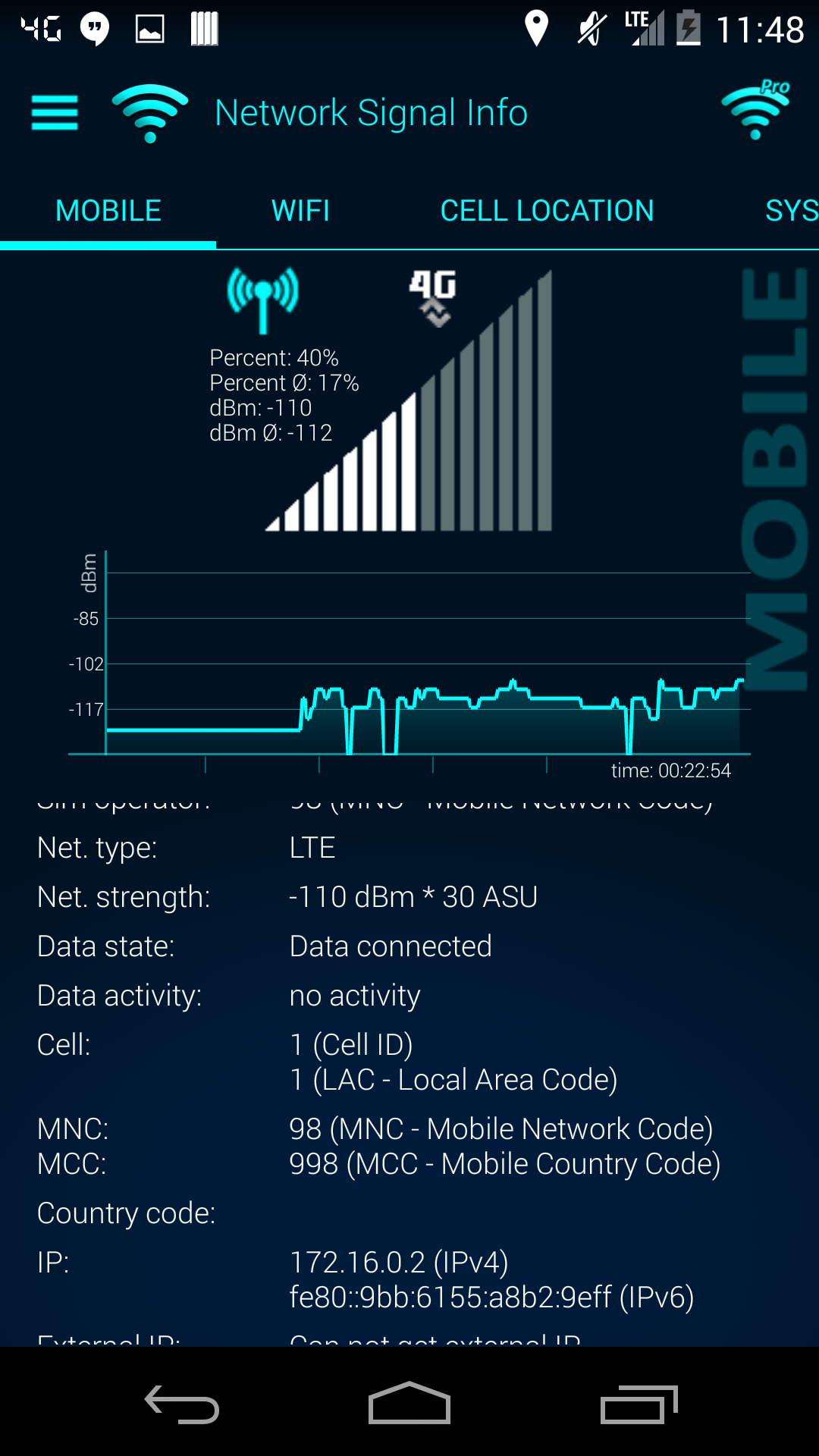 Screenshot from an off-the-shelf UE connected to an OAI-based eNodeB in POWDER. For this test the eNodeB was an X310 USRP with a d430 compute node, running OpenAirInterface software in TDD mode, in the POWDER rooftop node on the Merrill Engineering Building. The UE was a Nexus-5 off-the-shelf smartphone.
May 2019: Upcoming events
Upcoming POWDER-RENEW events:
April 2019: Calibration, Assembly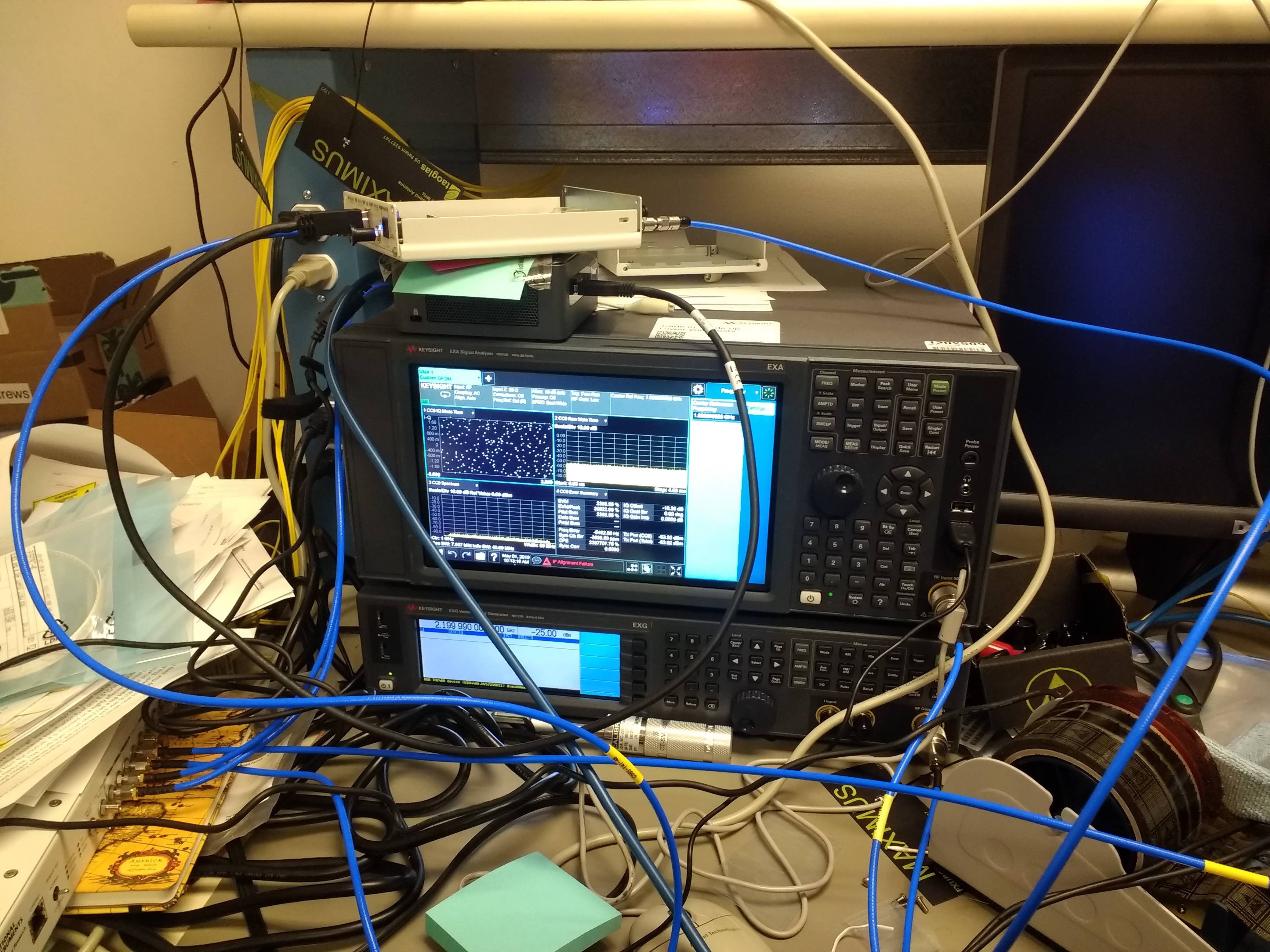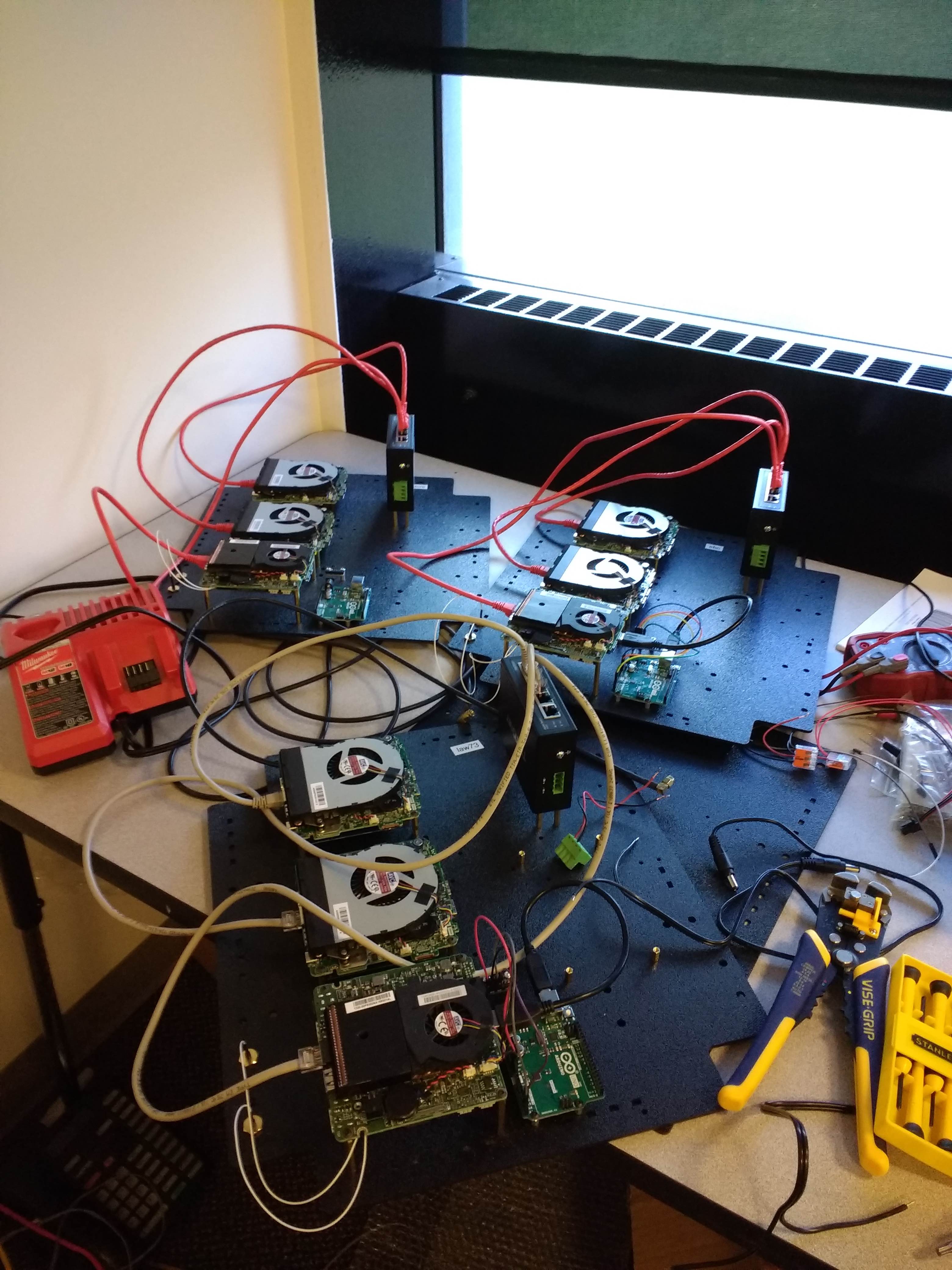 B210 being calibrated.
Fixed-endpoint electronics being assembled.
April 2019: Deployment progress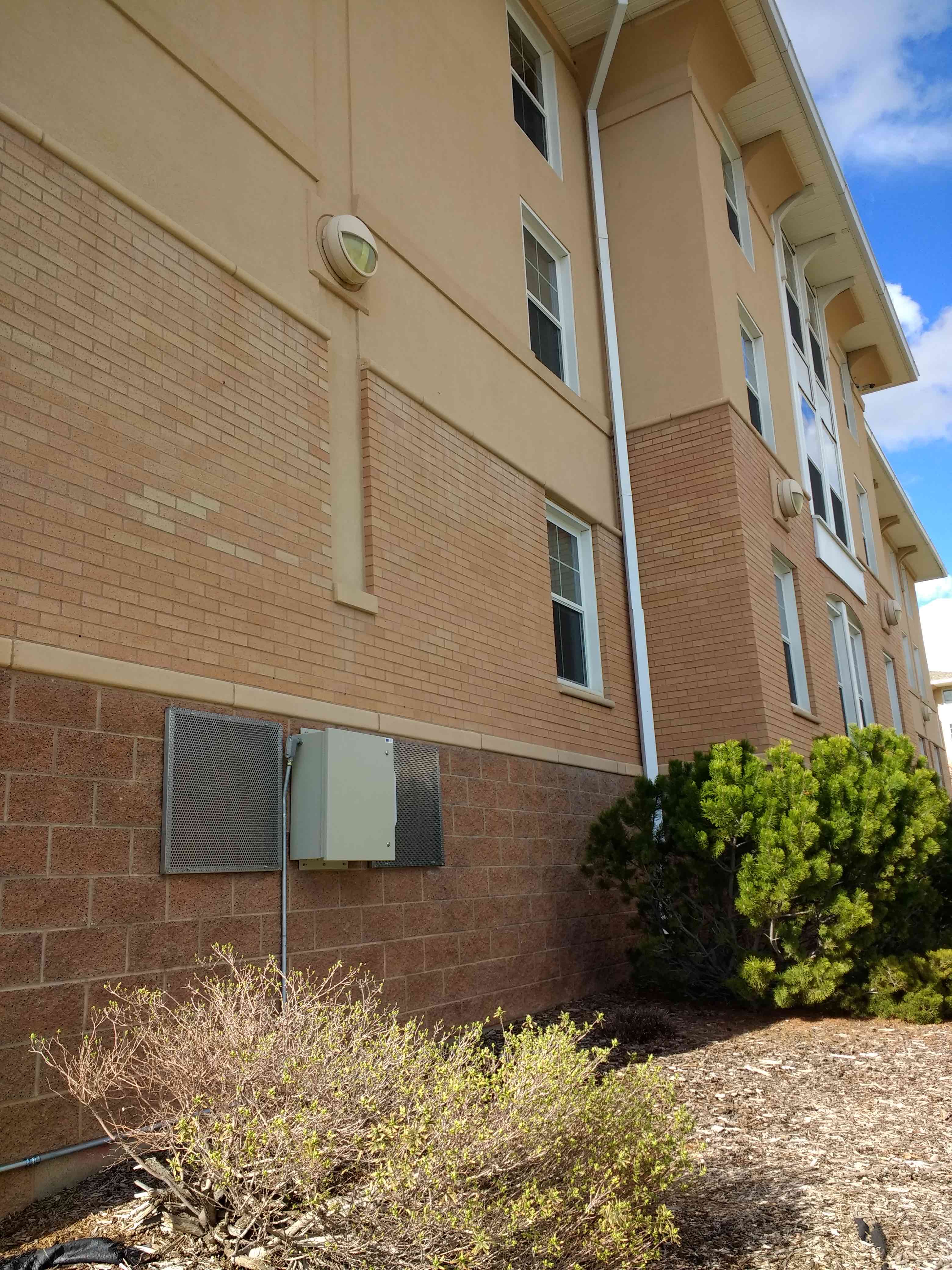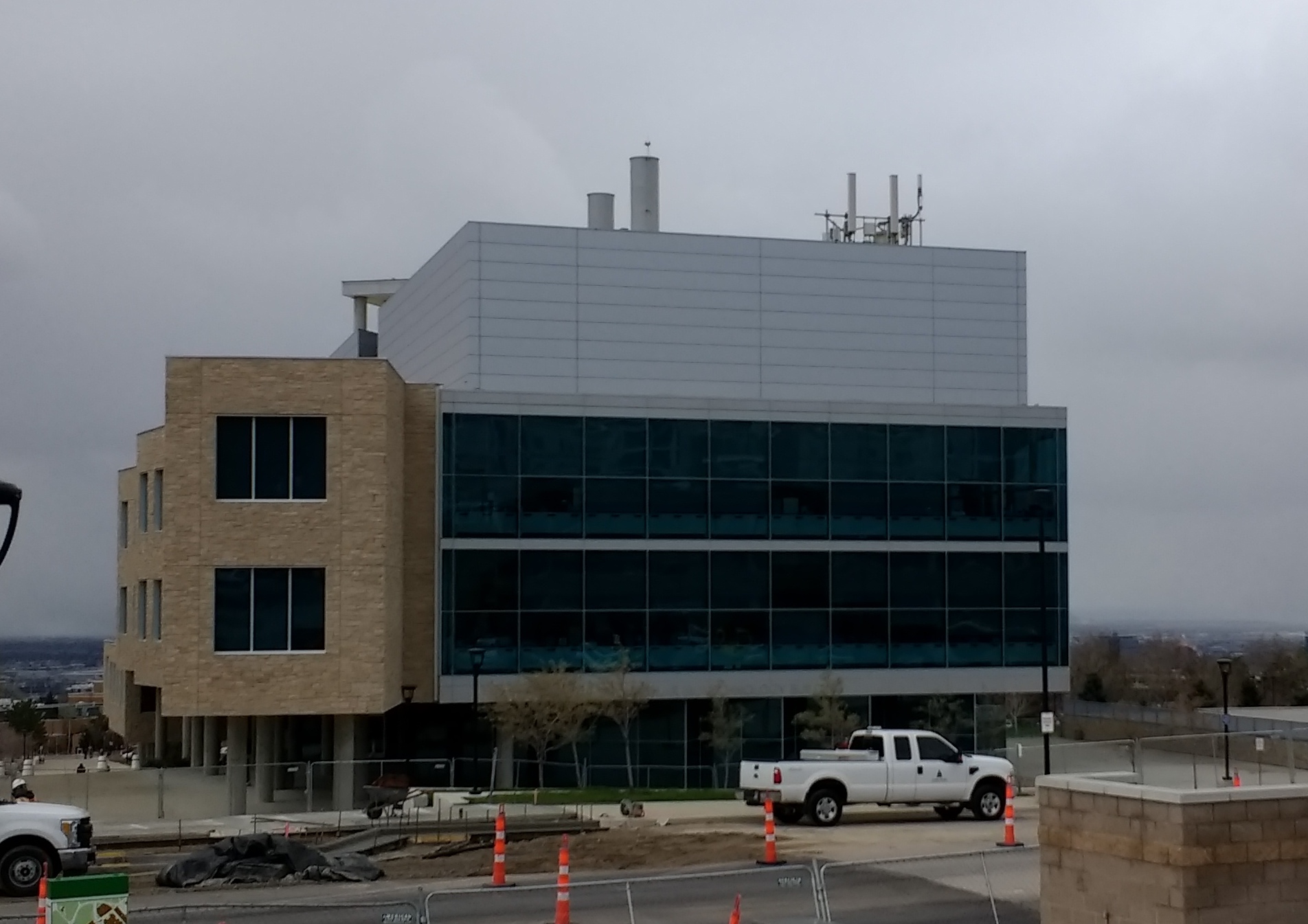 Fixed endpoint with antenna panels.
Streetview of rooftop deployment. (POWDER antennas are the smaller ones on the right.)
April 2019: New coverage
News coverage of our first phase deployment:
March 2019: Base stations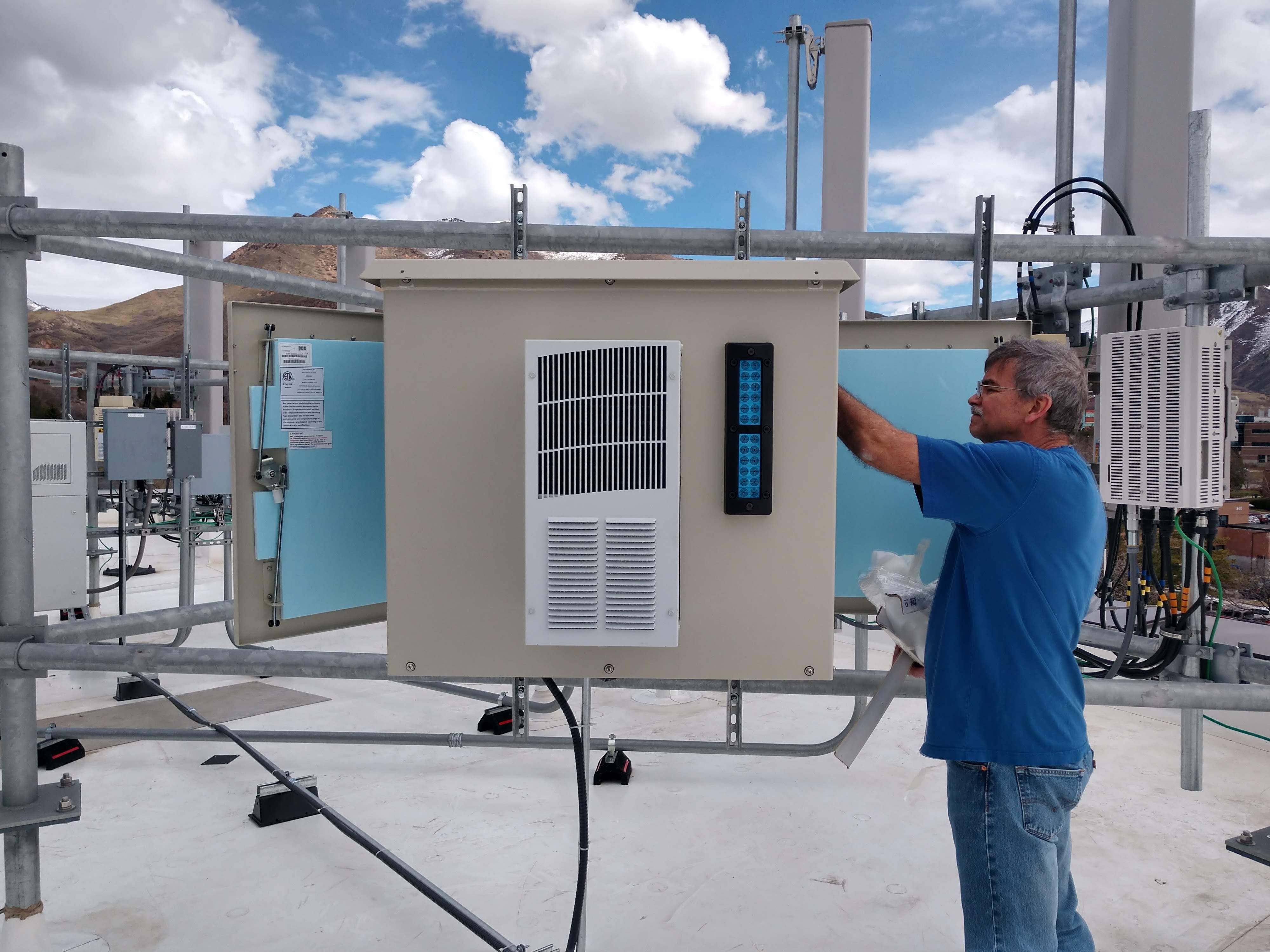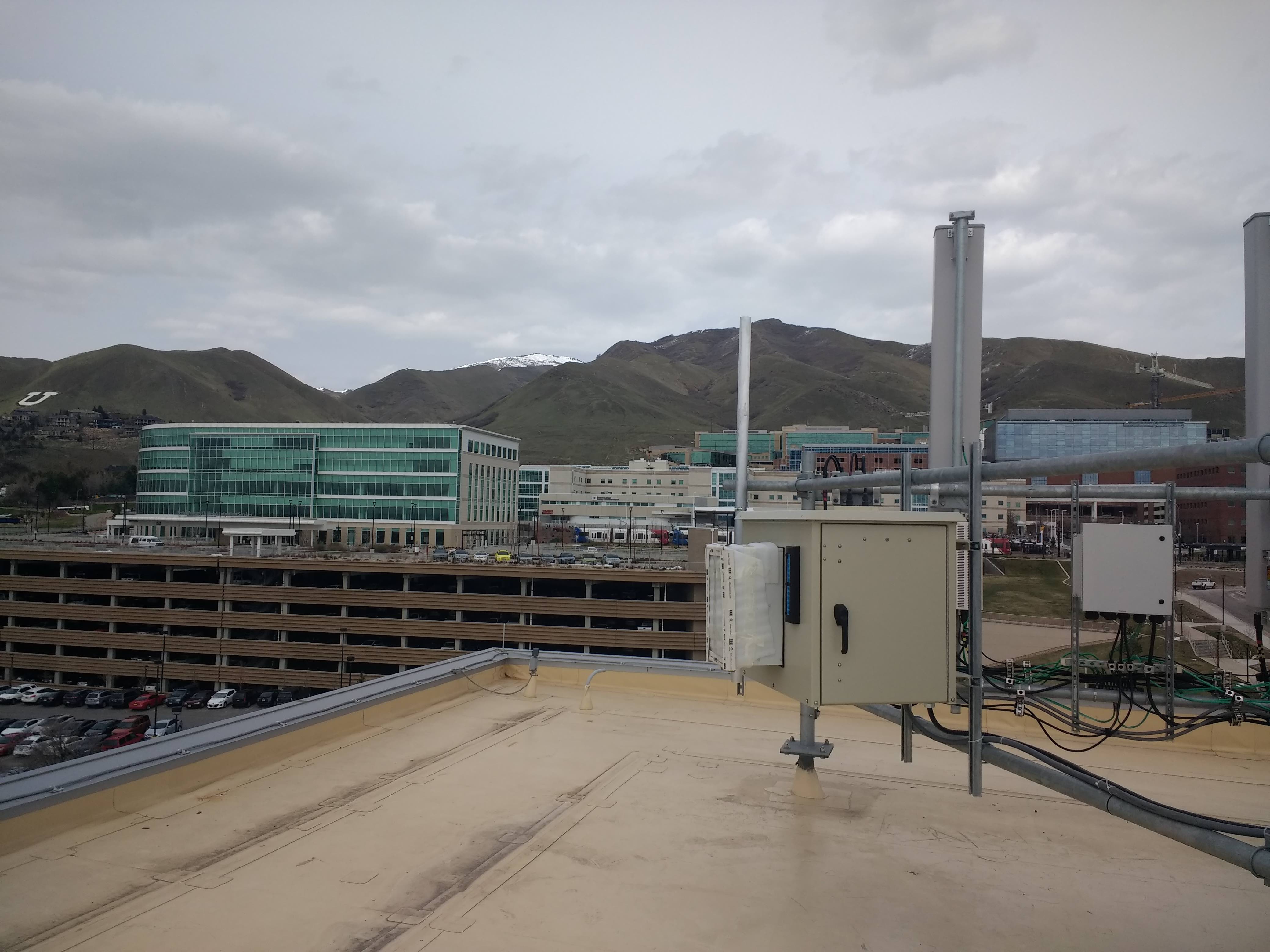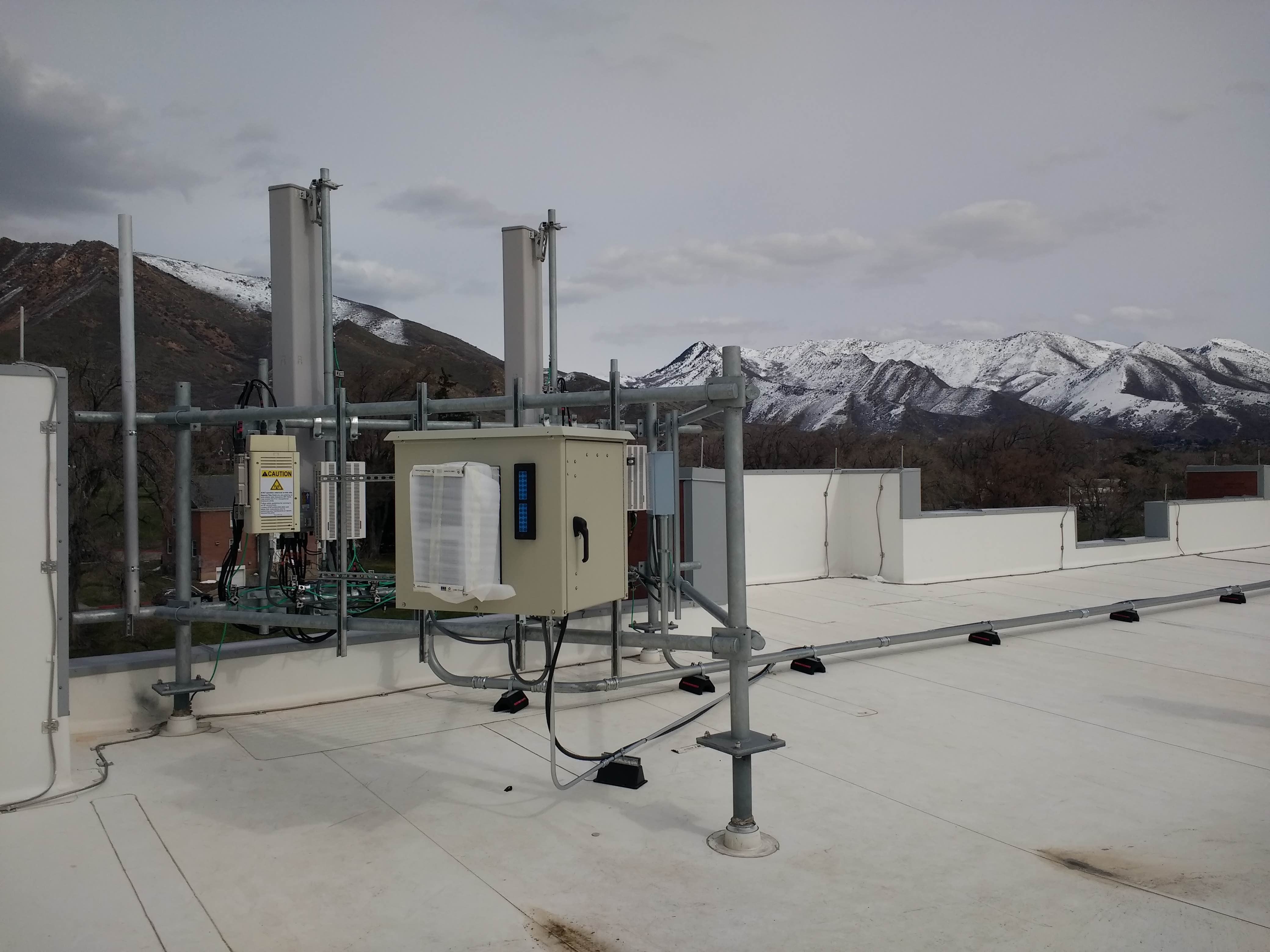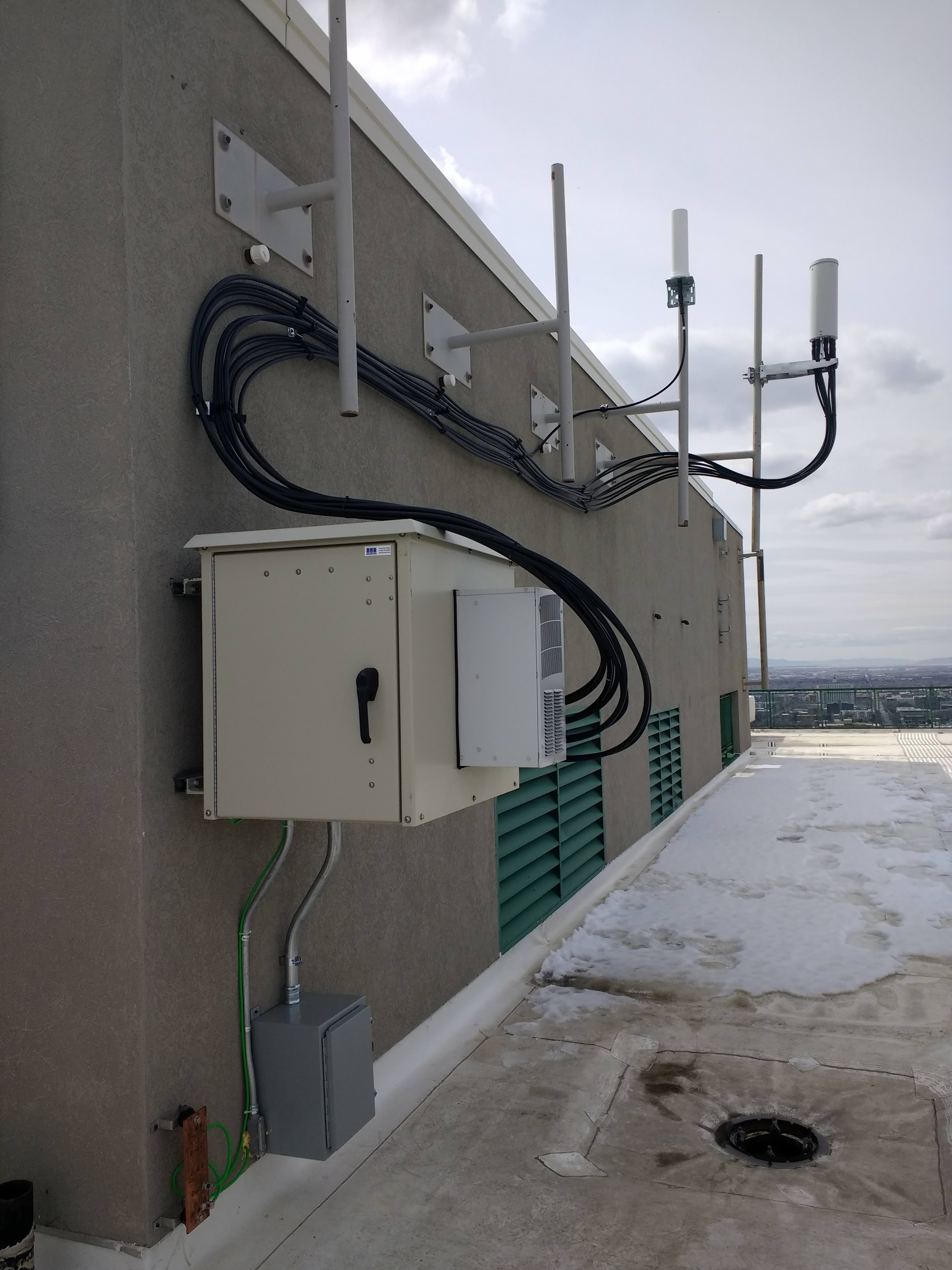 More rooftop base station deployments.
March 2019: High performance compute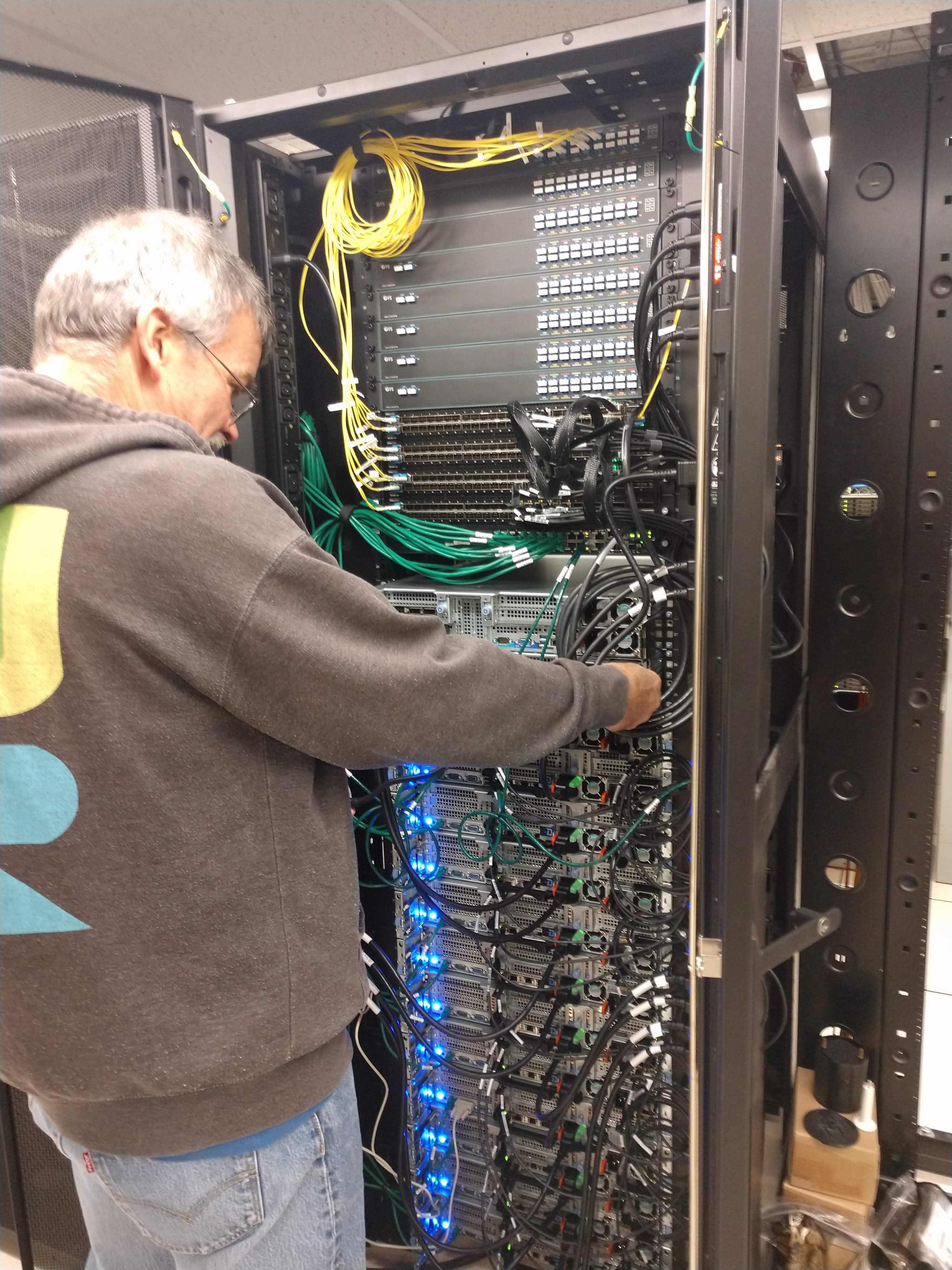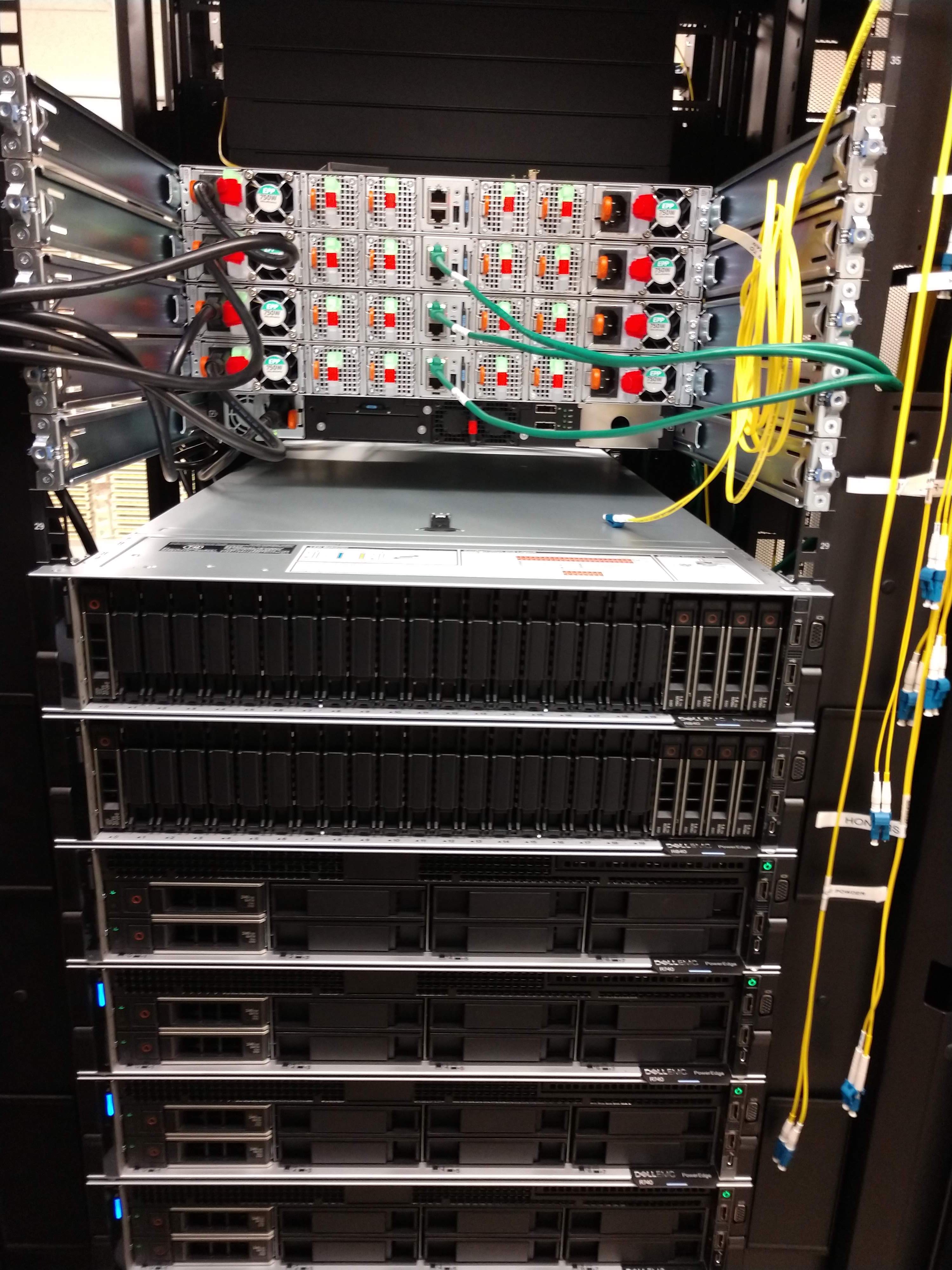 High performance compute nodes being deployed.
March 2019: Massive MIMO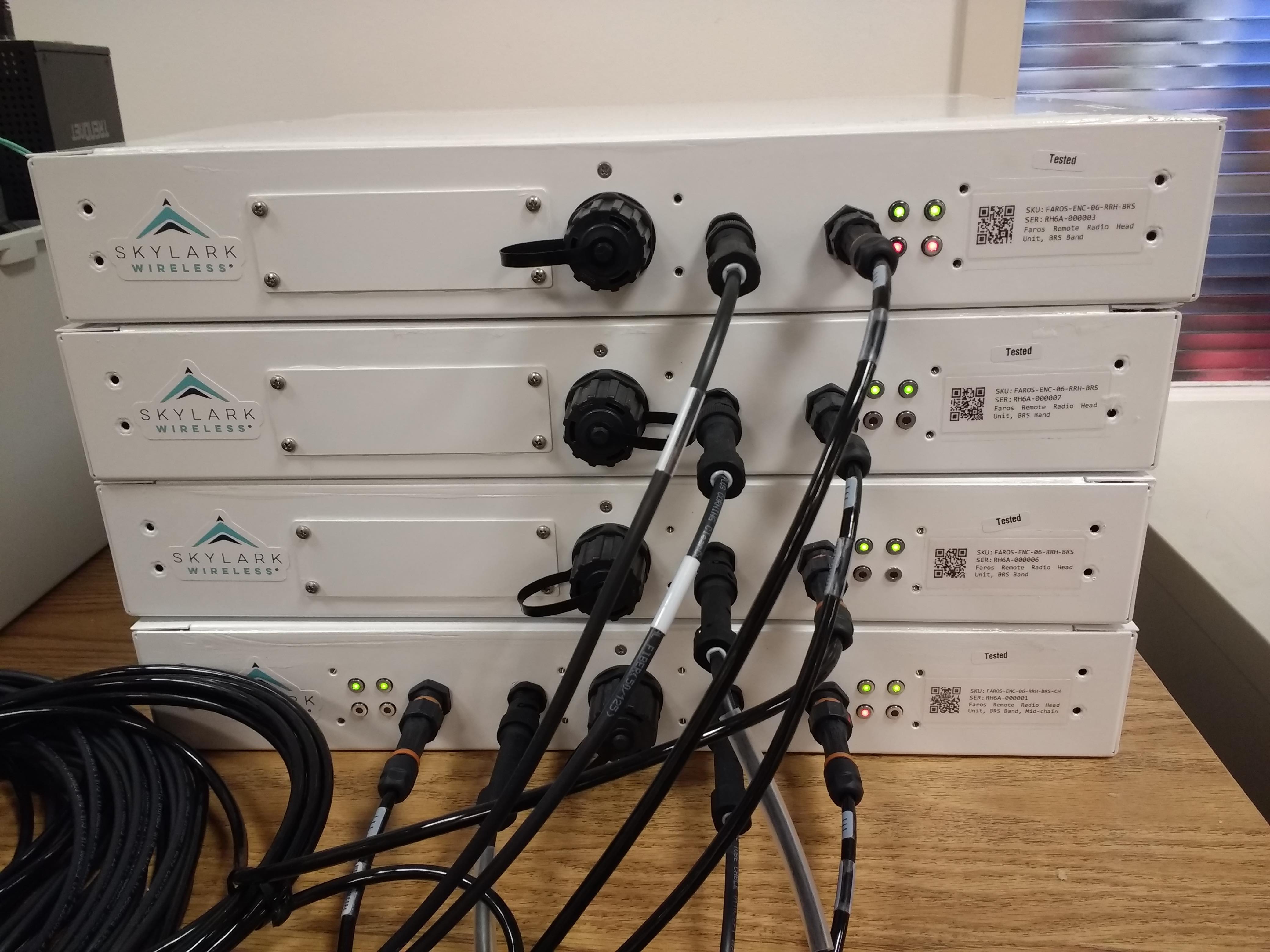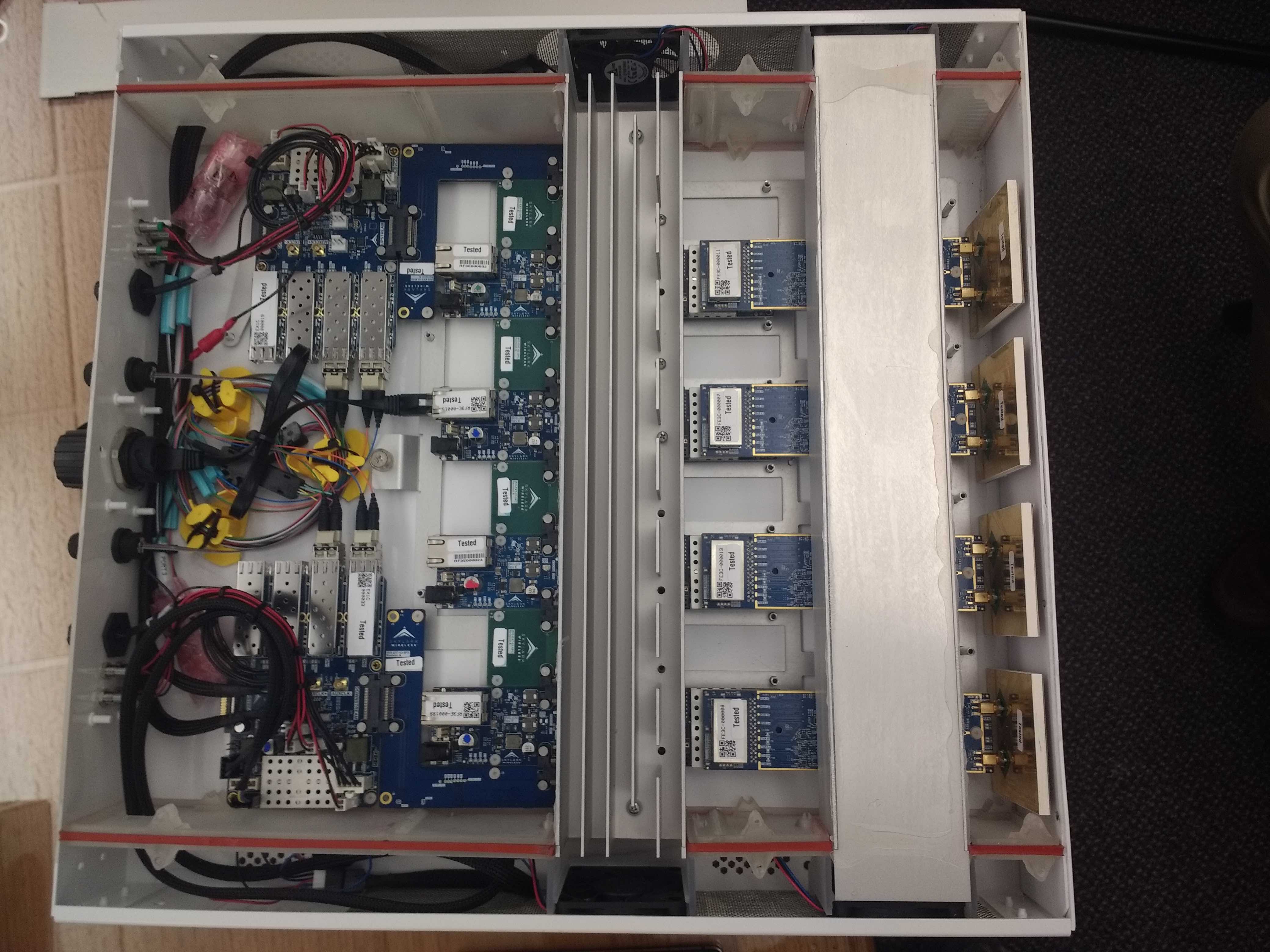 A "halfstack" of "blades" for our Skylark massive MIMO base station.
Inside view of one of the blades showing the four Iris units, each with two radios. Each massive MIMO base station will have eight blades for a total of 64 radios.
March 2019: Fixed-endpoints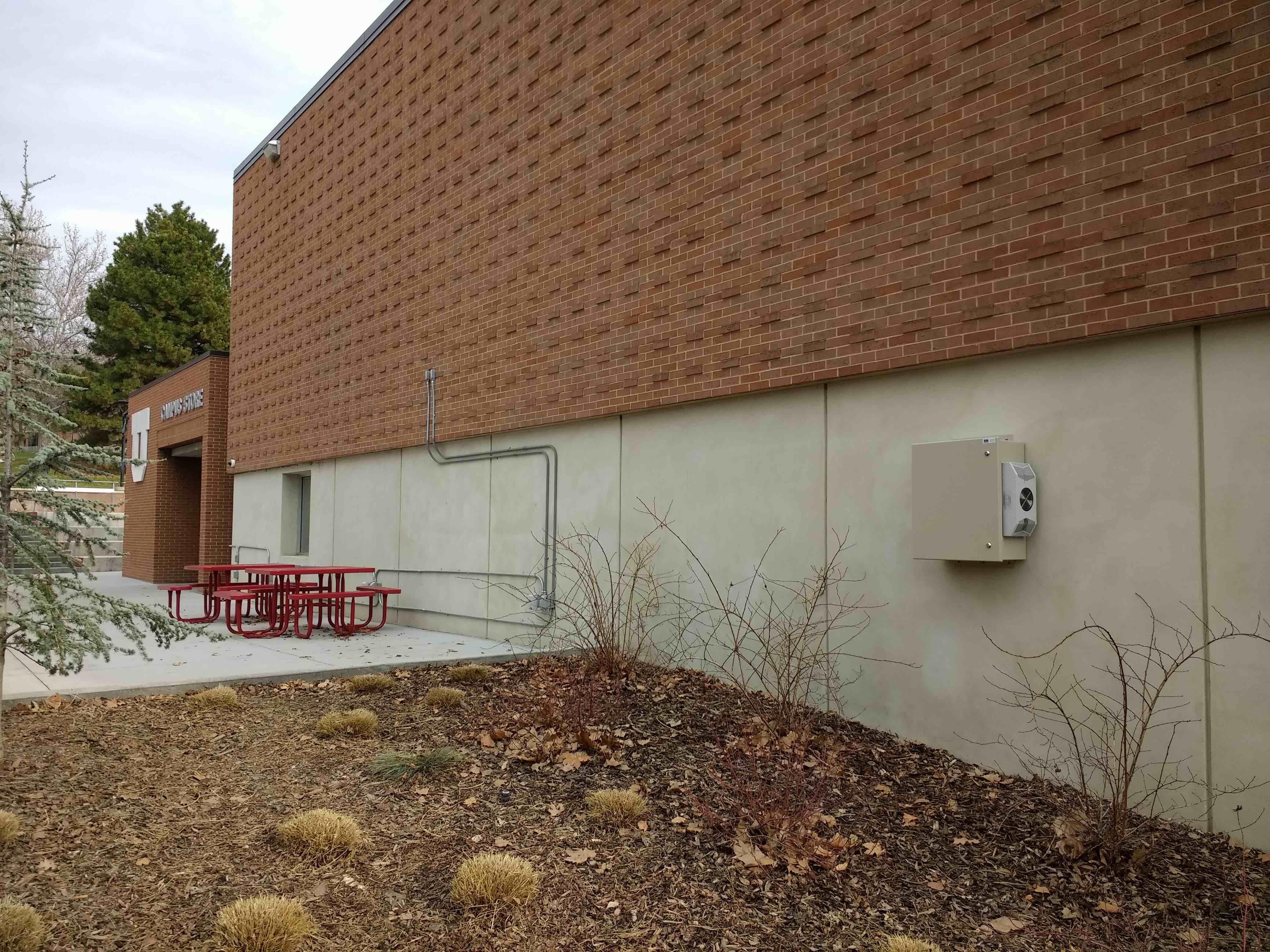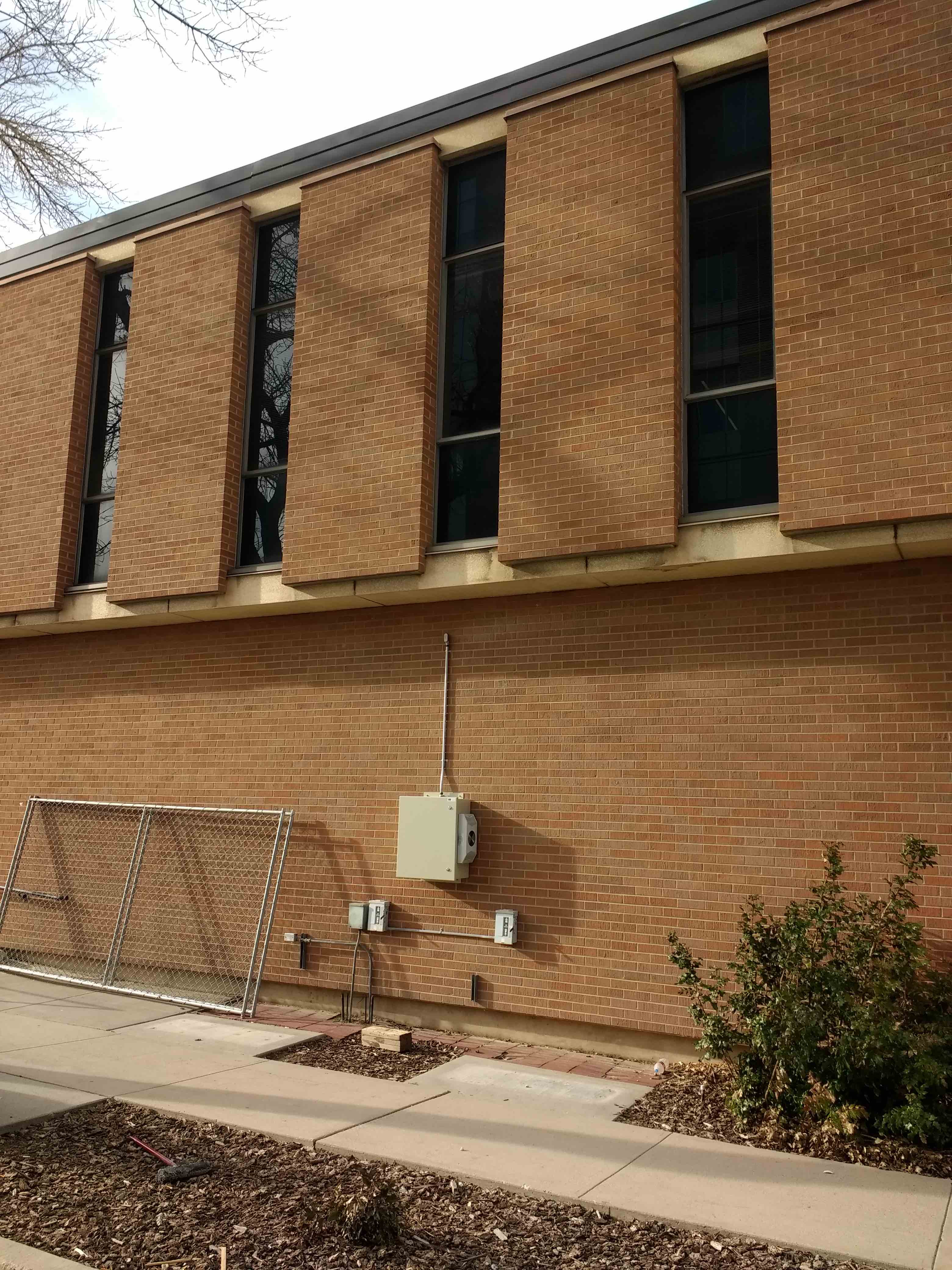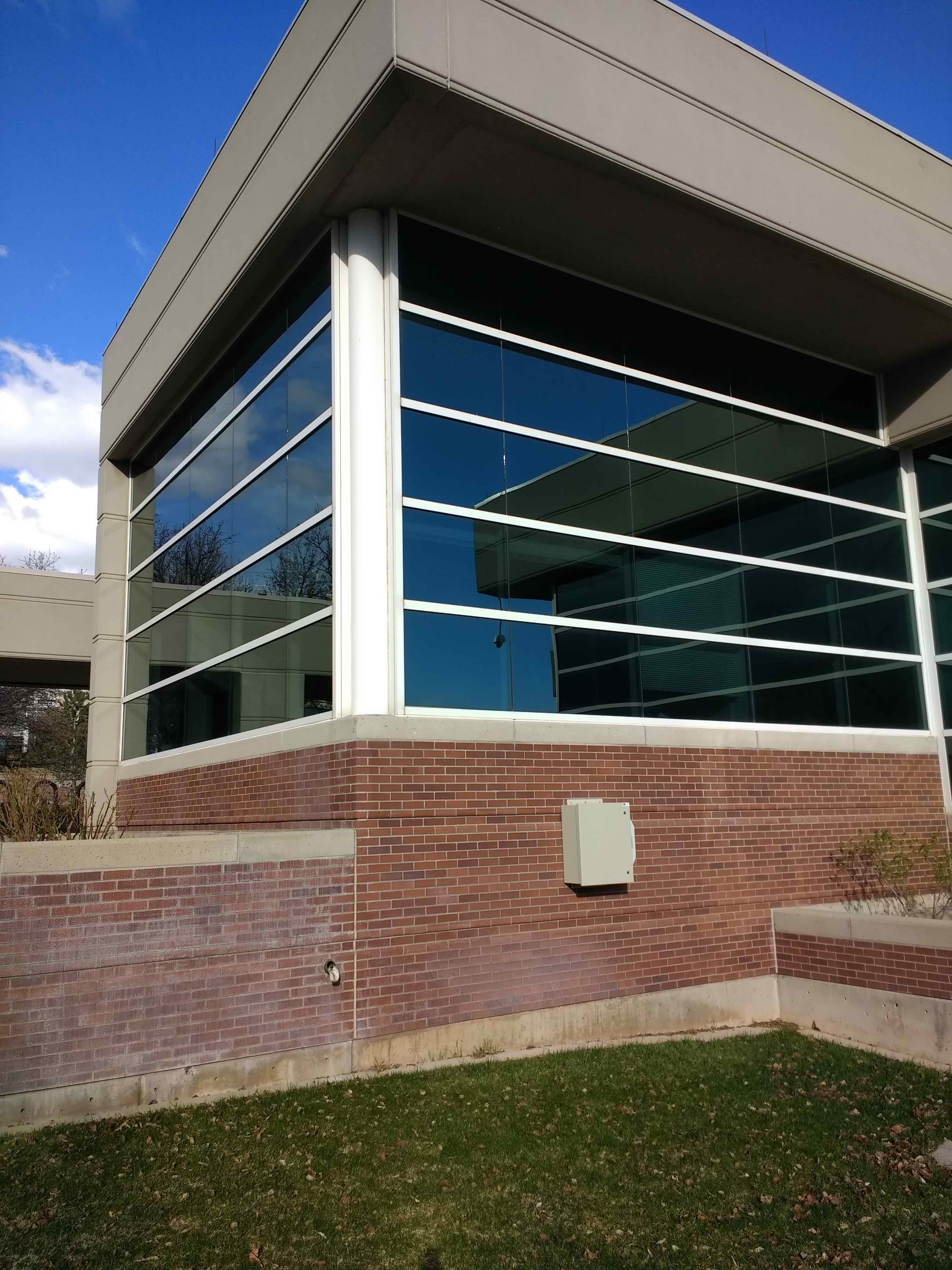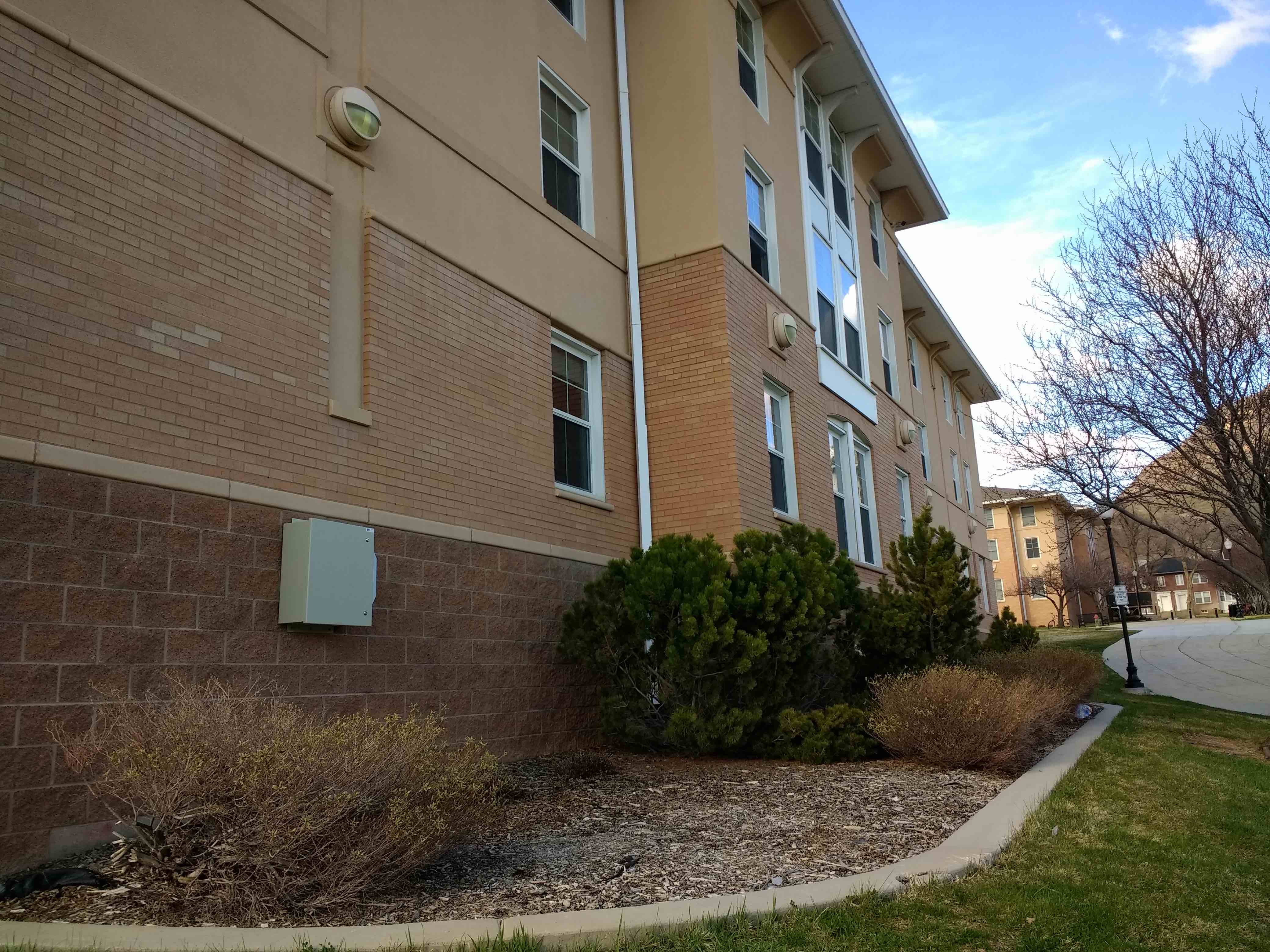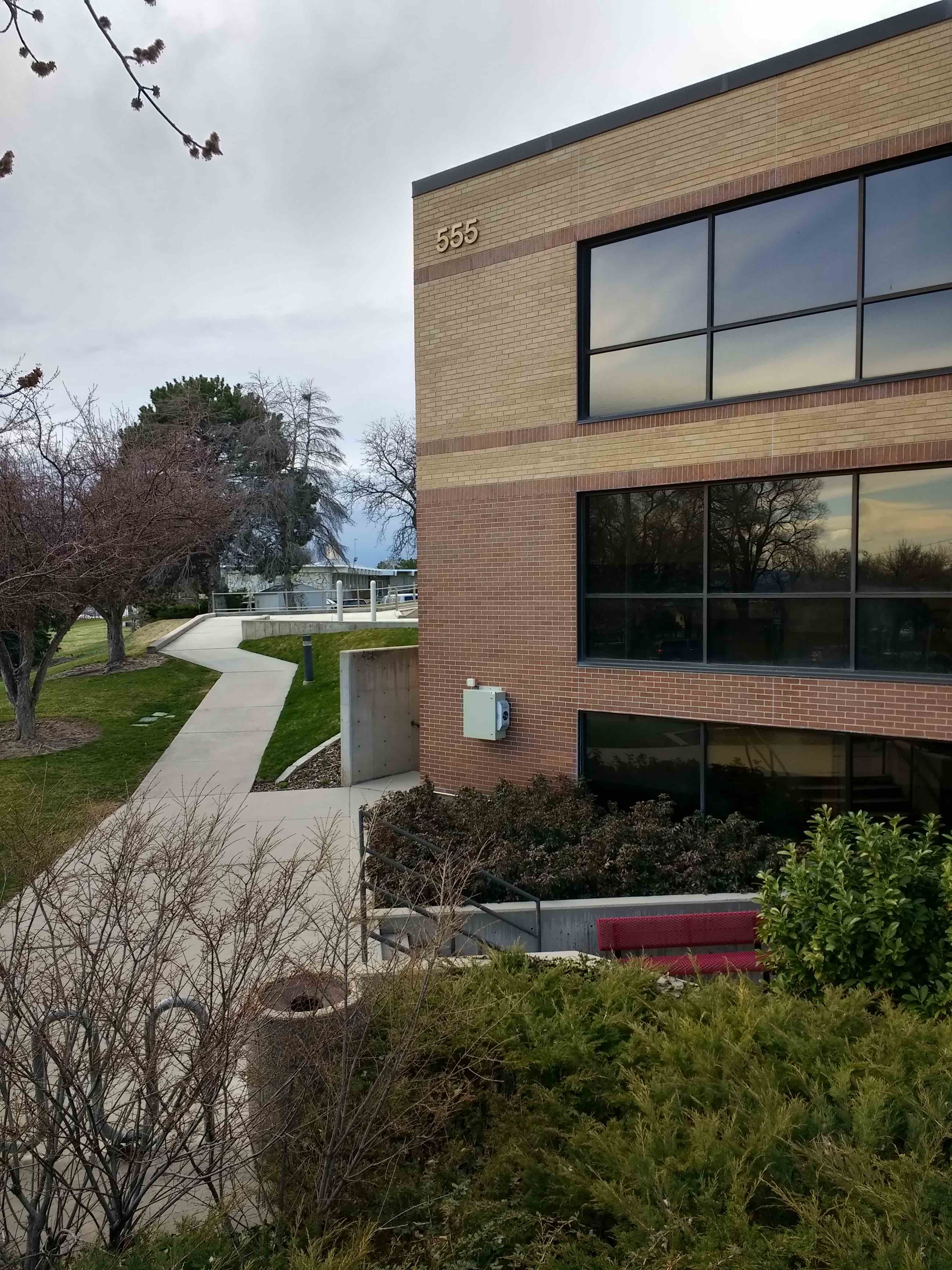 More fixed endpoint deployments.
March 2019: Testing with srsLTE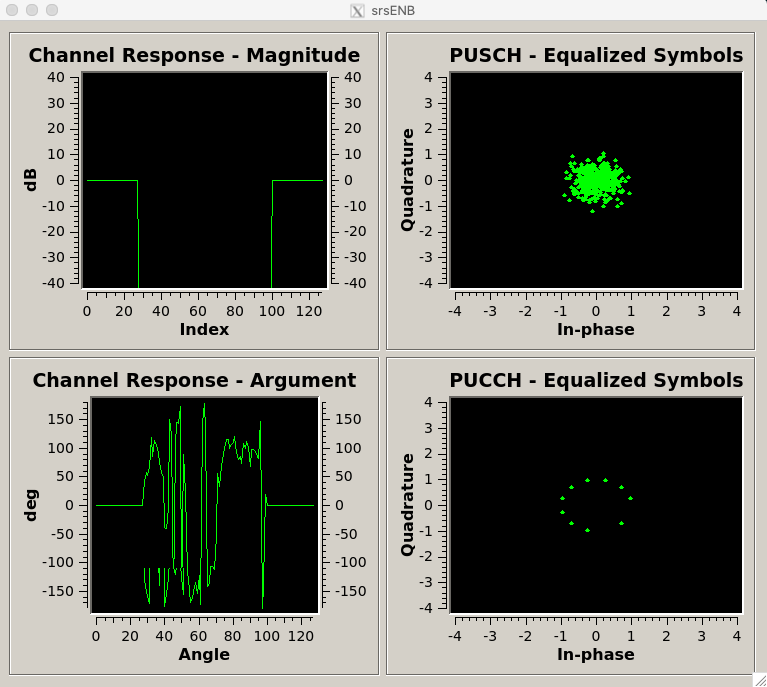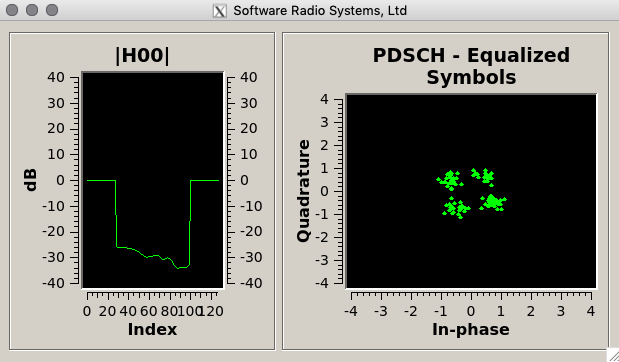 Screenshots (uplink and downlink) of a successful over-the-air test using srsLTE software on POWDER. For this test the UE hardware was a National Instruments B210 SDR attached to an omni Taoglas GSA.8841 antenna. The eNodeB was a National Instruments X310 SDR attached to a Commscope VVSSP-360S-F antenna.
March 2019: Fixed-endpoint, Base station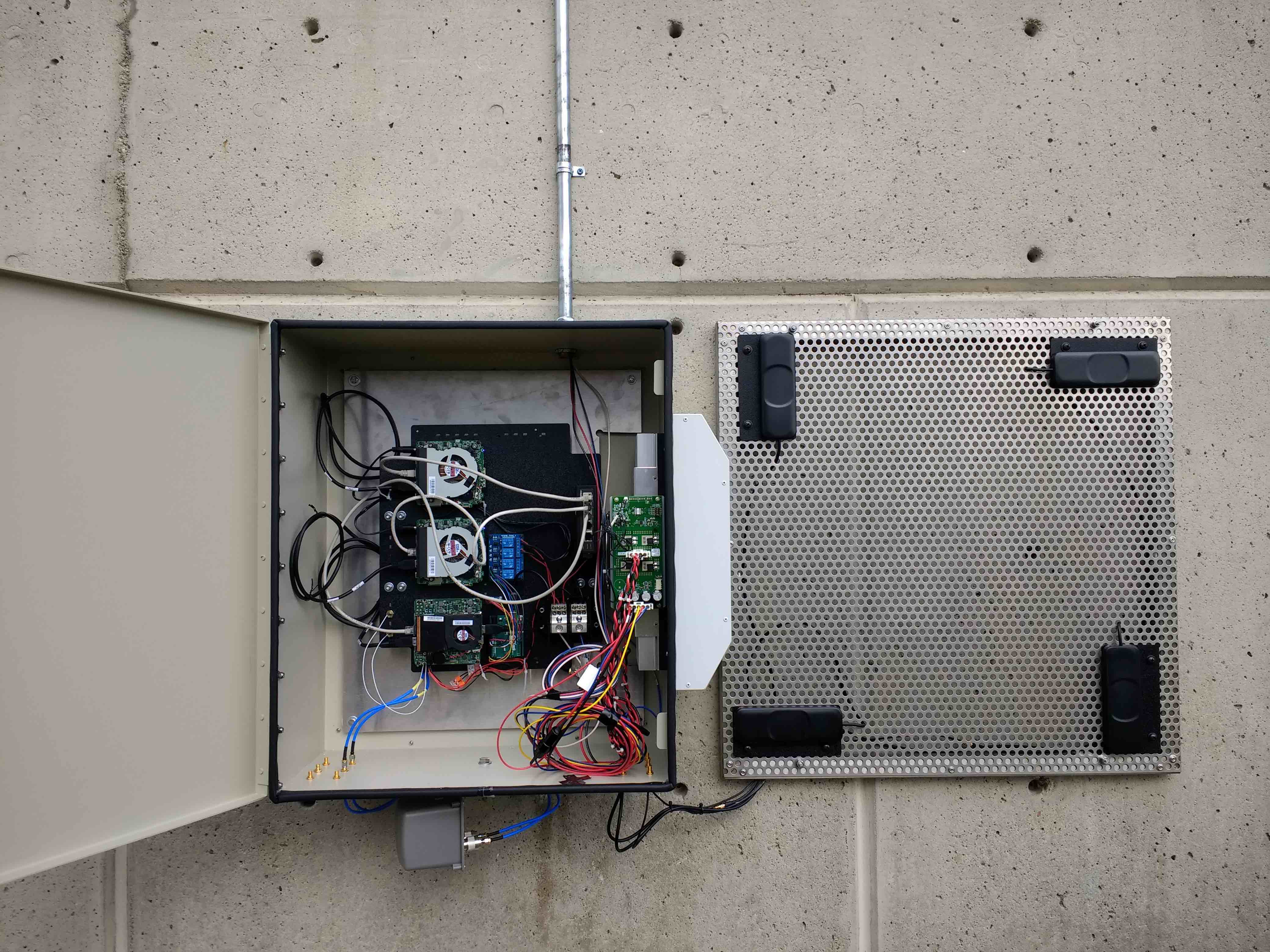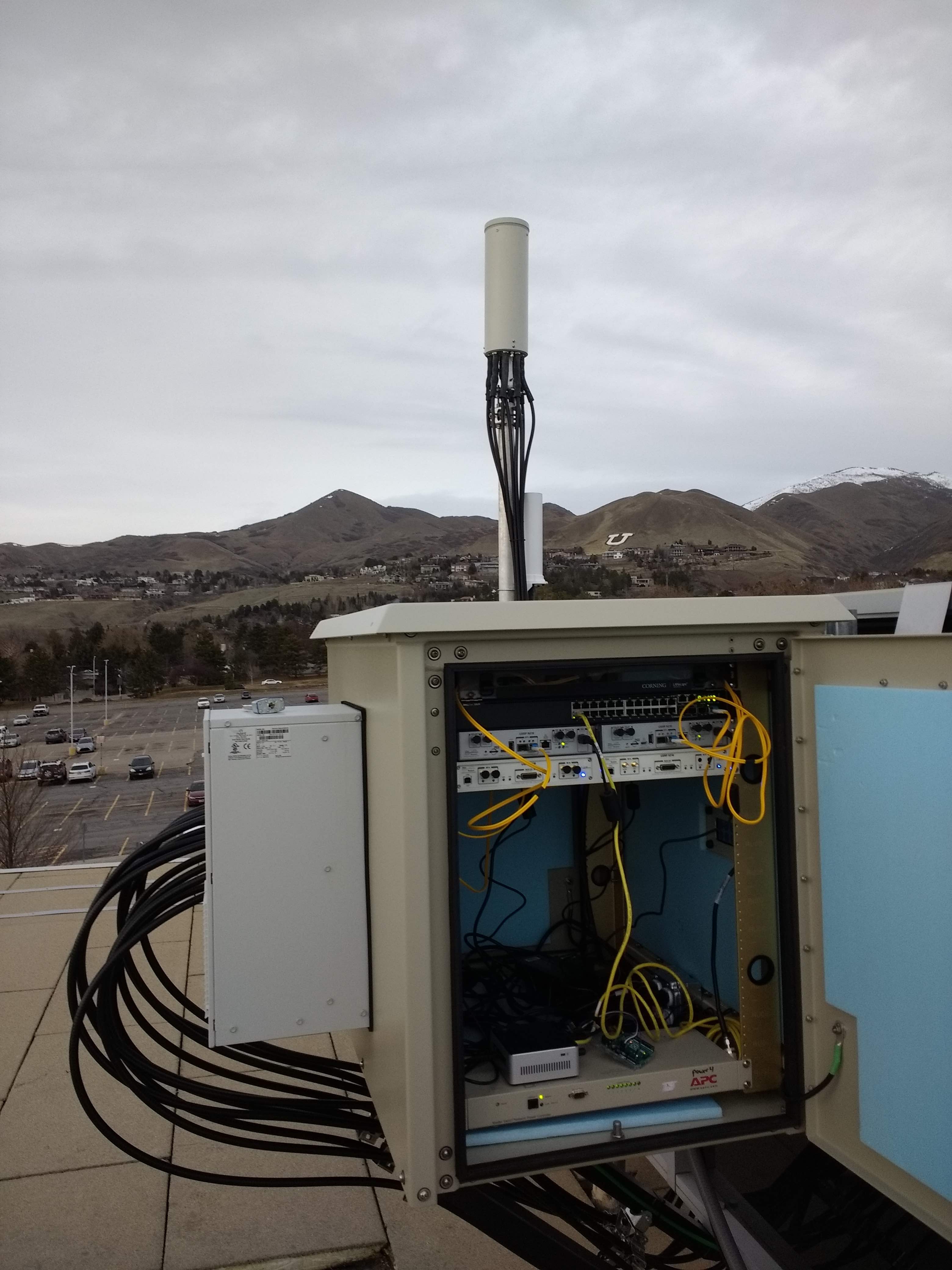 Fixed-endpoint enclosure with antenna panels and experimental/control equipment.
Base station with multi-band antenna and broadband antenna in the back, and network and SDR equipment in enclosure.
February 2019: Rooftop enclosures, Compute nodes, Network equipment, Antenna cabling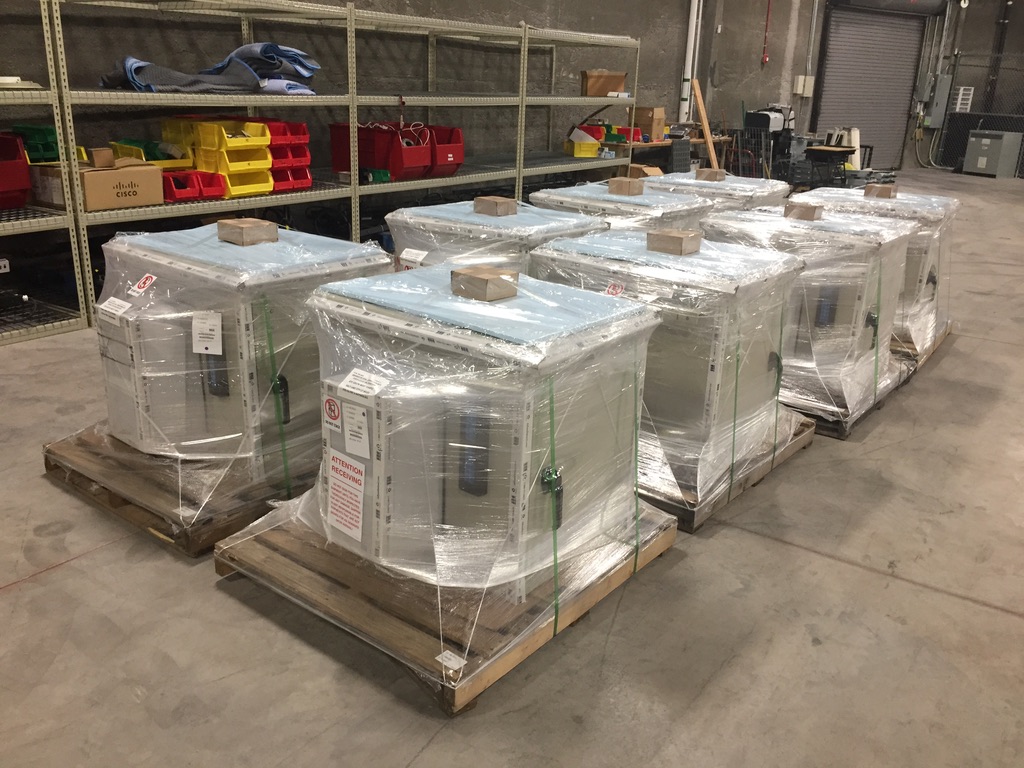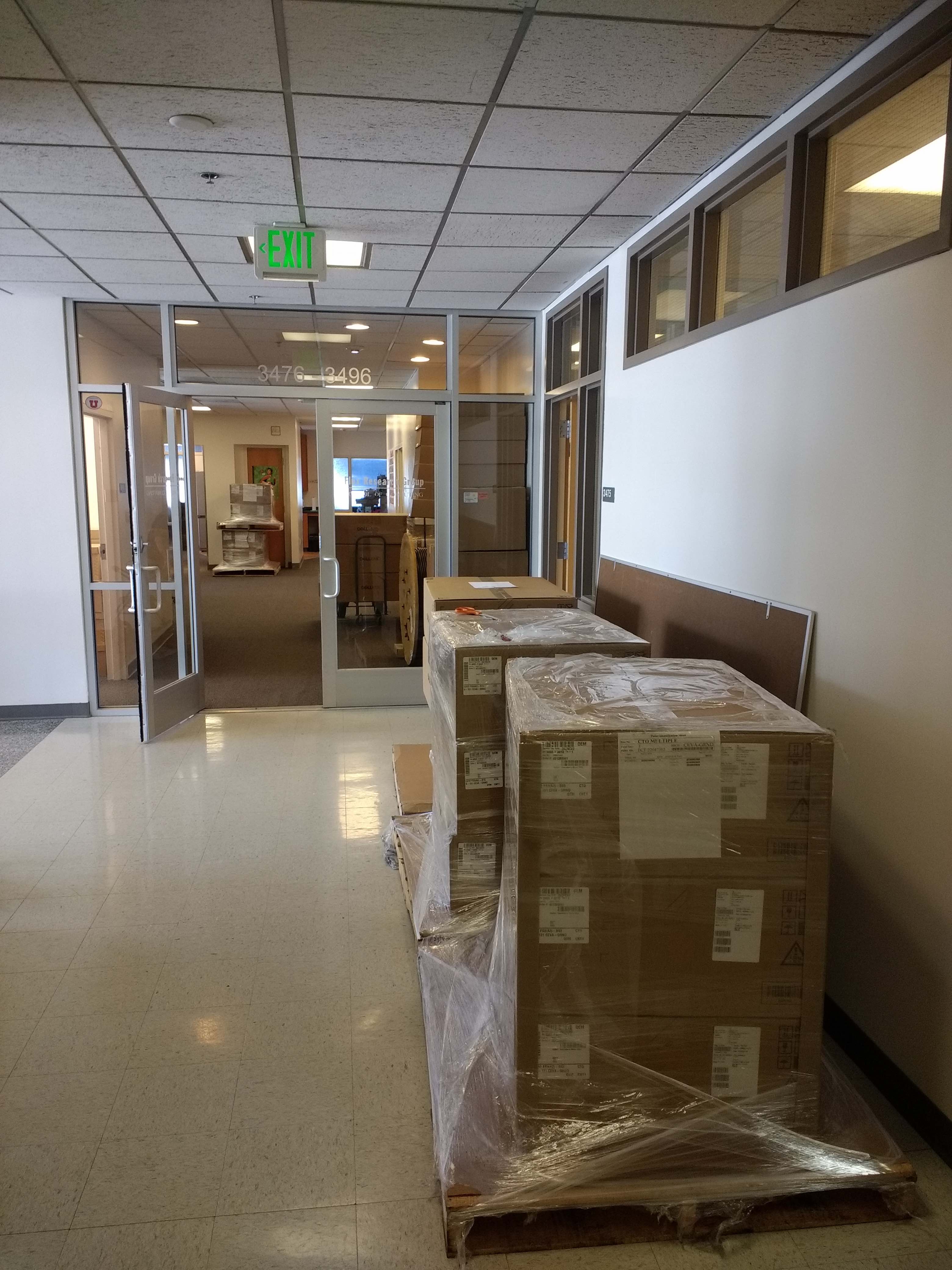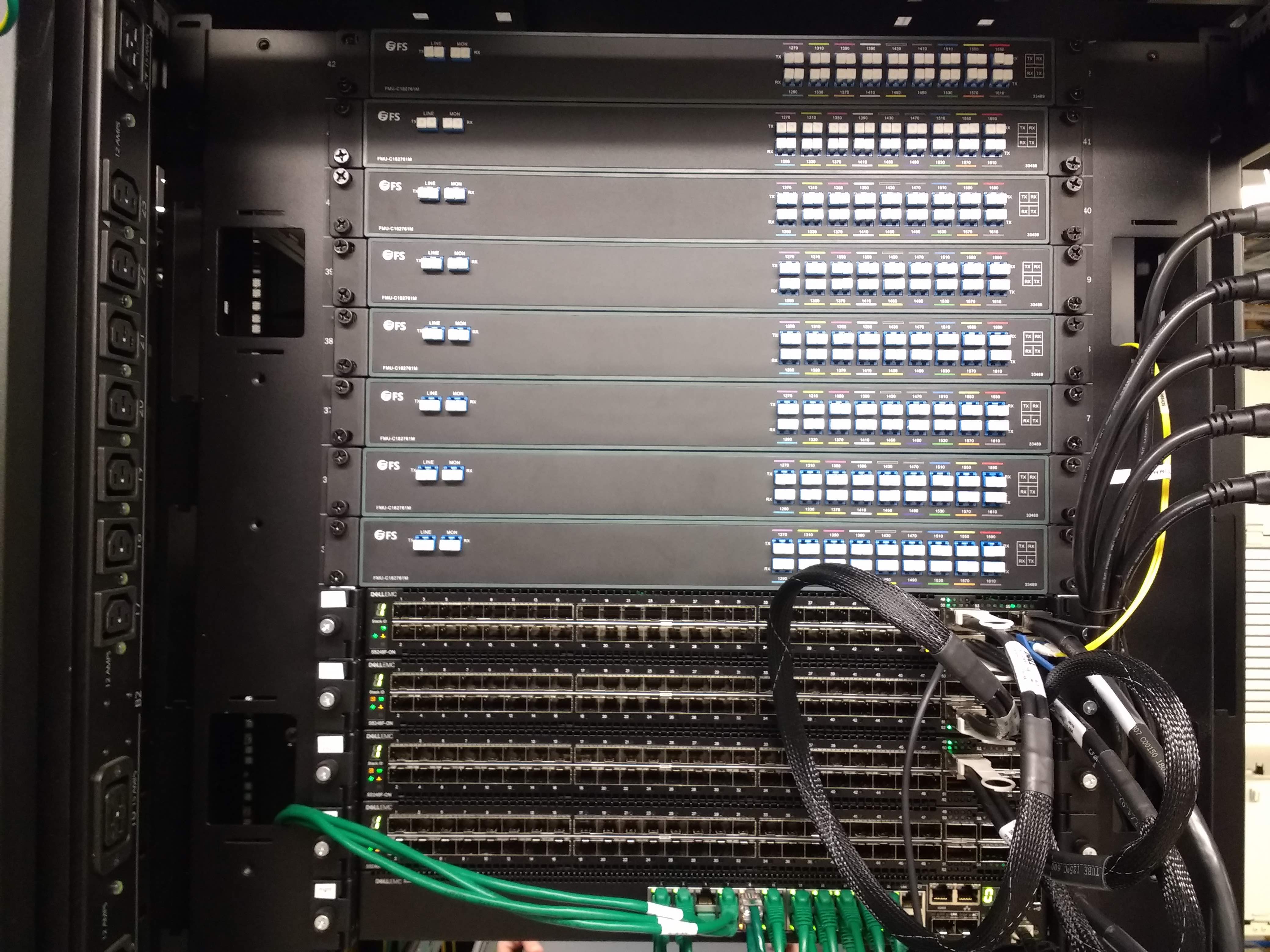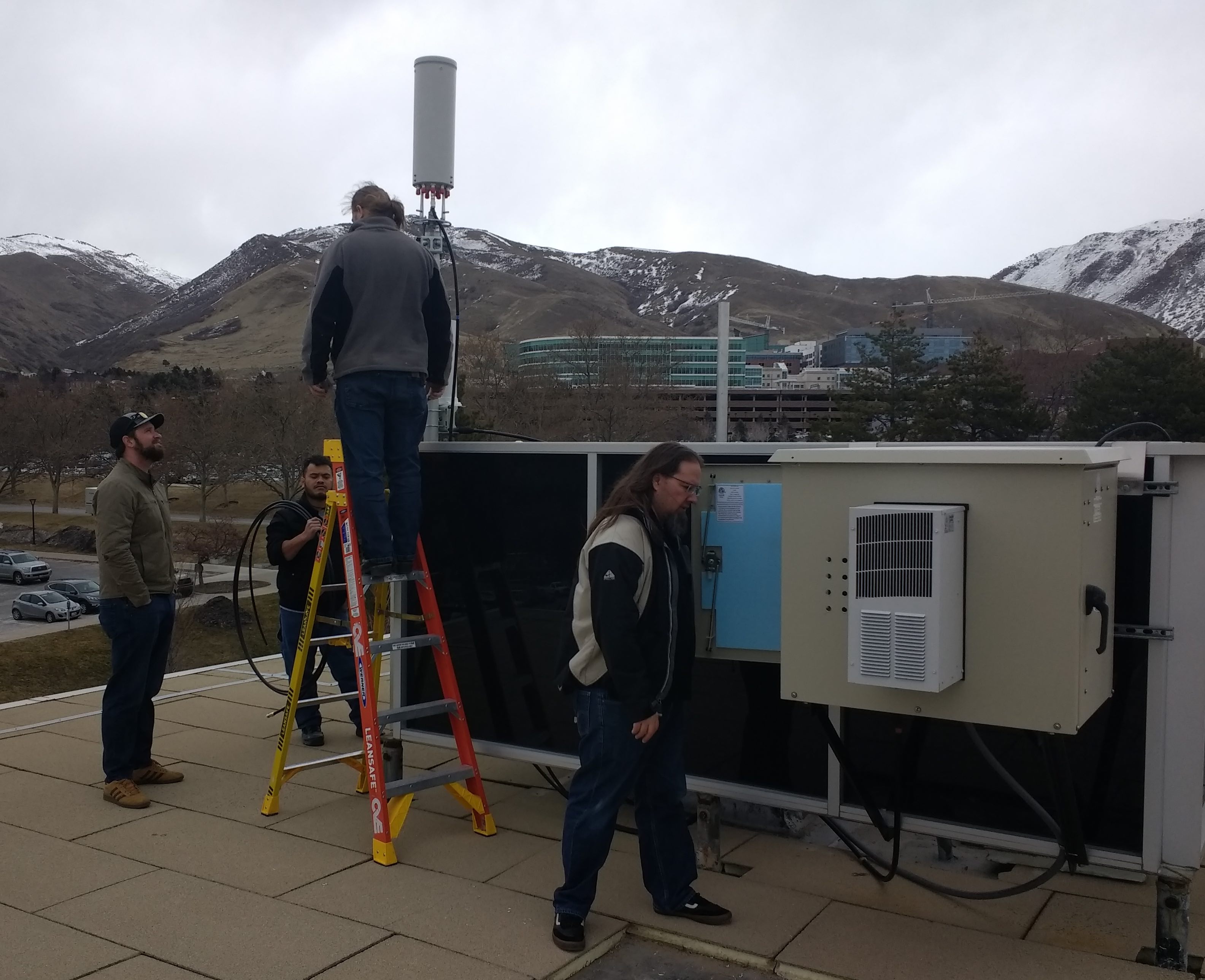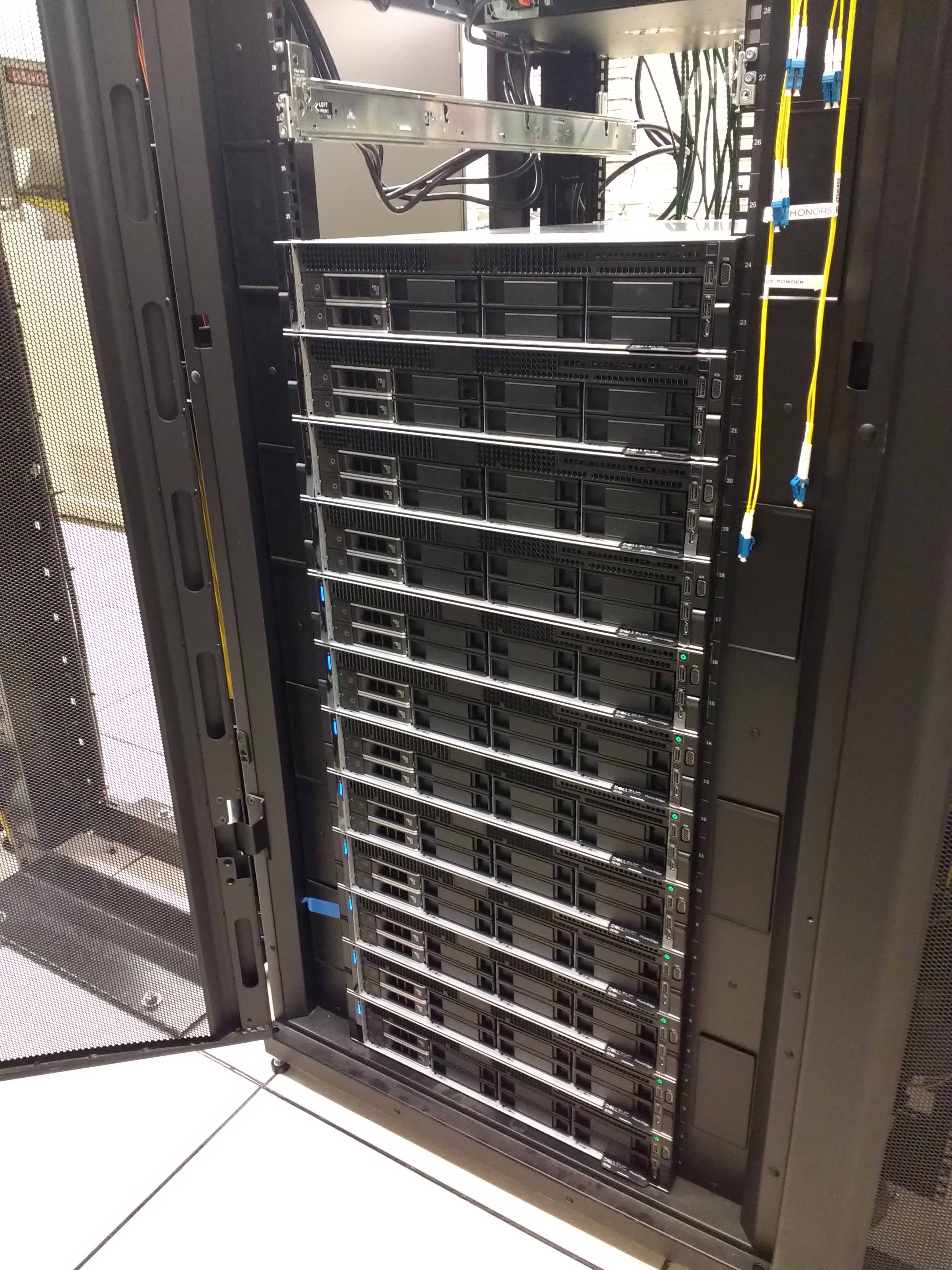 Rooftop enclosures delivered.
Compute nodes delivered.
CWDM mux/demux equipment and ethernet switches installed.
Multi-band antenna cabling.
Compute nodes installed.
January 2019: Broadband antenna, Populated fixed-endpoint, Over-the-air test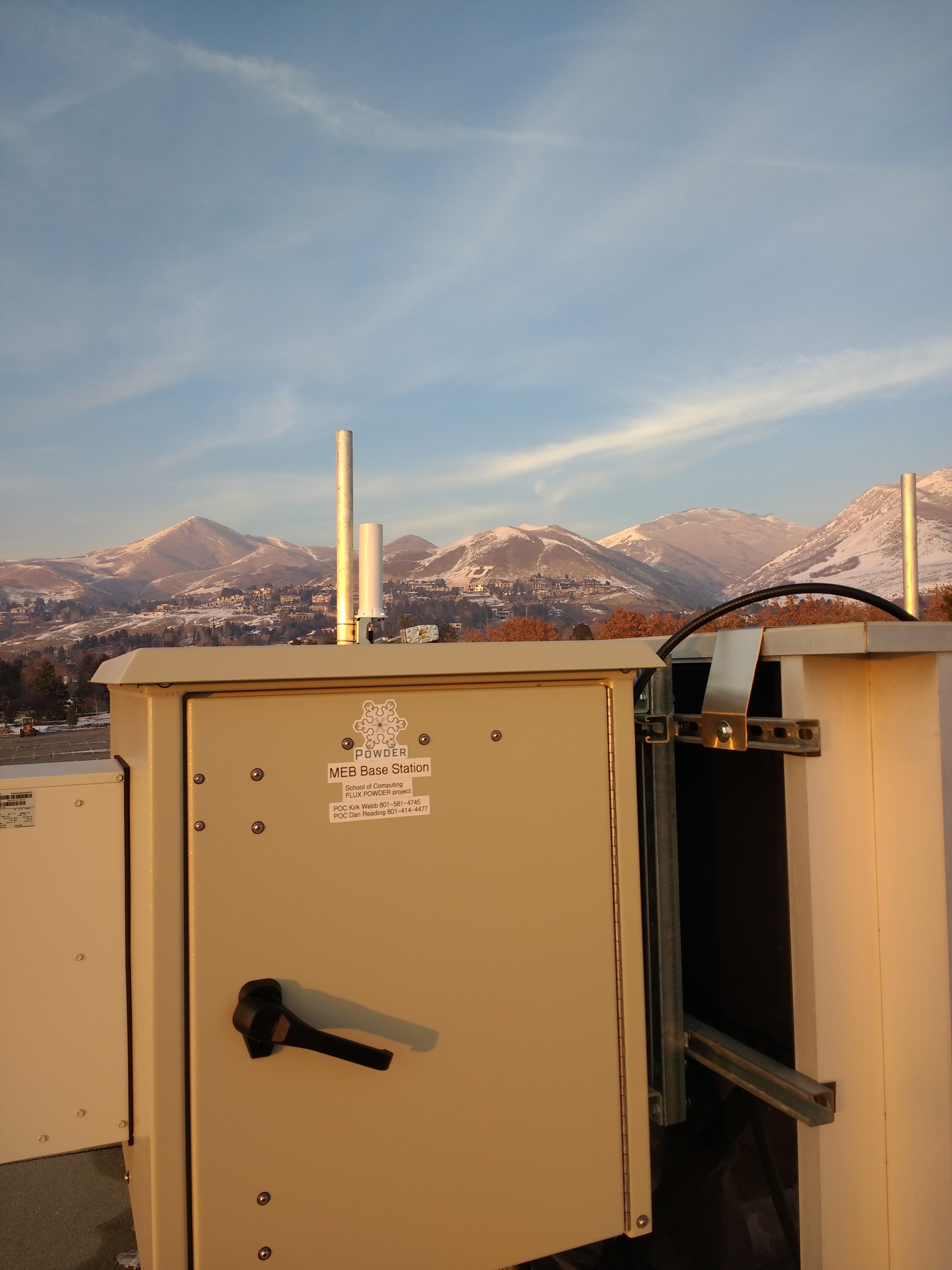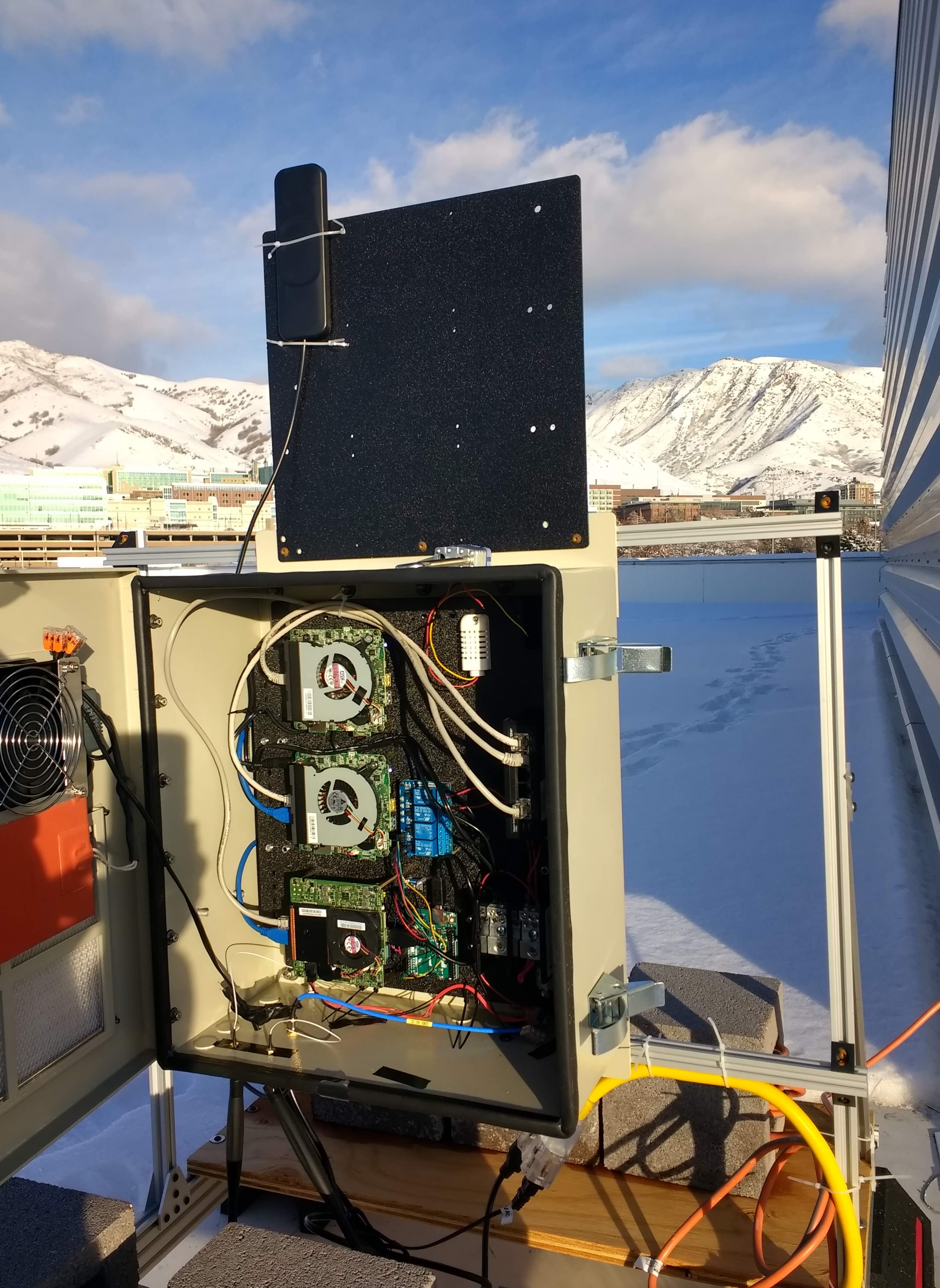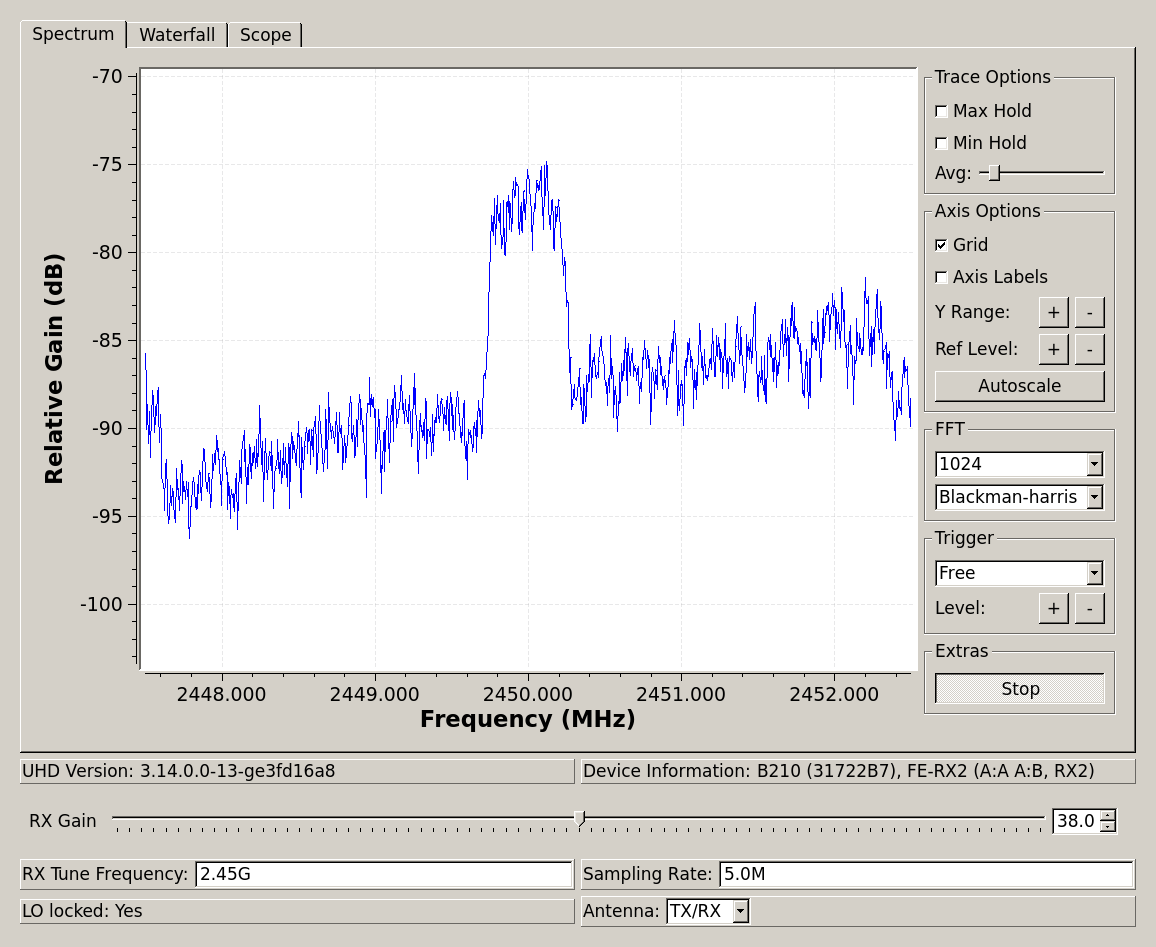 Base station with broadband antenna.
Fully populated fixed-endpoint enclosure (at temporary location).
Screenshot of basic over-the-air end-to-end testing between base station and fixed endpoint. The image shows a 5 MHz FFT centered at 2.45 GHz of a receiver running on a fixed endpoint, picking up a transmission from a base station. The transmitted signal was a 500 KHz wide channel of uniform random noise centered at 2.45 GHz. RX and TX were performed using GNU Radio, with transmission via an X310 driving an attached Keysight N6850A omni antenna, and reception on a B210 attached to an omni Taoglas GSA.8841 antenna. The units were spaced about 100 feet apart for this test. The X310 was paired with a Dell D430 rackmount server, connected via fiber (approximately 500 feet), while the B210 was paired with a directly connected Intel NUC.
December 2018: Equipment delivery, Rooftop deployment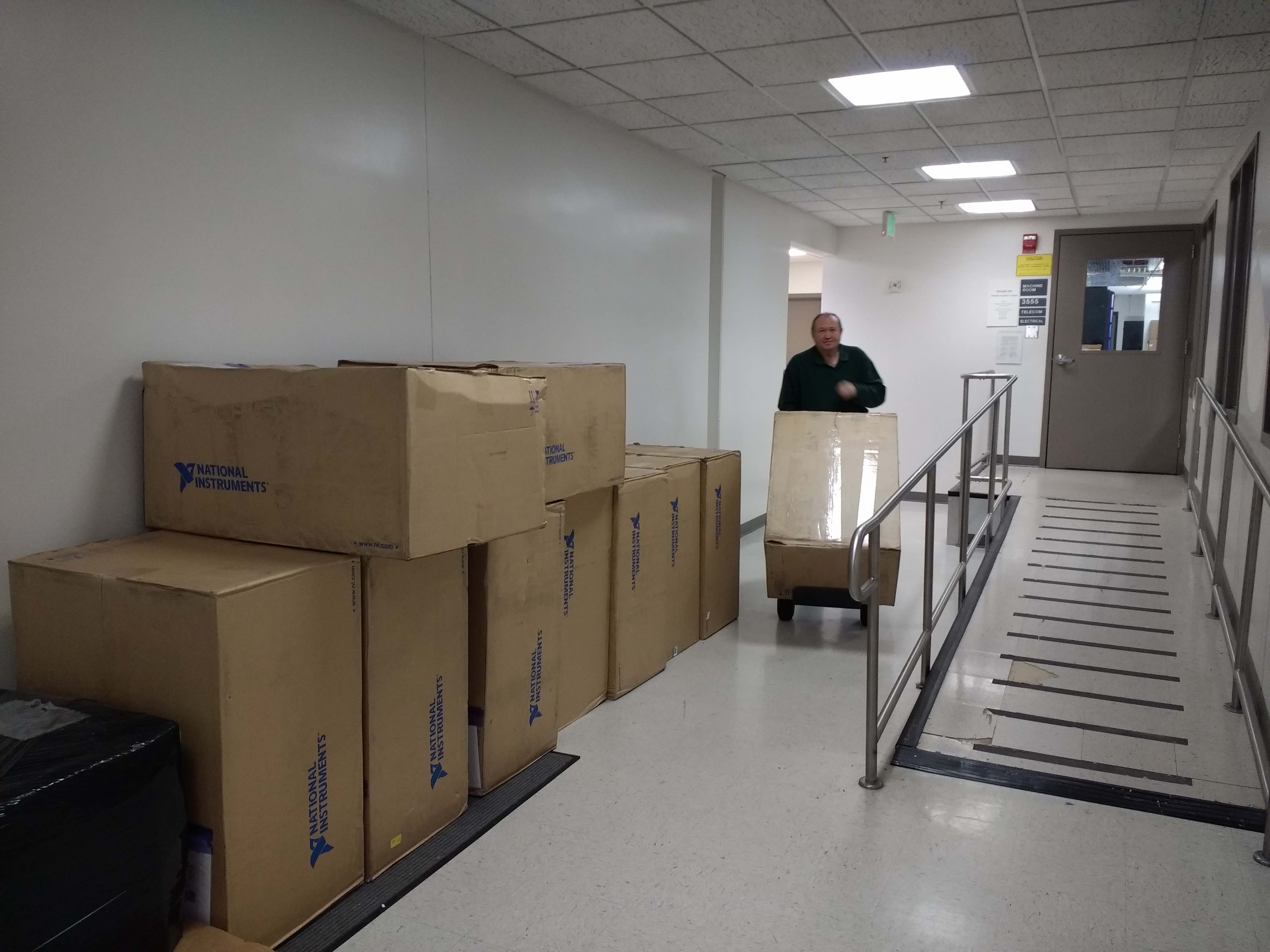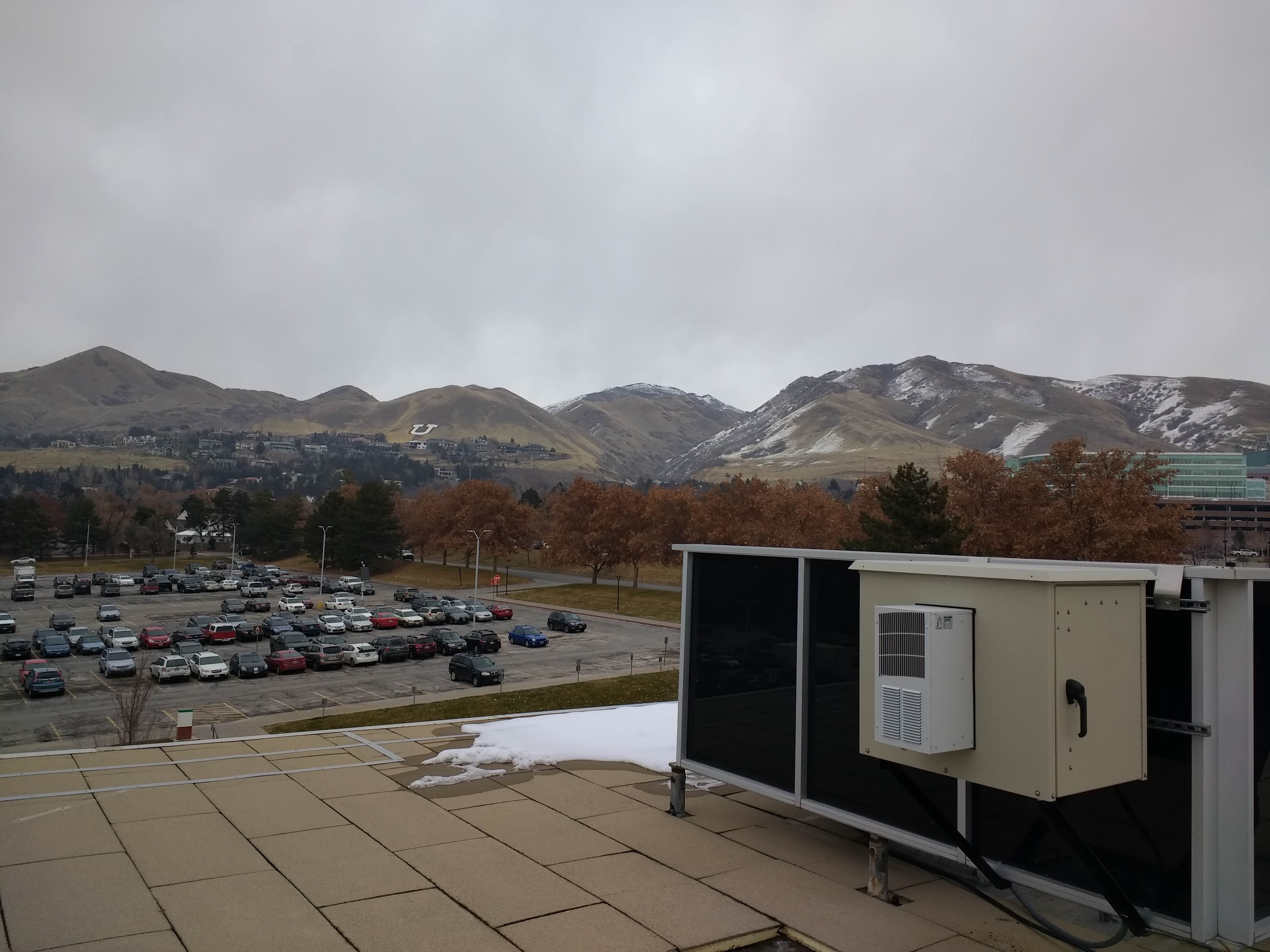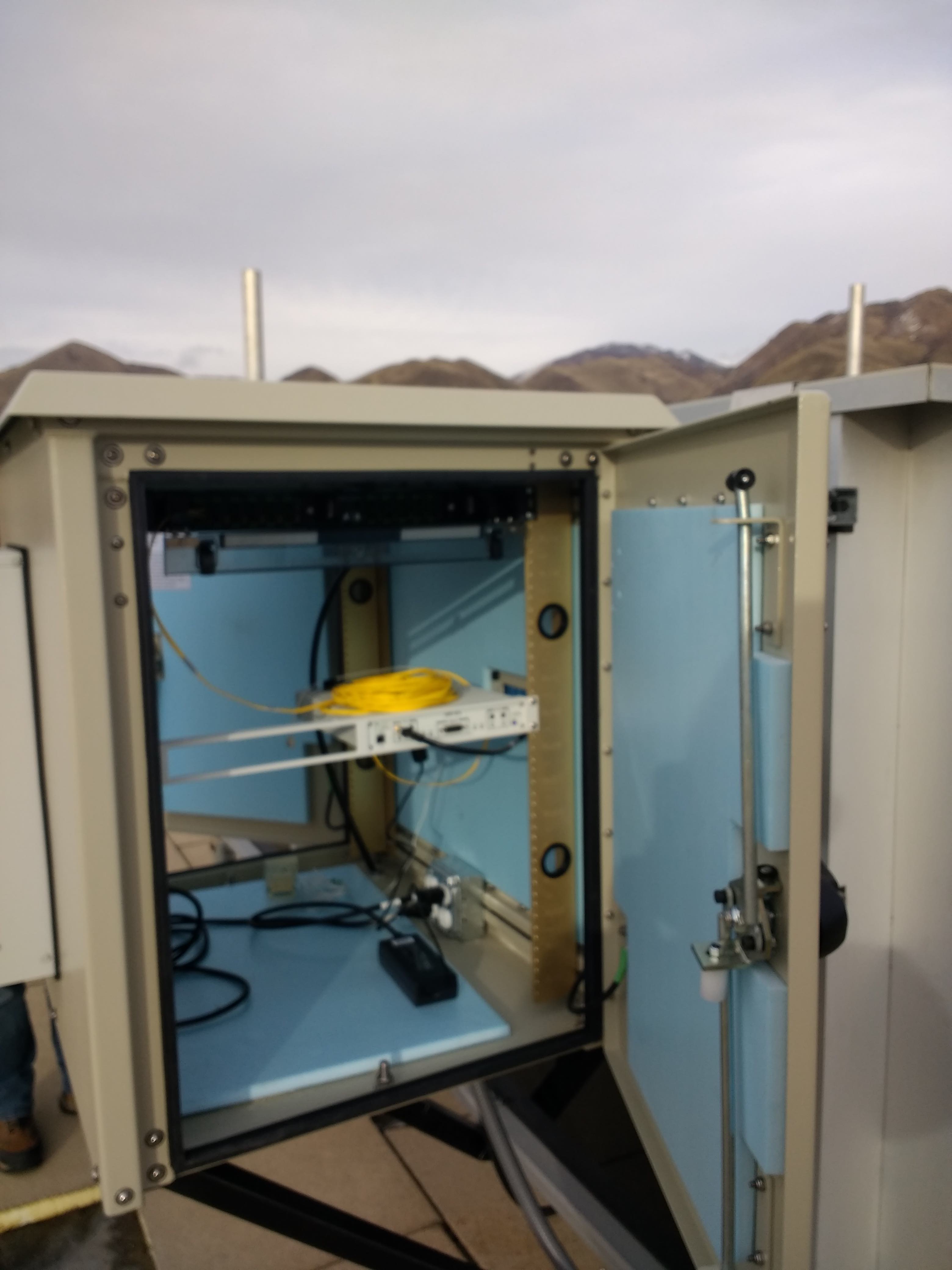 Radio equipment from National Instruments arriving.
First rooftop enclosure installed on the roof of the Merrill Engineering Building.
First NI X310 in rooftop enclosure.
December 2018: POWDER in LightReading

The POWDER platform featured in a LightReading article by Carol Wilson.
November 2018: Fixed Endpoint Prototype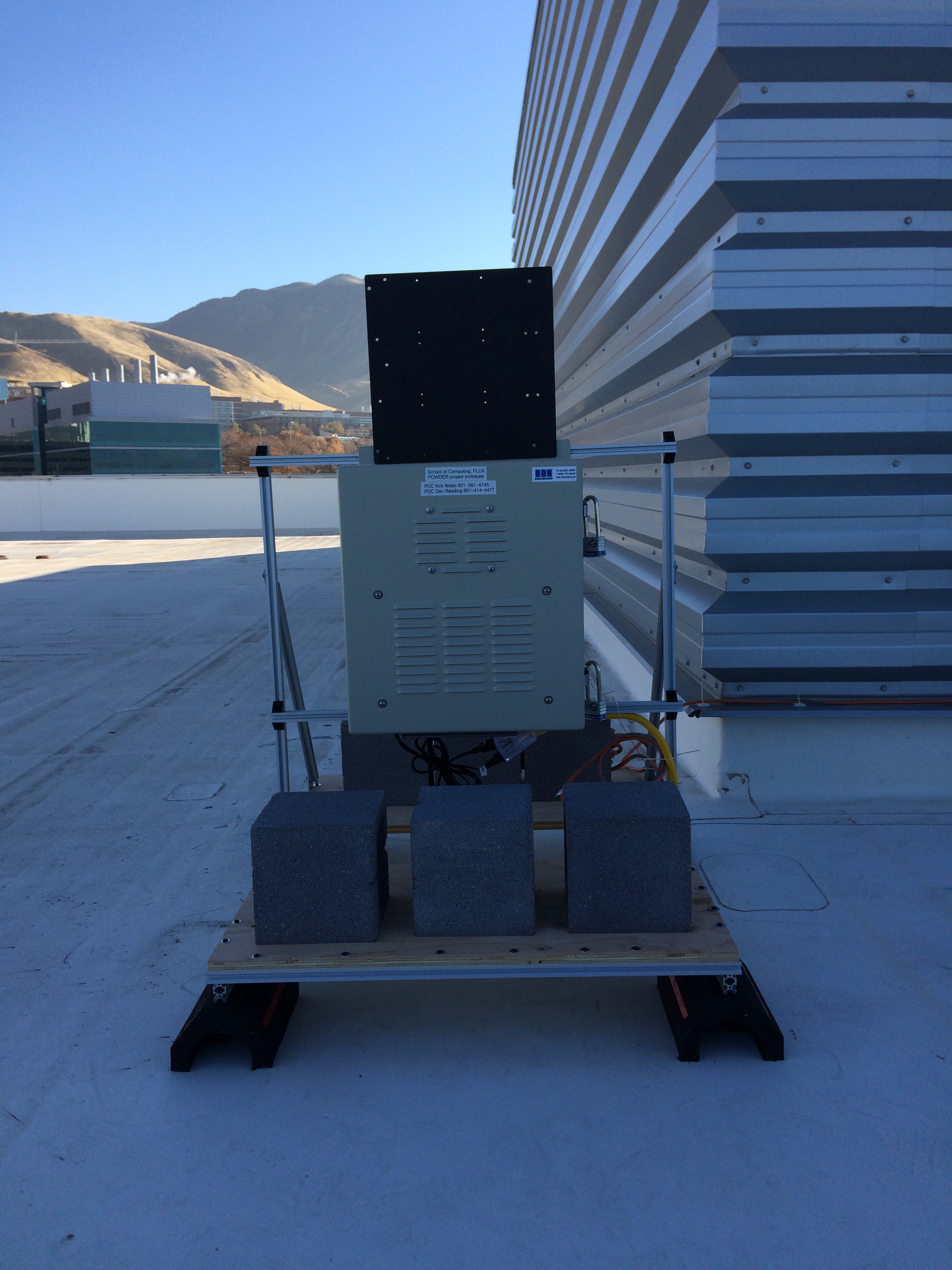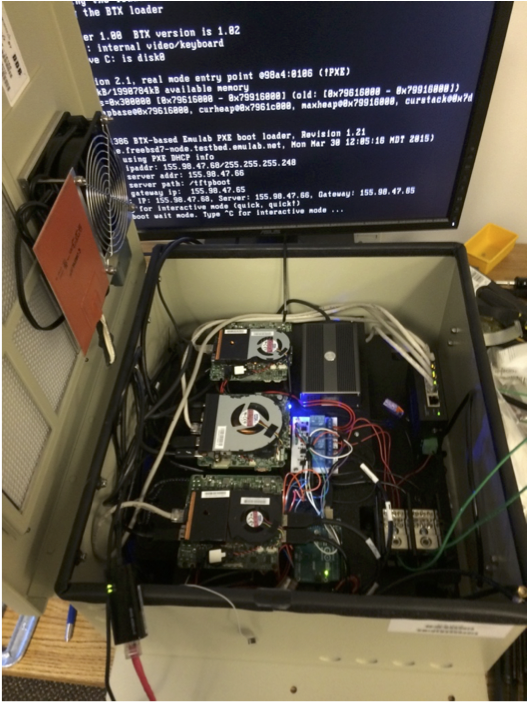 Our initial deployment will include fixed endpoints. I.e., endpoints at fixed locations with reasonable RF coverage to one or more rooftop base stations.
Each fixed endpoint will have two experimental SDRs and an SDR for spectrum monitoring. Fixed endpoints in coverage area of our massive MIMO equipment will also have an Iris radio.
The images on the left show a prototype fixed endpoint, in a lab environment and on a temporary mount for outdoor testing.
October 2018: ONAP Summit

The POWDER platform was used for the Hands-On Experiences session at the recent ONAP Academic Summit in New York City.
The POWDER team worked with ONAP member organizations to instantiate an ONAP instance on the POWDER platform. This instance was used by approximately forty Summit attendees to explore aspects of the ONAP platform.
The POWDER team is working with ONAP member organizations to make an ONAP profile available to POWDER users.
ONAP is a project of Linux Foundation Networking.
August 2018: Rooftop Measurements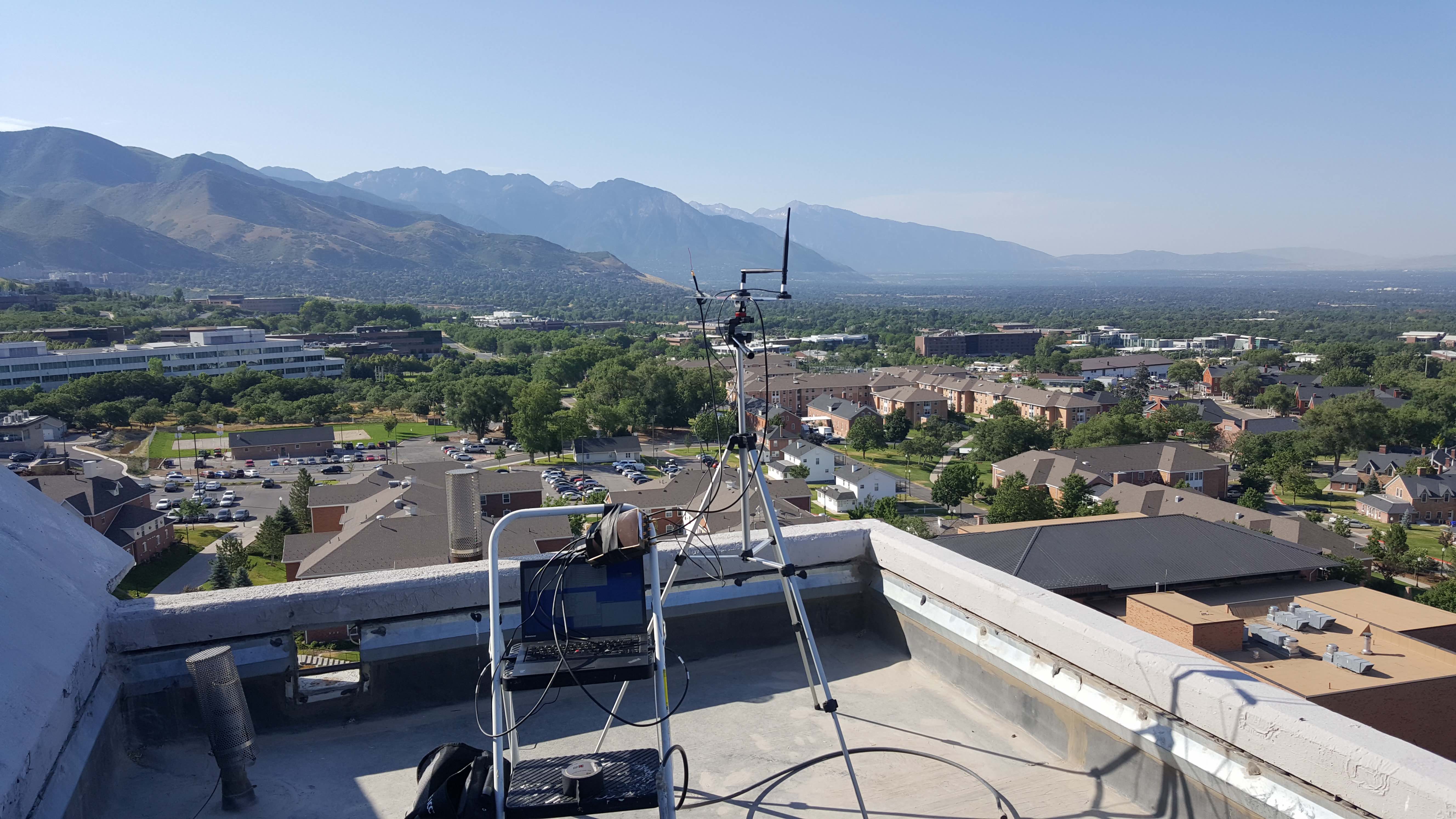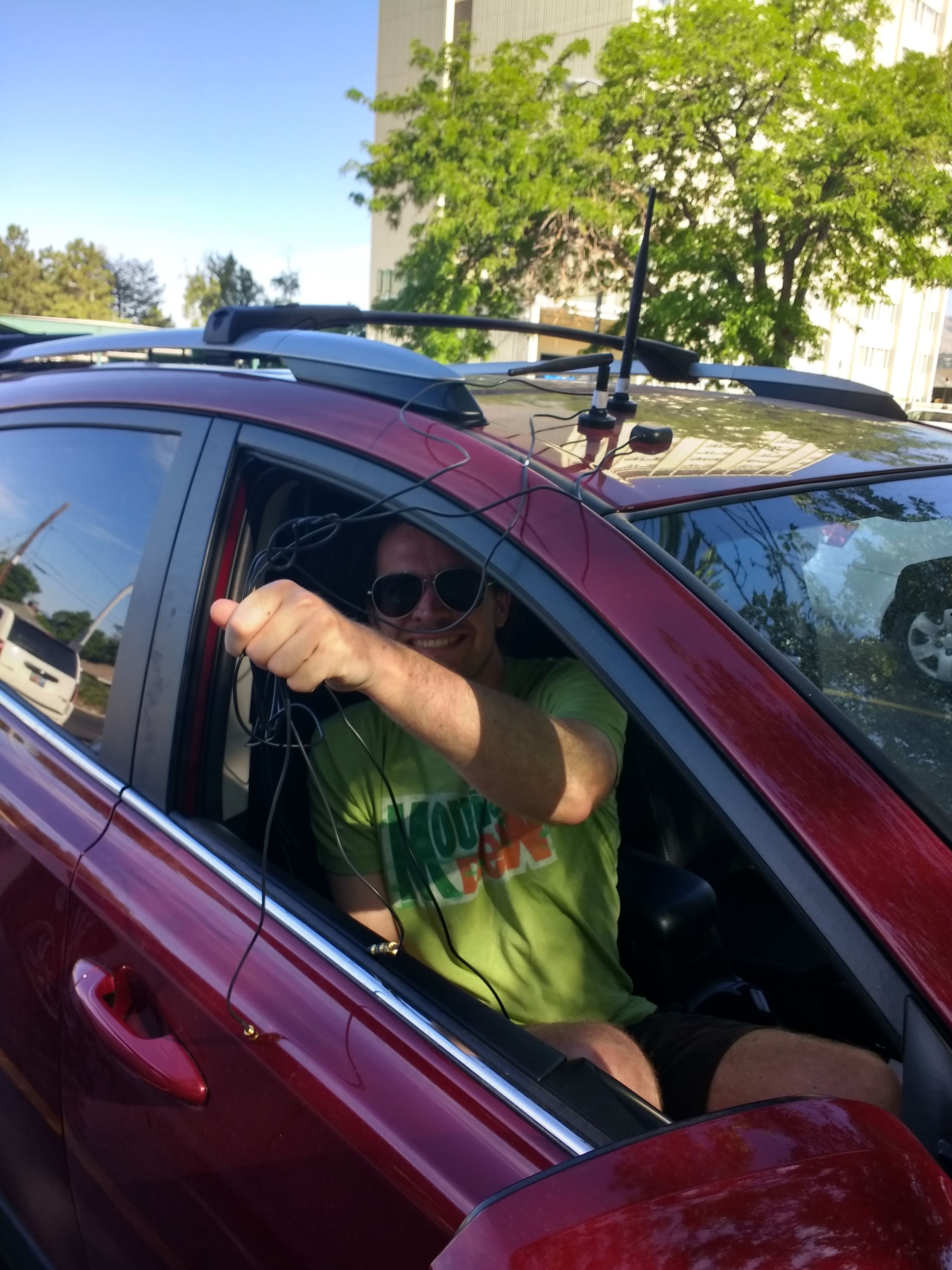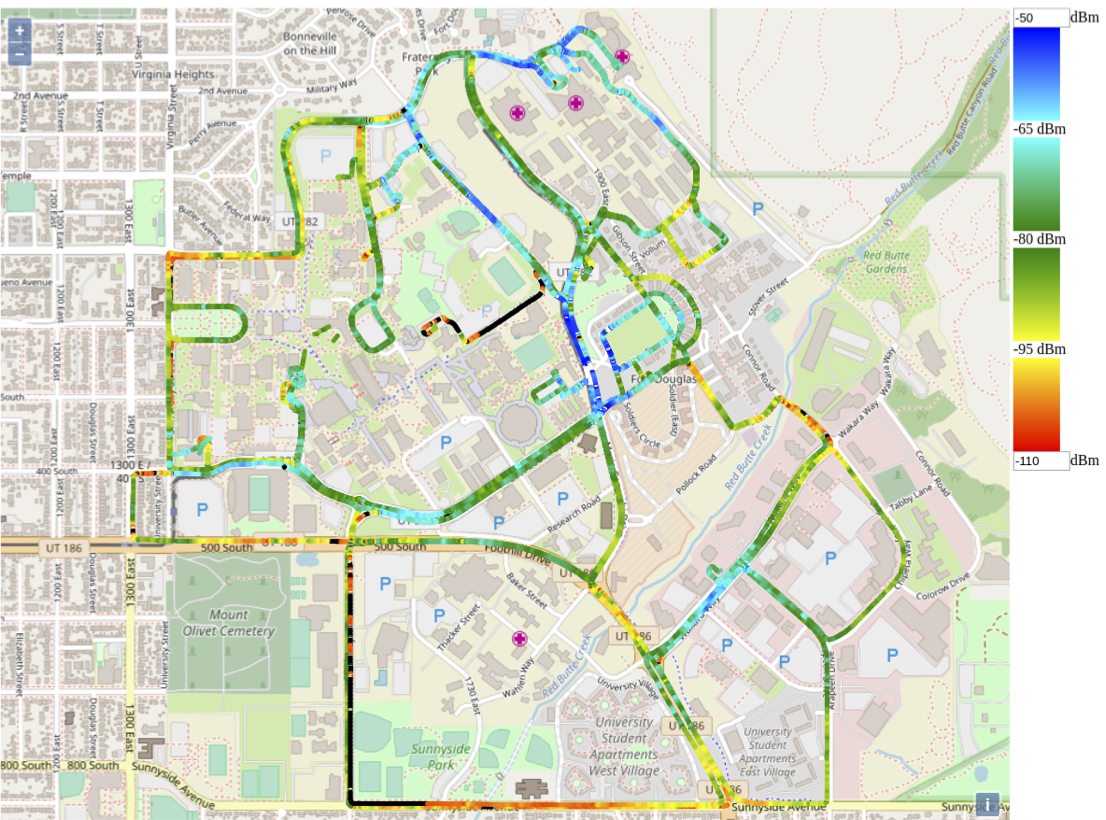 To determine expected RF coverage in our campus deployment area, we performed measurements from various rooftop locations. Each measurement activity involved setting up transmitters on the target rooftop and then driving around campus to measure the received signal.
The photos on the left show an example rooftop transmitter setup, the vehicle receiver setup and a composite image (combining data from all measurement runs) of the received signal strength (at 2.5 GHz) along campus shuttle routes.
July 2018: Antenna Testing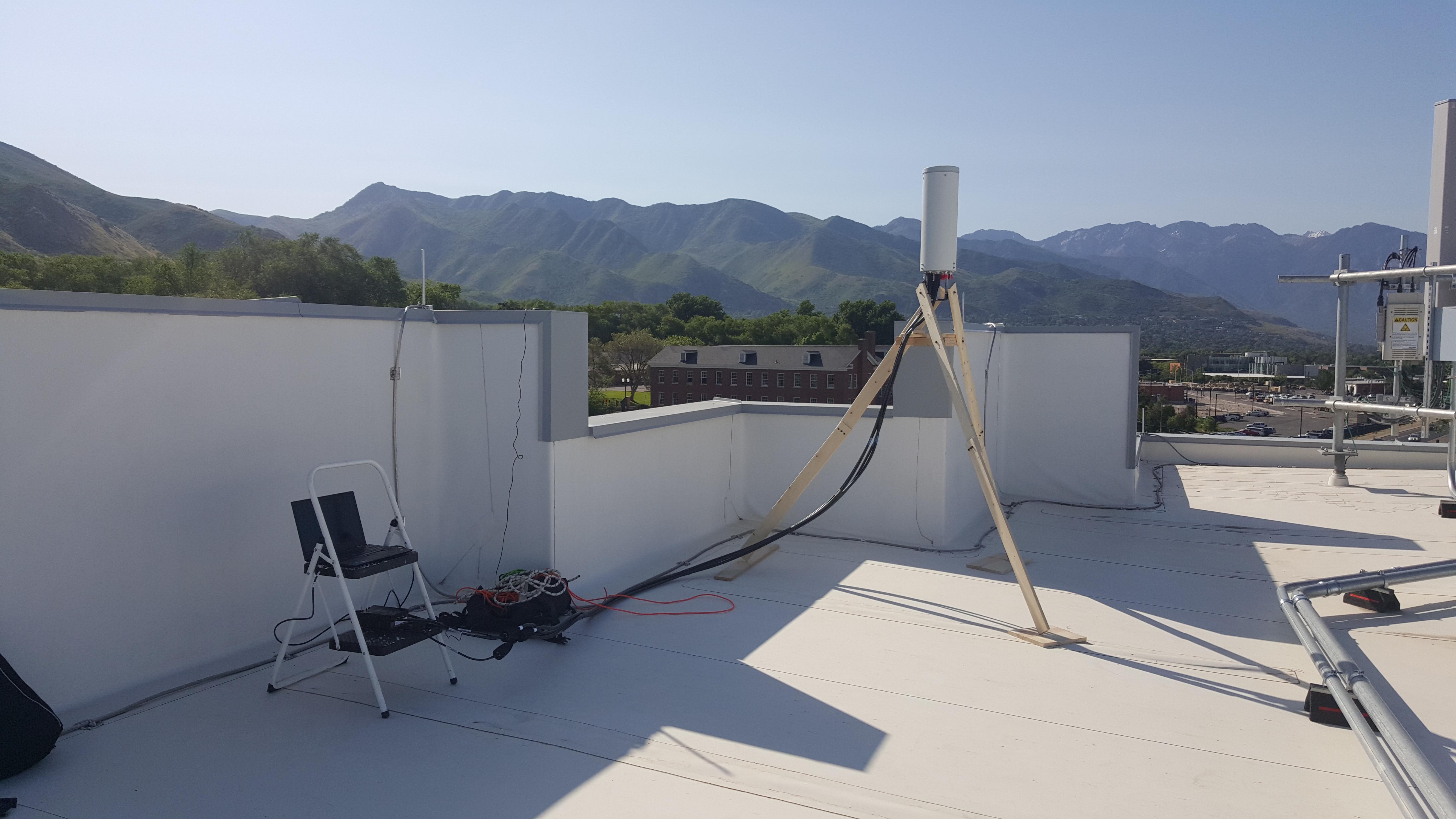 Our rooftop base stations will include a broadband omni-directional antenna as well as a multi-band antenna with 360 degree coverage in each band.
The photo on the right shows outdoor testing of the multi-band antenna.
June 2018: Rooftop Mounts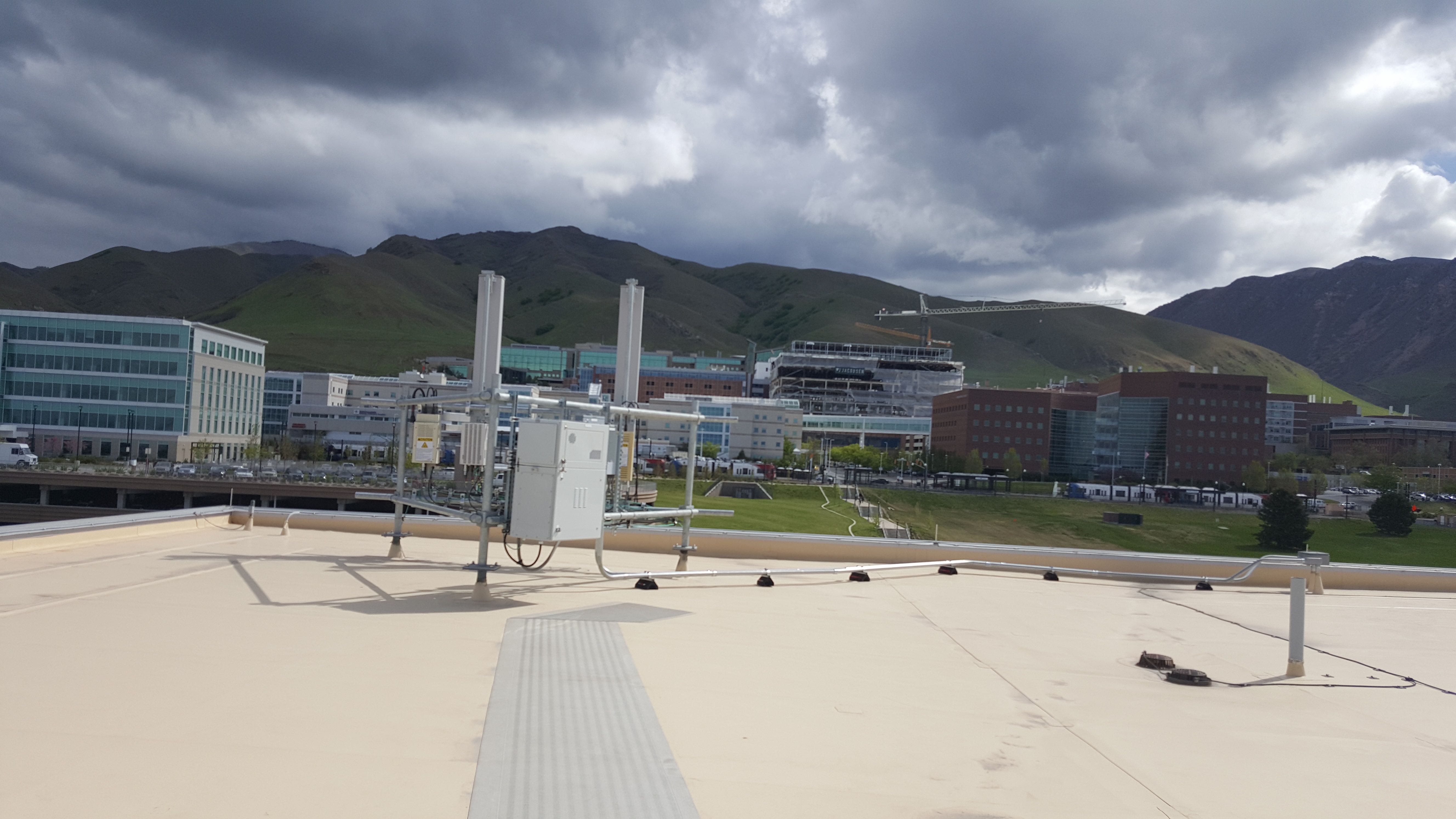 As far as possible we will be using existing rooftop mounts, such as the Crown Castle mount shown in the photo on the left.
June 2018: Site Surveys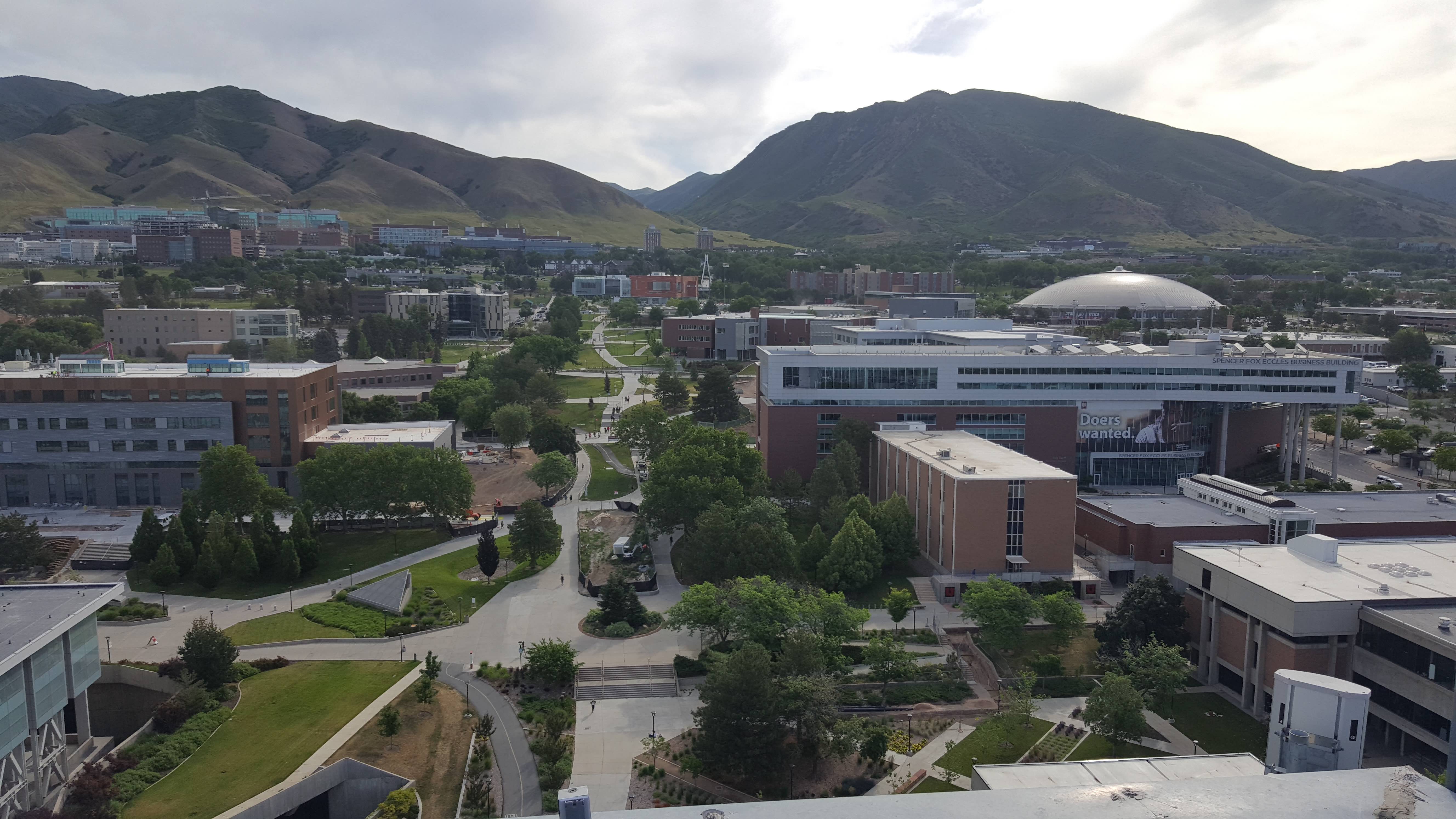 Our initial deployment will be on the University of Utah campus. We have been doing lots of site surveys which includes getting on tall buildings with nice views!
The photos on the right shows views towards the west and the east from the Social and Behavioral Science Building.
April 2018: Launch Media Coverage
News coverage of the POWDER-RENEW launch event: